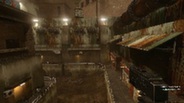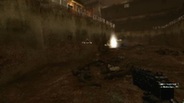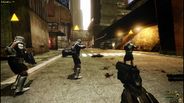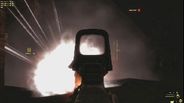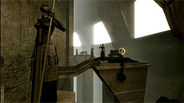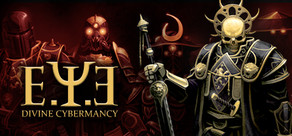 Dans un sombre monde Cyberpunk, vous (et jusqu'à 3 amis) faites la guerre contre la toute puissante Fédération dans ce FPS/RPG fonctionnant avec le moteur Source.
Date de parution: 29 jui 2011
Regarder les 7 vidéos
Acheter E.Y.E: Divine Cybermancy
Acheter E.Y.E. - Four Pack
Inclut quatre copies du jeu - Envoyez les copies supplémentaires à vos amis.
New Expansion - E.Y.E Blood Games
E.Y.E: Blood Games takes you into player competitions with new and varied maps.
Battle Royal:
In this round by round competition, the last man standing wins. All other participants are enemies!
You start each round with a random weapon and armor. Your aim is to finish the game with the most possible points.
You get points when you kill an enemy and also, when you are the survivor of the round.
You are free to use one of your existing Avatar, including one from the solo.
Some of your PSI and cyber powers are deactivated in this game mode.
Team Artifact:
Team competition: In this mode, Jians confront Culters for the artifact control. To do that you need to:
Take the artifact and carry it to the enemy area.
If the artifact is in the enemy area, the round ends. A new one will start and players will return to their initial positions.
Each team starts with an amount of resurectors. You win the round when the other team runs out of resurectors. There are several ways to do it:
Carrying the artifact to the enemy area.

Killing an enemy.

Hacking special interfaces.
At the beginning of the game, choose your team and character class.
À propos du jeu
Vous êtes l'un des membres de l'étrange société secrète E.Y.E, et vous vous réveillez après un combat au cours duquel vos coéquipiers ont été tués. E.Y.E, une branche armée du Secreta Secretorum tente d'organiser un coup d'État contre la puissante Fédération, une coalition de plusieurs mondes et planètes qui gouverne avec une main de fer.
Pour ne rien arranger, E.Y.E est elle-même en proie à des luttes intestines entre la faction Jian et la faction Culter (à laquelle vous appartenez). Votre sens de la loyauté ne sait que choisir entre le Commandant Rimanah, votre supérieur hiérarchique et chef du Secreta, un séparatiste avec une ambition sans pareille, et votre ami et instructeur, le "Mentor". Le "Mentor" essaie d'unir les deux factions rivales par tous les moyens possibles. En le suivant, vous vous retrouvez au milieu d'une guerre fratricide mélangeant quête du pouvoir et conspirations politiques impliquant différentes grandes sociétés.
Une force inconnue profite de ces problèmes pour lancer une attaque visant à détruire l'humanité.
Fonctions clefs:
Plusieurs modes coopératifs qui influencent directement le jeu solo (et vice-versa). Les limites du jeu solo et multijoueur sont enfin laissées de côté.

Gestion de la psychologie et des traumas du joueur

25 armes, plusieurs modes de tirs, une précision dynamique, un mode iron sight, un zoom avancé

Un système de piratage complet ayant des impacts sur la suite du jeu

9 pouvoirs PSI dévastateurs.

Plus de 20 personnages non jouables (NPC) avec une Intelligence Artificielle très réactive et efficace, capable de prendre des initiatives. Des combats rapprochés sanglants et techniques. Des mouvements physiques très réaliste tirant profit de la physique de jeu du Moteur Source.

Peut être joué et rejoué sans se lasser : missions principales et secondaires, environnements dynamiques, progression dans les niveaux non linéaire et placement/type/apparence des NPC aléatoires. La mort ne pénalise pas les joueurs : il n'y a pas besoin de relancer la mission jouée jusqu'alors.

Des niveaux très ouverts assurent de longues heures de jeu.
Configuration requise
Minimum :


Système d'exploitation : Windows® 7 32/64-bit / Vista 32/64 / XP

Processeur : Pentium 4 3.0GHz, Athlon 64 3000+ ou meilleure

Mémoire vive : 1 Go de RAM pour XP / 2 Go de RAM pour Vista

Disque dur : Au moins 6 Go d'espace disque disponible

Carte graphique : : Carte graphique compatible DirectX 9 avec 128 Mo de mémoire vidéo, Shader model 2.0. ATI X800, NVidia 6600 ou meilleure

DirectX® : 9.0c

Son : Carte son compatible DirectX 9.0c

Supplémentaire : Connexion internet requise pour le multijoueur
Recommandée :


Système d'exploitation : Windows® 7 32/64-bit / Vista 32/64 / XP

Processeur : Intel core 2 duo 2.4GHz ou AMD Athlon 64 X2 4600+

Mémoire vive : 1 Go de RAM pour XP / 2 Go de RAM pour Vista

Disque dur : Au moins 6 Go d'espace disque disponible

Carte graphique : : Carte graphique compatible DirectX 9 avec Shader model 3.0. NVidia 7600, ATI X1600 ou meilleure

DirectX® : 9.0c

Son : Carte son compatible DirectX 9.0c

Supplémentaire : Connexion internet requise pour le multijoueur
Évaluations intéressantes des utilisateurs
Titre:
E.Y.E: Divine Cybermancy
Genre:
Action
,
Indépendant
,
RPG
Développeur:
Streum On Studio
Éditeur:
Streum On Studio
Date de parution:
29 jui 2011
Langues:
| | Interface | Son | Sous-titres |
| --- | --- | --- | --- |
| Français | | | |
| Anglais | | | |