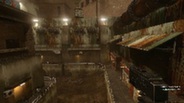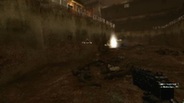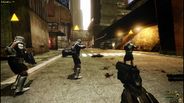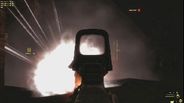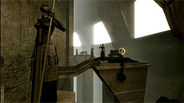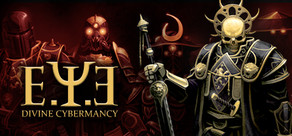 음울한 사이버펑크 세계에서 여러분은 전지전능한 연합을 파괴해야만 합니다. 최대 3명의 친구들과 함께 힘을 합쳐 Source 엔진으로 구현된 FPS/RPG 게임을 즐겨보세요.
출시 날짜: 2011년 7월 29일
모든 7 예고편 보기
E.Y.E: Divine Cybermancy 구매
E.Y.E. - Four Pack 구매
게임 4개를 포함 - 남는 게임을 친구에게 보낼 수 있습니다.
New Expansion - E.Y.E Blood Games
E.Y.E: Blood Games takes you into player competitions with new and varied maps.
Battle Royal:
In this round by round competition, the last man standing wins. All other participants are enemies!
You start each round with a random weapon and armor. Your aim is to finish the game with the most possible points.
You get points when you kill an enemy and also, when you are the survivor of the round.
You are free to use one of your existing Avatar, including one from the solo.
Some of your PSI and cyber powers are deactivated in this game mode.
Team Artifact:
Team competition: In this mode, Jians confront Culters for the artifact control. To do that you need to:
Take the artifact and carry it to the enemy area.
If the artifact is in the enemy area, the round ends. A new one will start and players will return to their initial positions.
Each team starts with an amount of resurectors. You win the round when the other team runs out of resurectors. There are several ways to do it:
Carrying the artifact to the enemy area.

Killing an enemy.

Hacking special interfaces.
At the beginning of the game, choose your team and character class.
게임 정보
기묘한 비밀 집단 E.Y.E의 일원으로서 당신은 동료 모두가 살해당한 싸움 직후 의식을 되찾습니다. 세크레타 세크레토룸(Secreta Secretorum)의 무장 분파인 E.Y.E는 엄격한 규범으로 많은 세계와 행성을 통합하고 있는 강력한 집단인 연합(Federation)에 대항해 쿠데타를 계획하고 있습니다.
그러나 E.Y.E는 이 순간에도 찌엔(Jian)과 컬터(Culter) 파벌 사이의 내부 분쟁에 시달리고 있습니다. 당신은 컬터의 소속으로서, 세크레타의 수장으로 분리주의자이자 멈출 수 없는 야망을 지닌 리맨나 사령관(Commander Rimanah)과 친구이자 조언자인 "멘토(Mentor)" 사이에서 충성을 시험받습니다. "멘토"는 어떤 대가를 치뤄서라도 두 파벌을 통합하려 하고 있습니다. 이러한 과정에서 당신은 거대 기업을 비롯 수많은 세력이 연루된 권력에 대한 싸움과 정치적 음모에 휘말리고, 이로 인해 형제자매에 대한 살육을 행하는 전쟁의 중심에 놓이고 맙니다.
그리고 이러한 혼돈을 틈타 미지의 세력이 인류를 파괴하기 위한 침공을 준비합니다.
주요 특징:
상호 간에 직접적 영향을 미치는 싱글 플레이와 멀티 플레이 협동 모드. 싱글 및 멀티 플레이 게임의 한계가 마침내 사라집니다.

정신 상태와 트라우마 관리 시스템.

25개의 무기: 다양한 발사 방식, 동적 조준점, 시험 사격, 가늠자 조준, 추가 확대가 가능한 조준경 등.

게임 플레이에 큰 파급력을 지닌 완전한 해킹 시스템.

9개의 강력하고 신비한 초능력.

스크립트 없이, 각자의 목적에 따라 행동하며 상황에 대해 반응하는 효율적 AI를 지닌 20명 이상의 NPC. 실전적 세부 사항에 기반한 잔혹한 근접전. Source Engine이 제공하는 물리효과의 힘을 통해 구현된 매우 사실적인 움직임.

뛰어난 반복 플레이성 - 주요 및 보조 임무의 구분, 동적 환경, 비선형적 레벨 진행 방식, 종류와 외관 및 등장 위치가 무작위로 설정되는 NPC 리스폰. 패널티가 존재하지 않는 죽음: 진행 중인 임무를 다시 시작할 필요가 없습니다.

레벨 반복 로딩 없이 수 시간을 즐길 수 있는 오픈 레벨 방식 게임플레이.
시스템 요구 사항
Minimum:


OS: Windows® 7 32/64-bit / Vista 32/64 / XP

Processor: Pentium 4 3.0GHz, Athlon 64 3000+ or better

Memory: 1 GB for XP / 2GB for Vista

Hard Disk Space: At least 6 GB of free space

Video Card: : DirectX 9 compatible video card with 128 MB, Shader model 2.0. ATI X800, NVidia 6600 or better

DirectX®: 9.0c

Sound: DirectX 9.0c compatible sound card

Additional: Internet Connection required for multiplayer

Recommended:


OS: Windows® 7 32/64-bit / Vista 32/64 / XP

Processor: Intel core 2 duo 2.4GHz or AMD Athlon 64 X2 4600+

Memory: 1 GB for XP / 2GB for Vista

Hard Disk Space: At least 6 GB of free space

Video Card: : DirectX 9 compatible video card with Shader model 3.0. NVidia 7600, ATI X1600 or better

DirectX®: 9.0c

Sound: DirectX 9.0c compatible sound card

Additional: Internet Connection required for multiplayer

유용한 고객 평가
제목:
E.Y.E: Divine Cybermancy
장르:
액션
,
인디
,
롤 플레잉
개발자:
Streum On Studio
배급사:
Streum On Studio
출시 날짜:
2011년 7월 29일
언어:
| | 인터페이스 | 음성 지원 | 자막 |
| --- | --- | --- | --- |
| 영어 | | | |
| 프랑스어 | | | |