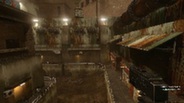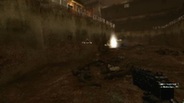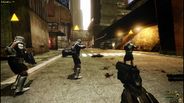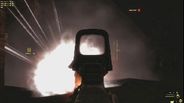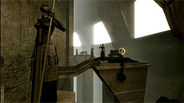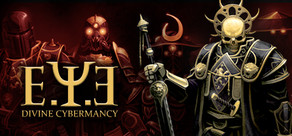 En este FPS/RPG impulsado por el motor Source y que transcurre en un oscuro mundo cyberpunk, tú (y hasta 3 amigos) libráis una guerra contra la poderosa Federación.
Fecha de lanzamiento: 29 Jul 2011
Ver los 7 trailers
Comprar E.Y.E: Divine Cybermancy
Comprar E.Y.E. - Four Pack
Incluye cuatro copias del juego - Envía las copias extra a tus amigos.
New Expansion - E.Y.E Blood Games
E.Y.E: Blood Games takes you into player competitions with new and varied maps.
Battle Royal:
In this round by round competition, the last man standing wins. All other participants are enemies!
You start each round with a random weapon and armor. Your aim is to finish the game with the most possible points.
You get points when you kill an enemy and also, when you are the survivor of the round.
You are free to use one of your existing Avatar, including one from the solo.
Some of your PSI and cyber powers are deactivated in this game mode.
Team Artifact:
Team competition: In this mode, Jians confront Culters for the artifact control. To do that you need to:
Take the artifact and carry it to the enemy area.
If the artifact is in the enemy area, the round ends. A new one will start and players will return to their initial positions.
Each team starts with an amount of resurectors. You win the round when the other team runs out of resurectors. There are several ways to do it:
Carrying the artifact to the enemy area.

Killing an enemy.

Hacking special interfaces.
At the beginning of the game, choose your team and character class.
Acerca del juego
Como miembro de la extraña sociedad secreta E.Y.E., te despiertas tras una lucha en la que todos tus compañeros han sido asesinados. E.Y.E, una rama armada de la Secreta Secretorum, está intentado llevar a cabo un golpe de estado contra la poderosa Federación, una coalición de varios mundos y planetas que gobierna con mano de hierro.
Para complicar aún más las cosas, la misma E.Y.E está plagada de sus propios conflictos internos entre las facciones Jian y Culter, a la cual perteneces. Tu lealtad está dividida entre el comandante Rimanah, tu superior y jefe de la Secreta, quien es un separatista con una ambición imparable y el "Mentor", tu amigo e instructor. El "Mentor" intenta por todos los medios unir las dos facciones rivales. De este modo, te verás envuelto en medio de una guerra fratricida llena de conspiraciones políticas y búsquedas de poder en las que los diferentes grupos y megacorporaciones están implicados.
Estos problemas preparan el terreno para un ataque por una fuerza desconocida empeñada en destruir a la humanidad.
Características principales:
Los modos multijugador cooperativos influyen directamente en el juego para un jugador y viceversa. Los límites en las partidas en solitario y multijugador finalmente han quedado atrás

Tratamiento de los traumas psicológicos y mentales

25 armas, diferentes modos de disparo, precisión dinámica, disparos perforantes, miras de arma y zoom ampliado

Completo sistema de hacking con repercusiones en el juego

9 poderes psíquicos devastadoramente sutiles

Más de 20 personajes no controlables con una IA sin scripts, completamente reactiva, eficiente y dotada de un sentido de iniciativa. Sangrientos combates a corta distancia con detalles técnicos. Increíble realismo en los movimientos físicos gracias a la física del Source Engine

Excelente jugabilidad - misiones principales y secundarias, entornos dinámicos, avance en los niveles no lineal y regeneración aleatoria de personajes no controlables, el tipo y su apariencia. La muerte no penaliza a los jugadores: no necesitas reiniciar la misión en curso

Niveles abiertos para horas de diversión sin tener que volver a cargar
Requisitos del sistema
Mínimo:


SO: Windows® 7 de 32 o 64 bits / Vista de 32 o 64 bits / XP

Procesador: Pentium 4 a 3.0 GHz / Athlon 64 3000+ o superior

Memoria: 1 GB de RAM para XP / 2 GB de RAM para Vista

Disco Duro: 6 GB de espacio libre

Gráficos: Gráfica con 128 MB de VRAM y compatible con DirectX 9 y Shader Model 2.0 (ATI X800 / nVidia 6600 o superior)

Versión de DirectX®: 9.0c

Sonido: Dispositivo compatible con DirectX 9.0c

Adicional: Necesaria conexión a Internet para el multijugador
Recomendado:


SO: Windows® 7 de 32 o 64 bits / Vista de 32 o 64 bits / XP

Procesador: Intel Core 2 Duo a 2.4 GHz / AMD Athlon 64 X2 4600+

Memoria: 1 GB de RAM para XP / 2 GB de RAM para Vista

Disco Duro: 6 GB de espacio libre

Gráficos: Gráfica compatible con DirectX 9 y Shader Model 3.0 (nVidia 7600 / ATI X1600 o superior)

Versión de DirectX®: 9.0c

Sonido: Dispositivo compatible con DirectX 9.0c

Adicional: Necesaria conexión a Internet para el multijugador
Análisis útiles de usuarios
Título:
E.Y.E: Divine Cybermancy
Género:
Acción
,
Indie
,
Rol
Desarrollador:
Streum On Studio
Editor:
Streum On Studio
Fecha de lanzamiento:
29 Jul 2011
Idiomas:
| | Interfaz | Voces | Subtítulos |
| --- | --- | --- | --- |
| Inglés | | | |
| Francés | | | |