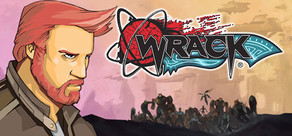 Wrack is all about action - spectacular action! The addictive kill chain system encourages you to mow down as many enemies in a short period of time as possible. No hiding - keep your chain going by getting out there and kicking some alien ass!
Veröffentlichung: 11. Nov. 2013
HD-Video ansehen
Early Access-Spiel
Erhalten Sie sofortigen Zugang und bringen Sie sich in die Entwicklung des Spiels ein.
Hinweis: Dieses Early Access-Spiel könnte sich im Entwicklungsverlauf erheblich verändern. Wenn Ihnen das Spiel im aktuellen Zustand nicht gefällt, sollten Sie warten, bis das Spiel einen fortgeschritteneren Entwicklungsstand erreicht hat. Mehr erfahren
Was die Entwickler zu sagen haben:
"Why is Wrack here in Early Access? Because it's in beta! While there's still content missing, the content currently in Wrack is largely representative of the final product. During Early Access, we will continue to add and polish content, listen to feedback from the community, and help develop the modding scene.

Here's what you can expect right now:

- Biweekly updates! Every two weeks, we'll release an update with new and improved content, bug fixes, and any other great stuff we can think of!
- Levels 1-7! We have the first seven levels all done, plus a secret level! That means there's only one left! We're almost done, folks!

It's going to be fun!" Weiterlesen
Über das Spiel
Introducing the
arcade shooter
-
Wrack
!
Combo
your way to victory in this addictive single-player adventure. Slaughter countless enemies as you build up long
kill chains
, and wipe them out with powerful
chain finishers
. Plus, with
Steam Workshop
and extras like
Time Attack
, the action never has to end!
Key Features
Combos and Chains - Be a badass! Take monsters down by the dozen, and rack up addictive fighting game-style kill chains and kill combos!

Finishers - Use your kill chains to unleash devastating chain finishers! Use them to wipe out groups of enemies, take down powerful enemies... or even bosses!

Mega Man-style Bosses - Battle bosses (and minibosses!) inspired by games like Castlevania and Mega Man! Learn how to evade their attacks, and then take them down!

Extra Modes - Compete against yourself, your friends, and the world in Wrack's Time Attack and Score Attack modes! Your best entries are saved to the Steam leaderboards.

Steam Workshop - Create your own levels or fully-fledged mods! Share or play the creations of others using Steam Workshop.
Reviews
"It reminds me of first-person Mega Man." -- Keiji Inafune

"One of those better than it has any right to be experiences." -- Jim Sterling

"Wrack is great!" -- John Romero

"I think they're developing a really nice game here." -- TotalBiscuit
Systemvoraussetzungen
Minimum:


OS: Windows XP

Processor: Dual core 2.0 GHz

Memory: 1 GB RAM

Graphics: Nvidia 8600GT/ATI HD 4650

DirectX: Version 9.0c

Hard Drive: 750 MB available space
Recommended:


OS: Windows Vista

Processor: Dual core 2.0 GHz

Memory: 2 GB RAM

Graphics: Nvidia 8800GT/ATI HD 4850

DirectX: Version 9.0c

Hard Drive: 1 GB available space
Wrack copyright (C) and is a registered trademark (R) of Final Boss Entertainment, LLC. All rights reserved.
Music and sounds copyright (C) Bobby Prince. All rights reserved.
Hilfreiche Kundenreviews
Titel:
Wrack
Genre:
Action
,
Indie
,
Early Access
Entwickler:
Final Boss Entertainment
Publisher:
Final Boss Entertainment
Veröffentlichung:
11. Nov. 2013
Sprachen:
| | Oberfläche | Ton | Untertitel |
| --- | --- | --- | --- |
| Englisch | | | |