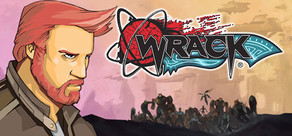 Wrack is all about action - spectacular action! The addictive kill chain system encourages you to mow down as many enemies in a short period of time as possible. No hiding - keep your chain going by getting out there and kicking some alien ass!
Utgivelsesdato: 11. nov, 2013
Se HD-video
Early Access-spill
Få umiddelbar tilgang og spill med en gang; bli involvert i spillet mens det utvikles.
Note: This Early Access game may or may not change significantly over the course of development. If you are not excited to play this game in its current state, then you may want to wait until the game progresses further in development. Learn more
Hva utviklerne sier:
"Why is Wrack here in Early Access? Because it's in beta! While there's still content missing, the content currently in Wrack is largely representative of the final product. During Early Access, we will continue to add and polish content, listen to feedback from the community, and help develop the modding scene.

Here's what you can expect right now:

- Biweekly updates! Every two weeks, we'll release an update with new and improved content, bug fixes, and any other great stuff we can think of!
- Levels 1-7! We have the first seven levels all done, plus a secret level! That means there's only one left! We're almost done, folks!

It's going to be fun!" Les mer
16. juni


The last of our biweekly updates is here! "To Be Continued..." adds the final chapter of episode 1, Hyperion Labs, along with new music and a newly reanimated pistol! Check it out for yourself in the trailer here:

https://www.youtube.com/watch?v=Xr3Px1YV_lc
Does this mean we're done with Wrack? Certainly not! We'll now be working towards our full release later this year, with new and polished content. We'll have more details soon. Stay tuned!

FULL CHANGELOG

Added the final level of episode 1: Hyperion Labs! The level is complete; however, the final boss fight is not.

Reanimated the pistol! The pistol is now more fluid, uses the updated hands model, and an updated muzzle flash.

Added new music for E1FINALE, as well as its storyboard.

Added the model for the guardsphere. Texture forthcoming!

Added new sounds for Zombo! He should have all of his sounds now. Yay!

Updated the smoke effects when weapons strike walls.

Improved the shotgun walk animation.

Added enough ammo to the Mechron/Oculus arenas to prevent them from being unkillable if you exhaust all of your ammo going into the fight.

Made some sound priority tweaks. Music is now low priority (was lowest), and removed the veryhigh/verylow priorities.

Made a fix to prevent you from falling through certain slopes.

The left/right alt keys can now be used in bindings.

Fixed an issue with newly spawned/given items' animations being out of whack until the game ticks.

The updated weapons now trigger a holserting of the weapon if you try to fire them without having enough ammo.

The weapon is now pulled slightly closer when crouching.

Intermission no longer ticks while the game is paused.

The ChangeToBestWeapon() weapon script commands now returns false if it can't find a suitable weapon to change to.
0 kommentarer
Les mer
2. juni
</img>
We've got a monster of an update for you this time! "The Plot Fattens" starts putting some of the recently added features into effect with the newly reanimated shotgun! Not only that, but there's new music, new sounds, new artwork, and tons more! You can see for yourself in the trailer here:
<iframe width="560" height="315" src="http://www.youtube.com/embed/yaVo3nUfcVA"></iframe>
FULL CHANGELOG

Reanimated the shotgun! The shotgun now takes advantage of a new and improved arms model, camera movement, a better muzzle flash, and much better animations overall!
Added the model for the secret level boss, Giggordo! His portrait and music have been added as well. Oh yeah!
Added support for look delta animations! These animations are played on top of other animations allowing objects to turn to face their target while moving around, and feel more fluid overall.
Added a new charge attack and some sounds for Zombo. His other attacks were tweaked as well.
Added support for muzzle flash particles, which render at a positive relative to the weapon's muzzle bone. The shotgun currently takes advantage of this.
Rewrote nearly all of the game's storyboards and cutscenes. The characters are more defined, and the dialogue is less cheesy overall.
Added a new storyboard that occurs after completing the secret level.
Replaced the "view bobbing" option with the "camera movement" option, which in addition to "Yes/No", has a "Reduced" option.
Gibbing a dead body now resets the kill chain timer.
Redid the gibs for the sentry.
Added new generic machine gibs. These are still in the works, and currently only the sentries spawn them.
Adjusted some of the colors for colorized text.
Crouching now affects the weapon's position offset.
Gave Starlyn a better last name.
Added support for a weapon-less victory mesh that can be used for all of the weapons.
Added the RaiseAnimationFinished() weapon script command, which signals that the raise animation is finished and that the player should be able to move again.
Added the RampAnimationSpeed() weapon script command, which allows you to ramp up the current animation's speed over time.
Added the "muzzlebone" weapon property.
Added the ANIMF_ALWAYSAFFECTCAMERA weapon animation flag, which causes the weapon animation to affect the camera no matter what the player's "camera movement" setting is set to.
Added the ability to set a generator angle/pitch offset in the particle editor.
Reworked how victory is handled. Weapon scripts are now sent the "victory" event, and expected to play the new command, VictoryAnimationFinished(), when the animation is completed.
Fixed a bug that made finished blended animations not render properly if the animation finished off screen.
Fixed an issue that prevented walk animation blending if you change directions quickly with a gap in between (currently, this only applies to the shotgun).
Fixed a bug that caused the position/angle lag to loop when the player's inputs were frozen (cutscenes, etc.).
Fixed a bug that prevented lifts from affecting objects that don't have collision.
Fixed a minor issue with the lowercase j in the main font.
Slightly brightened the blood gush particle.
Particles' "randpitch" property is no longer clamped to a span of 180 degrees.
Particle textures no longer need to be square (but should have sides that are powers of 2).
Went back to the E1L2 brightness from a couple of updates ago.
Added the updated brighter textures for the particle editor.
Restored the Blast Guard to its rightful size.
Swapped the max. armor/doomsphere secrets on E1L4.
4 kommentarer
Les mer
Om spillet
Introducing the
arcade shooter
-
Wrack
!
Combo
your way to victory in this addictive single-player adventure. Slaughter countless enemies as you build up long
kill chains
, and wipe them out with powerful
chain finishers
. Plus, with
Steam Workshop
and extras like
Time Attack
, the action never has to end!
Key Features
Combos and Chains - Be a badass! Take monsters down by the dozen, and rack up addictive fighting game-style kill chains and kill combos!

Finishers - Use your kill chains to unleash devastating chain finishers! Use them to wipe out groups of enemies, take down powerful enemies... or even bosses!

Mega Man-style Bosses - Battle bosses (and minibosses!) inspired by games like Castlevania and Mega Man! Learn how to evade their attacks, and then take them down!

Extra Modes - Compete against yourself, your friends, and the world in Wrack's Time Attack and Score Attack modes! Your best entries are saved to the Steam leaderboards.

Steam Workshop - Create your own levels or fully-fledged mods! Share or play the creations of others using Steam Workshop.
Reviews
"It reminds me of first-person Mega Man." -- Keiji Inafune

"One of those better than it has any right to be experiences." -- Jim Sterling

"Wrack is great!" -- John Romero

"I think they're developing a really nice game here." -- TotalBiscuit
Systemkrav
Minimum:


OS: Windows XP

Processor: Dual core 2.0 GHz

Memory: 1 GB RAM

Graphics: Nvidia 8600GT/ATI HD 4650

DirectX: Version 9.0c

Hard Drive: 750 MB available space
Recommended:


OS: Windows Vista

Processor: Dual core 2.0 GHz

Memory: 2 GB RAM

Graphics: Nvidia 8800GT/ATI HD 4850

DirectX: Version 9.0c

Hard Drive: 1 GB available space
Wrack copyright (C) and is a registered trademark (R) of Final Boss Entertainment, LLC. All rights reserved.
Music and sounds copyright (C) Bobby Prince. All rights reserved.
Hjelpsomme kundeanmeldelser
Tittel:
Wrack
Sjanger:
Action
,
Indie
,
Early Access
Utvikler:
Final Boss Entertainment
Utgiver:
Final Boss Entertainment
Utgivelsesdato:
11. nov, 2013
Språk:
| | Grensesnitt | Full lyd | Teksting |
| --- | --- | --- | --- |
| Engelsk | | | |