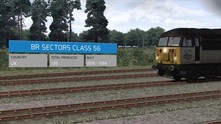 The best just got even better! Dovetail Games pushes the boundaries of simulation once again with Train Simulator 2015!
Veröffentlichung: 18. Sep. 2014
Alle 4 Trailer ansehen
Pakete, die dieses Spiel enthalten
Train Simulator 2015: Steam Edition kaufen
Enthält 6 Artikel: Pacific Surfliner® LA - San Diego Route, San Diego Commuter Rail F59PHI, NEC: New York-New Haven Route Add-On, Munich - Garmisch-Partenkirchen Route Add-On, East Coast Main Line London-Peterborough Route Add-On, Los Angeles Commuter Rail F59PH
Train Simulator 2015: Standard Edition kaufen
Enthält 3 Artikel: NEC: New York-New Haven Route Add-On, Munich - Garmisch-Partenkirchen Route Add-On, East Coast Main Line London-Peterborough Route Add-On
Inhalte zum Herunterladen für dieses Spiel
18. September
Ever dreamed of driving trains? Now you can! Train Simulator brings to life the thrill of driving high speed trains on real world routes in incredible detail.

http://youtu.be/3wn4Pl2-9vI

Welcome to TS Academy: Your career starts here! Learn to master all kinds of trains, locations and situations as you qualify to be a train driver.

Real World Routes: Ride the rails on New York's busiest passenger route, take an alpine adventure from Munich and drive the express service to London in a variety of challenging career scenarios.

Build your dream: Turn your hand to building your own routes with a suite of powerful and easy to use creator tools and download more routes and locos from the store.

http://youtu.be/lfTM9GDQFyM

TS2015 features three stunning routes for you to enjoy:

East Coast Main Line: London-Peterborough, including First Capital Connect Class 365 and Hitachi Class 801 trains

NEC: New York-New Haven, including Amtrak ACS-64 and Amtrak Acela Express trains

Munich – Garmish-Partenkirchen, including DB BR 426 and DB BR 411 'ICE-T' trains.

EXCLUSIVE Steam Edition includes San Diego Commuter Rail F59PHI and Los Angeles Commuter Rail F59PHI, both with scenarios for the Pacific Surfliner®: LA-San Diego route, also included.

Master your Machines with Train Simulator 2015.

http://youtu.be/IBuy-ROyyDM

Find out more on Steam

http://store.steampowered.com/app/24010
42 Kommentare
Weiterlesen
11. September
As part of GE Transportation Systems' Dash 8 Series, the popular Dash8-40C is one of the most popular locomotives in the series, and is now available for Train Simulator.

http://store.steampowered.com/app/277732

Built by General Electric between 1987 and 1992, more than 500 Dash8-40C locomotives entered service for a number of US railroad companies. The Series was the first to be fitted with a microprocessor equipped engine control system, which was later to be adopted on a number of diesel locomotives.

With an output of 4,000hp and a top speed of 68mph (109 km/h), the Dash 8 was considered a heavy duty freight locomotive and was fitted with standard GE equipment, including dynamic braking but without display screens, preferring to retain old style gauges and dials on a tall console in the driver's cab.

Alongside CSX Transportation and Union Pacific, Norfolk Southern originally purchased 89 units and inherited more Dash 8s from Conrail when the two railroads merged. The Dash8-40C for Train Simulator recreates the original locomotive with narrow nose as it operates for Norfolk Southern.

Features of the model include flashing ditch lights, instrument and cab lighting, dynamic braking and Norfolk Southern coal gondolas.

The locomotive is also Quick Drive compatible, giving you the freedom to drive the Norfolk Southern Dash8-40C on any Quick Drive enabled route for Train Simulator, such as those available through Steam. Also included are scenarios specifically for the Norfolk Southern Coal District route (available separately and required to play these scenarios).
10 Kommentare
Weiterlesen
Steam Workshop

Now you can easily find, download and rate Train Simulator 2014 scenarios directly through Steam.

The Steam Workshop enables simple searches for specific content; you can also search by area of interest or by specific routes or add-ons. Once you've found something you want, click the "Subscribe" button and, the next time you play Train Simulator, the scenarios will automatically appear.

You can even see what your friends have added to their favourites. Scenario writers also enjoy a streamlined process for uploading their work directly to Steam. Of course the exciting part is creating your scenario.
Über das Spiel
TS2014 hat alles, was Sie an Zügen lieben: den Geschwindigkeitsrausch, atemberaubende Grafiken, eine Vielzahl an Zügen, realistische Strecken und anspruchsvolle Aufträge. Ob Sie gerne Züge steuern, neue Strecken kreieren oder einfach die wirklichkeitsnahe Landschaft bewundern möchten – Ihre Reise startet mit TS2014!
TS2014 enthält drei atemberaubende Strecken. Erleben Sie die super-moderne London-Faversham Hochgeschwindigkeitsstrecke, die die atemberaubende London St Pancras Station und glänzende Southeastern Class 395 enthält; alternativ können Sie die Kontrolle einer Dash 9, die einen schweren Güterzug über die gebirgige Donner Pass schleppt, übernehmen oder die stromlinienförmige ICE 2 durch die schöne deutsche Landschaft von Hamburg nach Hannover führen.
Fahren : Starten Sie Ihre spannende und bereichernde Karriere als Zugfahrer
Erforschen: Fahren Sie die verschiedensten Züge auf kultigen Strecken der ganzen Welt
Kreieren: Bauen und teilen Sie ganz einfach fantastische eigene Strecken und laden Sie von anderen Spielern erschaffene Routen herunter
Sammeln: Stellen Sie Ihre individuelle Traum-Kollektion mit einer Fülle von zusätzlichen Strecken und Zügen zusammen
Train Simulator 2014: Ihre Reise Beginnt Hier
hauptmerkmale
16 erstaunlich wirklichkeitsgetreue Lokomotiven mit realistischen Geräuschen , Bedienelementen und Bau, einschließlich der Southeastern Class 395 , Southern Pacific Dash 9 und DB ICE 2

3 fantastisch realistische Strecken inklusive London-Faversham High Speed, Donner Pass und Hamburg- Hannover

Steuern Sie mit dem Xbox 360-Controller, der Tastatur oder Maus

Integriertes Steam Workshop mit kostenfreien Missionen zum Download

Erweiterte Grafikdarstellung und verbesserte Performance

Neuer Karrieremodus, bei dem Ihre Fahrkünste bewertet werden, es Belohnungen zu gewinnen gibt und Sie auf die weltweite Rangliste gelangen können

Schnelle Fahrt-Modus : Fahren Sie was Ihnen gefällt und wo Sie möchten

Zugang zur Engine Driver Community-Webseite innerhalb des Spiels

Exklusive Steam Edition enthält zusätzlich eine 7-Meilen lange Anschlusslinie in Kent (UK) und 3 zusätzliche Lokomotiven (Class 466 und SD70M).
Systemvoraussetzungen
Minimum:


Betriebssystem:Windows® XP / Vista / 7 / 8

Prozessor:Prozessor: 2,8 GHz Core 2 Duo (3,2 GHz Core 2 Duo empfohlen), AMD Athlon MP

Speicher:2 GB RAM

Grafik:512 MB mit Pixel Shader 3.0 (AGP PCIe ausschließlich)

DirectX®:9.0c

Festplatte:6 GB HD frei

Sound:Direct X 9.0c kompatibel

Andere Anforderungen:Breitband-Internetverbindung

Zusätzliche Informationen:Quicktime Player vorausgesetzt für Videowiedergabe
Empfohlen:


Grafik:Laptop-Versionen dieser Chipsätze können funktionieren, werden aber nicht unterstützt. Aktuellste Treiber vorausgesetzt

Zusätzliche Informationen:Quicktime Player vorausgesetzt für Videowiedergabe
Amtrak is a registered service mark of the National Railroad Passenger Corporation. All rights reserved. Used with permission. DB and the DB logo are trademarks of Deutsche Bahn AG. Used under license from Hitachi Rail Europe Limited. All rights reserved. All other trademarks are the property of their respective owners.
Hilfreiche Kundenreviews
NA
Noch nicht bewertet.
Titel:
Train Simulator 2015
Genre:
Simulation
Entwickler:
RailSimulator.com
Publisher:
RailSimulator.com
Veröffentlichung:
18. Sep. 2014
Sprachen:
| | Oberfläche | Ton | Untertitel |
| --- | --- | --- | --- |
| Englisch | | | |