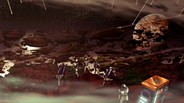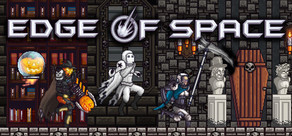 Players suit up as an Operative of the Ark Corporation (ArkCo), deployed into the deepest, darkest, and most dangerous part of the universe. Fight at the edge of space against an array of creative horrors including cybernetically-enhanced laser space sharks or artillery-toting polar bears - and those are not even the strangest...
Megjelenés dátuma: 2013. jún. 28.
Mind a(z) 2 előzetes megnézése
Korai hozzáférésű játék
Szerezz azonnali hozzáférést és kezdj játszani; légy részese a játék fejlődésének.
Megjegyzés: Ez a korai hozzáférésű játék a fejlesztés során vagy változik jelentősebben, vagy nem. Ha nem izgat a vele való játék a jelenlegi állapotában, érdemes lehet várni, míg a játék fejlesztése előrehaladottabbá válik. Tudj meg többet.
Mit mondanak a fejlesztők:
"Edge of Space is still under development. By getting into the ongoing BETA now you will be getting a discount from its final price of $14.99. The game will be improved on a regular basis through updates that will add content, new features, and bug fixes. Please check back frequently to update to new versions. Your feedback matters!

Early Access Incentive

- First Responder Armor: For those who take up the call early will receive armor that will grant bonuses to help in those first waking moments after leaving your pod.

- Surprises: We like to reward! There are still things we might add to reward those people who get the game early." Tovább
Ezt a játékot tartalmazó csomagok
szeptember 19.
Hey, Everyone!

We want to let everyone know that the patch that was meant to be coming out this weekend, is being pushed to next weekend instead (weekend of the 27th). Last week, Paul got very sick on us, and we lost several days of dev time on his end. As he is the one working feverishly on the UI re-write, it brought things to a standstill on that front. Due to the fact that this IS an overhaul of the entire UI, including the menu screen, we're not able to put through an update to the patch timer on the launcher. If we complete the patch and all needed work before then, we will happily patch it out sooner, but we want to err on the side of caution. This is a very labor intensive one for the team, and we want to be sure we set a realistic timeframe. We apologize for the delay, and we hope you guys will bear with us a little longer. By way of apology, we leave you with something awesome to look at, coming in the near future:

http://i.imgur.com/5rwR2wx.png

http://i.imgur.com/fjEVPhu.png

http://i.imgur.com/oBJCskb.png



7 megjegyzés
Tovább
szeptember 15.
Hey ArkCoNauts!

As you all know, the patches have been pouring out, so it's been awhile since we sat down for the news. The team is back from PAX, and we're really happy with everyone's response at the show. Players were treated to a crazy challenge dungeon, showing off what the dungeon system is capable of and what we have in store for the near future. Now that we've gotten back into the swing of things, the next patch on the 22nd is starting to take shape. The focus has to do with UI redesign, something many have felt the game needs. We have not been deaf to that feedback at all and things are already looking so much better as we move forward with this! Here's a look at the new character selection screen:

http://i.imgur.com/hk8FtIY.png


Following this patch, we start to look again at the bigger picture, and move forward to another huge overhaul of player progression. We'll be bringing in some very exciting new directions for it, and it will allow the player to take a far more active role in deciding how their character is built throughout the game. The player experience is very important to us, and it's an area we know has been in need of the attention for a long while. From here, we continue to build progression and solidify the way the higher tiers of content will fit in. The changes coming will start to move from the frame that is in place now, to a more robust, multiple play-style system. While some may instinctively groan at the idea of having to re-learn things, the overall result ties in beautifully with all the progress the game has made over the first half of the year. We're very proud of what Edge of Space has become and look very much forward to seeing these new changes in the hands of players. We will be listening closely to the feedback from you all, as we continue to polish the game, and make it feel better to play than ever before.

On the Community side, we are drawing ever closer to our Halloween event, and are excited to see that coming together. With the help of our awesome community team, we look forward to some frightening fun in October. Good times are ahead, and we're ready to rock this! Thanks for reading, and we'll see you next time for ArkCo News!

2 megjegyzés
Tovább
Official Terraria Content!
MMORPG.com - Best Indie RPG at PAX East 2014
"Edge of Space is looking like another in a long line of fantastic Indie RPGs for the PC gaming crowd this year."
Special Edition
Special Addition Includes (given at full game launch)

First Responder Armor

Sugar Glider Pet

Upgraded Pickaxe: Dig Faster

Edge of Space Soundtrack

Edge of Space PDF Artbook
A játékról:
Players suit up as an Operative of the Ark Corporation (ArkCo), deployed into the deepest, darkest, and most dangerous part of the universe. Fight at the edge of space against an array of creative horrors including cybernetically-enhanced laser space sharks or artillery-toting polar bears - and those are not even the strangest monstrosities to encounter!
You must terraform the entire world, craft armor, weapons, kits, and vehicles to help you explore and conquer. Starting only with a laser pick and the gear from your pod you must immediately start gathering resources to survive. At the absolute edge of space you will adapt or die! Good luck ArkCo Operative!
Key Features (Launch Version)
Open World – Dynamically-generated 2D sandbox set in the deepest recesses of space.

Insane Creatures – Hordes of enemies and epic bosses ranging from Artillabears, squid pandas, jetpack space penguins, and laser space sharks.

Cooperative Exploration – Engrossing gameplay, built from the ground up, to support multiplayer focusing on cooperative exploration and combat with team-based tactics.

Command Center Management – Establish your central base of operation by creating the ultimate Command Center customized with defensive turrets, hangers and repair drones.

PIOS (Power Input Output Systems) – A simple drag and drop tool, letting you design electrical systems as basic as powering a light or as complex as creating your own logic gates.

Deep Exploration – Master the navigation of extraterrestrial hideaways and randomly generated caverns. Explore wormhole anomalies to discover valuable resources and other rare phenomenon.

Exposure – Environmental effect you must protect yourself from by changing the environment or gearing up to handle it

Loads of Armor – Ranging from stat boosting battle armor to quirky vanity costumes, craft armor to survive the changing environmental conditions and threatening mutated monsters

Weapons – Create a wide-variety of dynamically generated weapons ranging from guided rocket launchers to Experimental Gauss Rifles and discover new advanced weaponry to expand your arsenal.

Pets – Create and collect pets that assist you on your epic exploration of space by granting defensive, offensive, or exploration perks.

Anomalies - Random world events both dangerous and helpful

Advanced Crafting System - Using the power of science, craft advanced technology for weapons, gear and base constructions from basic resources

Vehicles - Craft items from hover boards to massive mechs to safely explore the dangerous world

Terraforming - Conquer space by turning the land into a livable habitat

Continual Support – Post-launch updates will regularly bring new content
(Many features listed above are currently in the game but since we are still in Early Access some will be added in the future. Vehicles and Terraforming are among them.)
Rendszerkövetelmények
Minimum:


OS:Windows 7

Processor:2.9 ghz or higher

Memory:2 GB RAM

Graphics:512 MB Video memory

DirectX®:9.0

Hard Drive:900 MB HD space

Other Requirements:Broadband Internet connection
Copyright 2011 Handyman Studios
Hasznos vásárlói értékelések
Cím:
Edge of Space
Műfaj:
Akció
,
Kaland
,
Indie
,
Szerepjáték
,
Korai hozzáférés
Fejlesztő:
Handyman Studios
Kiadó:
Reverb Publishing
Megjelenés dátuma:
2013. jún. 28.
Nyelvek:
| | Felület | Hang | Feliratozás |
| --- | --- | --- | --- |
| Angol | | | |
Díjak
MMORPG.com - Best Indie RPG at PAX East 2014