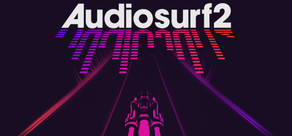 Ride your music. Use your own music to create your own experience on a roller-coaster-like track. The shape, the speed, and the mood of each ride is determined by the song you choose.
Дата виходу: 2 жов 2013
Переглянути відео в HD-якості
Гра з дочасним доступом
Отримайте доступ і відразу почніть грати, беручи участь у процесі розробки.
Увага: ця гра з дочасним доступом може як істотно змінитися за час розробки, так і ні. Якщо вам не дуже кортить зіграти у неї в її поточному стані, то радше зачекайте, доки гра не прийме більш завершений вигляд. Дізнайтеся більше тут
Що бажають сказати розробники:
"Customizable mods are a big part of Audiosurf 2. I've finished a few already, but now I want to open it up to the community. There are lots of ways to play with Audiosurf's visual anticipation technology and I'm excited to see what the community comes up with. But more than that, I need you to tell me what to focus on next! Like the first Audiosurf, community feedback will shape it into the best game it can be. If you're interested in creating and sharing mods (scripting required) or skins (can be done with image, sound, and 3d model changes - and optionally with scripting), even better!

Wakeboard mode is my favorite way to ride (so far) because it uses the song's overall shape as a central part of the gameplay. You anticipate upcoming changes in the music visually and try to build up a big trick multiplier (full puzzle grid) just before jumping from a wavetop. The classic modes are still great and will evolve and twist in different directions. Audiosprint, the local-multiplayer party mode is simple (2 buttons) and a blast with friends.

Warning - there will be bugs! Please use the forum to report problems, request additions, or just discuss what's working well and what isn't. See you there.

Major Features not yet finished:
-- Scoreboard for every song, for every mod (scoreboards are currently sparse and unreliable)
-- Graphical music collection browser
-- Gamepad support in menus
-- Mac, Linux, SteamOS support
-- Translations from English
-- VR (Oculus Rift)
-- Even more official modes
-- Even more official skins
-- Important things I didn't think of yet!" Читати далі
19 вересня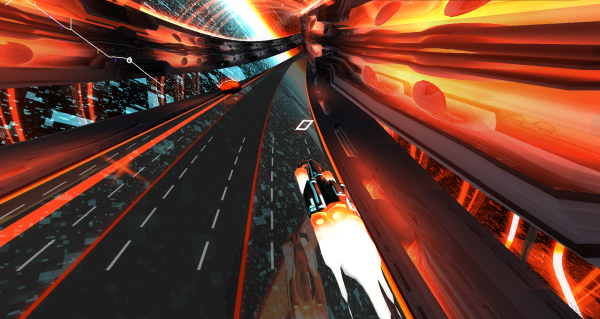 Highlights from this update:

New puzzle modes Vegas, Eraser, and Pointman with powerups and corkscrew loops synchronized to your music.

Full Gamepad and Big Picture support.

Puzzle League with vegas, eraser, pusher, and pointman all competing on the same scoreboards.

Enhanced Mono mode with more loops, more lane variance, and less troll powerups.

In-game "live" leaderboards now show more players competing alongside you.
Changes:
Puzzle League
Added new (enhanced) puzzle modes based on the classic puzzle modes from the original Audiosurf: vegas, pointman, and eraser

These new puzzle modes include a chain bonus (for hitting blocks and making matches continually) and a clean finish bonus (for ending the run with an empty puzzle grid).

Puzzle modes (including Pusher) place powerups at key moments in the music. Like Audiosurf 2's Mono mode, you should try to have a grid full of matches when you hit the big corkscrew loop powerups.

Vegas generates powerups: Sort, Paint (even white paint), and Storm (even white storm).

Scoreboards now show all 4 puzzle modes together on the "League" tab. You can still use the "Global" tab to see scores from only one mode (for example, Pusher only).
Full Gamepad and Big Picture support
Vibration support (xinput controllers only)

Daisywheel support for adding scoreboard comments (or searching songs) via gamepad

Tip: the gamepad's "start" button can be used as a hotkey for the in-game play button (triangle button).

Tip: the gamepad's bumpers can be pressed to increase the scroll speed

The game now autodetects the best quality settings for your PC. It will do it once for each resolution you run at, or you can manually set the rendering quality and the autodetector will never run again.

In-game settings added for resolution, quality, and windowed mode

Game launcher removed
Mono mode improvements
more corkscrew loops allowed (if the song wants them)

more lane variance. Blocks were often set up in a long chains in one lane.

fixed most troll powerups. Powerups that came just after your puzzle collected have had their chainspans (ribbon) extended.
General
Fixed unicode problems in the soundcloud part of the song browser

Added support for following more than 50 soundcloud musicians

Added support for your own (public) soundcloud playlists

Fix: added soundcloud link above scoreboard when in song browser

Fixed occasional problem with web-streamed music block synchronization.

Stadium skin now uses darker colors for puzzle modes

Improved skin loading speed. Stadium skin now loads in about half the time.

Loading screen now correctly shows when a skin is loading vs. when a mod is loading

Fixed chainspan (block ribbon) rendering inside corkscrew loops

In-game "live" scoreboards now show more players competing alongside you and, for puzzle league modes, shows players using other modes from the league

Fix: Live scoreboards now work when gameplay is launched from the Song of the Day tab
Improvements for mod and skin authors:
mods can now load sounds (skins can change them)

air debris now flashes automatically when blocks are hit. Mods can override this by flashing the air debris manually one or more times.

fixed skyboxes

Vegas, pusher, pointman, and eraser all use nearly the same lua script, so any of them are a good baseline for a new puzzle-style mod

Mods gained: AddMinimapMarkers and RumbleActiveGamepad. See a new puzzle mode's lua file for example uses.
Коментарів: 23
Читати далі
29 серпня
Just a quick note to let everyone know the next big update is only about 2 weeks away.
Update: It's out! description coming soon (won't take 3 weeks). Biggest features are Puzzle League and Full Gamepad support
Коментарів: 30
Читати далі
Про гру
Audiosurf 2 is not yet finished, but if you get it during Early Access you can play right away, you'll get every update, and you'll get the finished game. Watch here to see what's new with each update, and watch Steam Workshop to see what new gameplay (mods) and graphic styles (skins) others in the community are inventing.

You'll also get to help shape the future of Audiosurf, and you'll get to try out all the experimental new modes before anybody else does. Which ones are too wacky to go into the final product? Which are jaw-droppingly amazing? Which have potential but need more work before they're released? You get to help decide.



By blending gameplay with music visualization, Audiosurf puts you inside your music in a way nothing else can.

Audiosurf 2's music analysis engine knows when the best moments of a song are coming, and it allows you to experience these moments on a roller-coaster-like track as beat-matched blocks, corkscrews, loops, deafening applause, shimmering colors, and accelerating drops. Head out to Workshop to see the latest experimental modes and things get wild--the track can become water where a wakeboarder catches huge air at a song's biggest moments; a dirt track where runners jump over musically-timed hurdles; or anything else anybody who wants to use the game's built-in modding tools can dream up. The possibilities for experiencing your music in Audiosurf 2 are endless.

Audiosurf has been called a near-religious music experience and it's like nothing else in the world of music games. Ride your music.
Вимоги до системи
Minimum:


OS: Windows XP

Processor: Intel Core i3

Memory: 2 GB RAM

Graphics: Intel HD3000

DirectX: Version 9.0c

Hard Drive: 350 MB available space

Additional Notes: Runs well on even older systems with minimal settings
Корисні рецензії покупців
Назва:
Audiosurf 2
Жанр:
Інді
,
Дочасний доступ
Розробник:
Dylan Fitterer
Видавництво:
Dylan Fitterer
Дата виходу:
2 жов 2013
Мови:
| | Інтерфейс | Озвучення | Субтитри |
| --- | --- | --- | --- |
| англійська | | | |