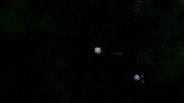 Dynamic abstract sandbox universe. Changes and evolves as you do.
Releasedatum: 17 jun 2011
HD-video bekijken
Info over het spel
In de meeste games zie je sterren op de achtergrond, beschiet je asteroïden en leef je op planeten. Maar in Solar 2 BEN je deze objecten! Stap een universum binnen waar je jezelf moet bewijzen aan het inwonende god-achtige figuur door zijn vele bizarre en gevarieerde taken te doen. Of negeer ze en zie hoe groot je kunt groeien!
Solar 2 is een sandboxgame met een open wereld die gelegen is in het oneindige en abstracte universum. Speel constructief: vergroot je stelsel, voed het leven op de planeten en val vijandelijk leven aan in grote ruimtegevechten. Speel destructief: bots tegen andere objecten en veroorzaak chaos, gebruik je draaiende objecten als sloopkogels en steel planeten van andere stelsels.
Belangrijkste kenmerken:
Dynamisch en abstract sandboxuniversum. Het veraderd en evolueerd als jij dat doet.
Niet-lineaire missies en open-wereld-gameplay.
Geen grenzen. Drijf voor eeuwig in een omringende ruimtegelukzaligheid.
Vol met rare excentrieke humor en dingen.
Uitgebreid zelfgemaakte soundtrack.
Systeemeisen (PC)
OS: Windows XP SP2 or greater
Processor: 1.5 GHz
Memory: 512 MB RAM
Hard Disk Space: 50 MB
Video Card: 128 MB Graphics Card that supports Shader Model 2.0
DirectX®: 9.0c
Additional: Microsoft Xbox 360 Controller support
Systeemeisen (Mac)
OS: OSX 10.6 or greater
Processor: Intel Core 2 Duo
Memory: 2 GB
Hard Disk Space: 100 MB
Video Card: 128 MB Graphics Card that supports OpenGL 2.0
Systeemeisen Linux
OS: Ubuntu 12.04 or above
Processor: 1.5 GHz
Memory: 1 GB
Graphics: OpenGL compatible graphics card with 128 MB RAM, Pixelshader 2.0
Hard Drive: 150 MB
Nuttige klantrecensies
Prijzen