Explore. Build. Conquer. EVE Online immerses you in a sci-fi experience where your every action can have rippling effects across a massive online universe. Team with and compete against over 500,000 players in epic starship battles or wage economic warfare on the galactic player-controlled market.
Utgivningsdatum: 6 maj, 2003
Titta på alla 15 trailers
Notis: Månadsavgift krävs efter första månaden. Om du har köpt EVE på Steam före 4 juni 2013, kan du endast köpa månadsabonnemang eller uppgradera provkonton via EVE Online. Prenumerationer och PLEX kan endast köpas av användare som har köpt den EVE Online Starter Pack via Steam den 4 juni, 2013 eller senare. För att få tillgång till konton som skapats med Starter Pack, ska spelet startas via Steam. Teckenöverföring finns inte tillgängligt för Steam-konton.
Köp EVE Online - Core Starter Pack
Köp EVE Online - Premium Edition
Subscriptions
Köp abonnemangsplan för EVE Online.
Kommer debiteras på en återkommande basis.
Välj en abonnemangsplan
PLEX
Buy EVE Online PLEX
PLEX is short for 30 Day Concord Pilot License Extension. It's an in-game item that can be used to pay for your subscription without using more traditional payment methods.
Välj ett köpalternativ
Nedladdningsbart innehåll för detta spelet
2 september
What is Donate Time?

"Donate Game Time" is an easy way to use PLEX to instantly gift 30 days of game time to another character (more information about PLEX can be found in the Knowledgebase article about PLEX

How to use "Donate Game Time"

To use the "Donate Game Time" feature you need to have at least one PLEX available in your inventory.

Check out the animation below for a visual guide and read on for more details.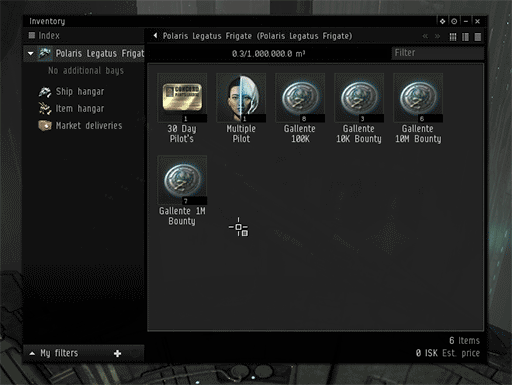 Simply right-click on the PLEX icon and then choose the "Activate PLEX" option from the popup menu. This will open a new window which shows several services available.

At the bottom of this window you will see the "Donate 30 days of game time" option. In the text field, type the name of the character you would like to donate the game time to.

As you type the character name, you will see a list populate with character names that match the text you have entered. Once their name appears, click on the character you would like to donate the game time to.

Once you have selected a character, the Donate button to the right will become clickable. Click the Donate button to start donating the game time.

The Donate button switches to a teal colored Confirm button.

You have 5 seconds to confirm your decision by clicking the button. Afterwards the Confirm button turns back to the Donate button and you will have to re-confirm your choice.

If you have selected the wrong character, you simply can remove the character by clicking the little white X in the text field.

Why use Donate Game Time?

With Donate Game Time you can give game time directly to your friends or to your own alt accounts without going through the process of transferring PLEX to another character, who would then have to actively use that PLEX themselves. It is also a very simple way to activate inactive accounts.

Donate Game Time saves you and the receiving character some time as you transfer the benefits from using PLEX instantly.

Donate Game Time to inactive and trial accounts

If the receiving character resides on an inactive account, the Donate Game Time feature will activate that account and 30 days of game time will be added.

If the receiving character is a trial account, the Donate Game Time feature will convert that account to a full subscribing account and adds 30 days of game time to that account. All trial account restrictions will be lifted.

Donate Game Time and the Buddy Program

If trial accounts invited via the Buddy Program are converted to fully subscribed accounts via the Donate Game Time feature, then the Buddy inviter will receive a reward just as if the trial account owner would have used a PLEX to upgrade the account.

More information about the Buddy Program can be found on the EVE Online Account Management

6 kommentarer
Läs mer
2 september
We are happy to announce that the Hyperion release has been deployed succesfully!

You can read an overview of all the improvements and features that arrived with the Hyperion release in the Coming in Hyperion Dev Blog, by CCP Seagull, Executive Producer for EVE Online, and check out the full patch notes on the Community Portal.

For general feedback on the Hyperion release, please use this thread. To report issues and problems, please usethis thread.

3 kommentarer
Läs mer
New Starter Pack and Add-Ons!



Introducing the new EVE Online Starter Pack! Designed from the ground up to kickstart a new pilot's career, the Core Starter Pack features a full arsenal of skills and gear for miners and crafters.

The Core Starter Pack includes:

The ORE Venture mining frigate

A full set of modules and equipment to kit out your ship

Over two dozen primary skills, ready to train

Blueprints to build the Venture and the deadly Corax destroyer

A Mobile Depot personal deployable

Avatar apparel: male "Esquire" and female "Executor" coats (black)

Prototype Cerebral Accelerator (skill booster)

30 days of game time
To help advance your career in space, choose one or more of the following Add-Ons:
The Colonist Add-On Pack equips you with the essentials for your own planetary industry colonies.

The Explorer Add-On Pack provides specialized gear for whose make their fortunes discovering and looting lost treasures.

The Industrialist Add-On Pack gives you skills, minerals, and blueprints to get started as a manufacturer of the machines of war.

The Skirmisher Add-On Pack arms you with a combat-ready Breacher frigate, ammo and the skills you need to learn to hold your own in battle.
EVE Premium Edition!



Leave all your options open and be ready for anything with the Premium Starter Pack. Everything from the Core Starter Pack and all four Add-Ons are included. We've also added some of the hottest battleship skins and PLEX, an in-game token worth 30 additional days of game time that can be used or traded on the EVE market. Be prepared for wherever your adventurous spirit wants to take you with the Premium Edition.

The Premium Edition includes:


Core Starter Pack (including 30 days of game time)

Colonist Add-on

Explorer Add-on

Industrialist Add-on

Skirmisher Add-on

Abaddon Tash-Murkon Battleship skin

Hyperion Innerzone Shipping Battleship skin

Maelstrom Nefantar Battleship skin

Rokh Wiyrkomi Edition Battleship skin

1 PLEX (30 additional days of game time)
Discover PLEX and play for free



PLEX is 30 days of game time in the form of a tradeable in-game item. If you need extra EVE currency (ISK), you can purchase PLEX for real money directly from Steam or through Account Management and sell it to other players on the in-game market. On the other hand, if you earn enough ISK, you can purchase PLEX from other players on the market and use it to extend your subscription – effectively playing for free.

PLEX is actively traded between players and can be found in every major trade hub of EVE Online. It is only consumed when you activate it, affording you the freedom to use it when and where you need it most.

Selling PLEX to boost your in-game wallet and buying PLEX to pay your subscription using in-game currency are just two of its many uses. PLEX can also be used to purchase various account services or even to pay for out of game events and products.
Om spelet
Utforska. Bygg. Erövra. EVE Online försätter dig in i en sci-fi-upplevelse där varenda beslut du gör kan ha inverkan över ett enormt online-universum. Alliera dig med eller konkurrera mot över 350,000 spelare i storslagna rymdskeppsstrider eller i ekonomisk krigsföring på den galaktiska spelarkontrollerade handeln.
Innehåller:
Många olika PVP-system – Ta värvning in fraktionella krig som lojalist till en av de fyra raserna i EVE, undvik lagen som en rymdpirat eller ta till vapen i de storskaliga allianskrigen som kan bestå av över tusen piloter i vild kamp bland stjärnorna. EVE online låter dig välja den PVP som bäst passar dig och din spelstil.

Enorm spelarkontrollerad ekonomi – Allting som säljs och köps på EVE Online-handeln tillverkas och byts av andra spelare. Köp och sälj med beställningar, kontrakt, budöverenskommelser och många andra verktyg som finns till godo vid byten för att låta spelare bygga upp sitt egna industriimperium. Stig till toppen som en smart entreprenör eller som en medlem i en av de många megabolagen i EVE.

Utforskning, gruvdrift, uppdrag – EVE Online erbjuder en varierande bredd av vägar framåt. Spelare kan arbeta som affärsmän, företagare, politiker, spioner eller vilken annan karriär som helst utan hinder. Hundratals inlärningsbara förmågor och ett öppet spelsätt gör det möjligt för dig att själv definiera den roll du vill spela som i det virtuella universumet.

Befriande karaktärsutveckling - Du behöver aldrig "grinda" för förmågor igen. Det passiva inlärningssystemet tillåter dina förmågor att förbättras även då du är offline.

Sammanhängande universum - Spela med hundratusentals spelare i samma kontinuerliga universum, där din ryktbarhet, god som ond, inte enbart är inskränkt till en liten del av spelarbasen.

Gratis expansioner – Du kommer aldrig att behöva betala för en EVE-expansion - utan när EVE-universumet utökas, gör likväl din prenumeration det.

Spela gratis – Insatta spelare kan eventuellt betala för sin speltid genom in-game-valuta som de tjänar när de spelar.
Systemkrav (PC)
Minimikrav:


Operativsystem som kan användas: Windows® XP Service Pack 2 / Vista / 7

Processor: Intel Pentium® eller AMD A med 1,5 Ghz eller mer som stödjer SSE2

Minne: XP (SP2) – 1 GB / Vista – 1.5 GB

Hårddisk: 6 GB ledigt utrymme

Grafik: Grafikkort som stödjer Shader Model 3.0

Drivrutiner: DirectX® 9.0c (medföljer) med de senaste grafikdrivrutinerna

Nätverk: 56k-modem eller bättre Internetanslutning

Obs! Minsta skärmupplösning för EVE är 1024x768. Ljudmaskinvaran måste vara Direct Sound-kompatibel. Använd de senaste drivrutinerna för bästa prestanda. Observera att Windows 95, Windows 98, ME, NT och 2000 inte stöds.
Rekommenderas:


Operativsystem som kan användas: Windows® XP Service Pack 2 / Vista / 7

Processor: Intel Pentium® eller AMD dual core på 2 Ghz eller mer som stödjer SSE2

Minne: 2 GB

Hårddisk: 6 GB ledigt utrymme

Grafik: Grafikkort som stödjer Shader Model 3.0

Drivrutiner: DirectX® 9.0c (medföljer) med de senaste grafikdrivrutinerna

Nätverk: ADSL-anslutning eller snabbare
Systemkrav (MAC)
Minimum:


Hårdvara som stöds*: Hårdvara som stöds är MacBook Pro laptops, Mac Pro-maskiner och iMacs. Alla dessa maskiner lever upp till följande minimikrav:

Operativsystem: OS X 10.5.8 eller senare

Processor: Intel-baserad dator med CPU-hastighet större eller lika med 1.8GHz

Minne: 1024 MB eller mer

Grafik: ATI X1600 eller NVIDIA GeForce 7300 GT eller högre med 128 MB grafik-RAM

Hårddisk: 6.0 GB ledigt utrymme

Nätverk: 56k eller bättre Internetanslutning

* Klienten kör inte på en PowerPC (G3/G4/G5)-baserade Macintosh-maskiner. Laptops eller Mac Minis med med stöd för Intel-grafikchipsets exempelvis GMA950 eller X3100. Versioner av Macbooks och Mac Minis med Nvidia-grafikchipsets stöds däremot.
Rekommenderat:


Operativsystem: OS X 10.6.2 eller senare

Processor: Intel-baserad 2 GHz eller bättre

Minne: 2 GB

Grafik: ATI HD2600 PRO eller NVIDIA GeForce 8800 GT

Hårddisk: 6.0 GB eller mer ledigt utrymme

Nätverk: Bredbandsanslutning
Hjälpsamma kundrecensioner
Priser
MMORPG.com
2011 Players' Choice Game of the Year
TenTonHammer
2010 Online Community of the Decade
GDC Online
2010 Best Live Game of the Year