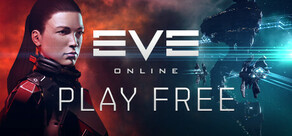 Udforsk. Byg. Erobr. EVE Online bringer dig ind i en sci-fi-oplevelse hvor hver handling, du tager, kan have skvulpende virkninger over et massivt online univers. Gå sammen og kæmp mod over 350.000 spillere i en episke starship-kampe eller udkæmp lønsom krigsførelse på det galaktiske, spillerkontrolerede marked.
Udgivelsesdato: 6 Maj 2003
Vis alle 15 trailere
This product does not have support for your local language. Please review the supported language list below before purchasing
Bemærk: Purchasing a Starter Pack will initiate the creation of a new EVE account. This account cannot be combined with any existing EVE account(trial included) and has to be accessed separately through the Steam client.

Monthly subscription fee required after first month. Subscriptions & PLEX through the Steam store can only be purchased by users that have purchased the EVE Online Starter Pack via Steam on or after June 4th, 2013.

Owners of the EVE Online: Starter Pack will be unable to purchase the EVE Online: Rubicon Bundle for the same account.
Køb EVE Online: Starter Pack
This Starter Pack will Create a New EVE Online Account.
Køb EVE Online: Entrepreneur Bundle
Includes EVE: Online and 1 PLEX. This Starter Pack will Create a New EVE Online Account.
Subscriptions
Køb abonnementplan til
Afkræves på en tilbagevendende basis.
Vælg en abbonementplan
PLEX
Buy EVE Online PLEX
PLEX is short for 30 Day Concord Pilot License Extension. It's an in-game item that can be used to pay for your subscription without using more traditional payment methods.
Vælg en betalingsmetode
15 Juli 2014
We are happy to announce that the Crius feature site is now live, detailing all the changes coming with the Crius Release on July 22, 2014!

In addition to this, the latest In Development video is also now available on YouTube for your viewing pleasure, where CCP Mimic speaks with CCP Nullarbor and CCP Tuxford about what's coming in the Crius release next week.

Check out these two sources, as well as the Dev Blogs listing on the Community Portal for further information on what's coming with the next release on July 22!

Full patch notes and &nbsp;details of downtime for the Crius release will be forthcoming toward the back end of this week.</p>

Enjoy!

13 kommentarer
Læs mere
6 Maj 2014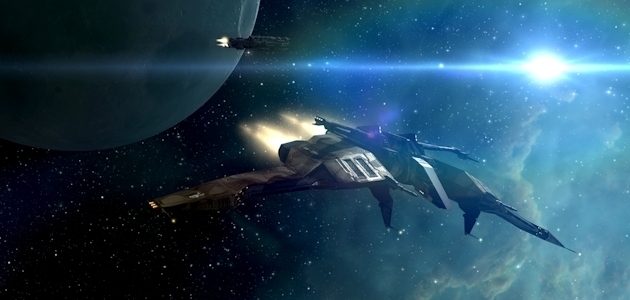 Welcome to a new year for New Eden!

To celebrate the epic decade of history that our community has written in the last 11 years, you'll find a small token of our gratitude in your redeeming system, three Gecko superheavy drones designed by the Guristas and sporting more damage, more durability and more striking power than any drone ever released before.

As of downtime today, you have the chance to unlock a further eight of these drones for each player on Tranquility, totaling 11, one for each year of existance EVE Online is celebrating, by completing a number of challenges as a collective community.  You can see details of the challenges on the EVE 11 Celebration page, and track the community's progress toward each goal.

At downtime on May 13th, the counters will close, and the number of Geckos successfully unlocked will be issued to every player on Tranquility.

Start mining, fighting, manufacturing and playing today on order to claim your rewards!

Happy Anniversary from CCP Games!
16 kommentarer
Læs mere
There has never been a better moment to start playing EVE Online…



The die has been cast, the Empires more estranged from each other than ever before, once mighty alliances broken and scattered to the wind. But nature abhors vacuum.
Beyond Rubicon lies power that ordinary pilots could never have imagined in years gone by. Now is your chance to seize the day and forge your own empire among the smoldering ashes of old regime. A chance to find new comrades, seek your own destiny, and leave your named scarred across New Eden's history for centuries to come.

There is no turning back. Can the biggest gaming community on Earth take on New Eden?
What is PLEX and how to play for free



PLEX is 30 days of game time in the form of a tradeable in-game item. If you need extra EVE currency (ISK), you can purchase PLEX for real money directly from Steam or through Account Management and sell it to other players on the in-game market. On the other hand, if you earn enough ISK, you can purchase PLEX from other players on the market and use it to extend your subscription – effectively playing for free.

PLEX is actively traded between players and can be found in every major trade hub of EVE Online. It is only consumed when you activate it, affording you the freedom to use it when and where you need it most.

Selling PLEX to boost your in-game wallet and buying PLEX to pay your subscription using in-game currency are just two of its many uses. PLEX can also be used to purchase various account services or even to pay for out of game events and products.
Explorer Super Starter Pack


Launch your dreams for galactic conquest faster and easier with an EVE Online Starter Pack, a complete set of beginner gear to kick start your chosen career among the stars. The Super Starter Pack includes four starships -- one for each race, -- as well as a kit of essential equipment, modules and skillbooks to put you in the pilot's seat faster and get you into the action the minute you log in. Additionally, the Starter Pack gives you 30 days of game time and the Prototype Cerebral Accelerator (skill booster) , allowing you to make the most of your first days in the opportunity-filled universe of EVE Online.

Steam Super Starter Pack includes:


Magnate, Probe, Heron and Imicus exploration frigates

A scanner probe launcher and analyzer modules to help you find riches among the stars

Basic frigate equipment and weaponry sets to kit out your ships

Archaeology, Hacking and a dozen other critical skillbooks

Prototype Cerebral Accelerator (skill booster)

30 days of game time
To get your items, log into the game, create a character, then click the "Redeem Items" panel on the bottom of the character creation screen.
Please note that your EVE Online account becomes active immediately after purchase and starts using the 30 days of game time included in the Starter Pack. Should you experience any problems with logging into the game, please contact EVE Online Customer Support team via email: support@eveonline.com.
Om spillet
Udforsk. Byg. Erobr. EVE Online bringer dig ind i en sci-fi-oplevelse hvor hver handling, du tager, kan have skvulpende virkninger over et massivt online univers. Gå sammen og kæmp mod over 350.000 spillere i en episke starship-kampe eller udkæmp lønsom krigsførelse på det galaktiske, spillerkontrolerede marked.
Centrale elementer
Adskillige PVP-systemer – Meld dig til fraktionskrigsførelse som én af de fire EVE-racers loyalist idet du undgår lovene som en dybrum-pirat eller gå i krig i den storstilede alliancekrigskonflikt, hvor kampe kan bestå af over tusinde piloter, der tørner sammen i forsøget på at opnå overlegenhed blandt stjernerne. Eve online lader dig vælge PVP-typen, som passer din spilstil.

Massiv spillerdrevet økonomi – Alt, der købes og sælges på EVE Online-markedet, fremstilles og byttes as spillere. Køb og sælg ordre, kontrakter, kurér-aftaler - mange andre værktøjer er tilgængelige, så spilleren kan udgrave sit industrielle imperium. Stig til vejrs som en kløgtig entreprenør eller som et medlem af en af de mange eksisterende mega-virksomheder i EVE.

Udforskning, minearbejde, missioner – EVE Online tilbyder et forskelligt udvalg af udviklingsveje. Spillere kan skride frem som købmænd, industrialister, politikere, spioner eller mange andre karrierer uden begrænsninger. Hundredvis af evner, som kan trænes, og åben gameplay gør dig i stand til at definere rollen, du vil spille, i det virtuelle univers.

Befriende karakterudvikling - "Slæb" aldrig over en evne igen. Passivt evne-opnåelsessystem gør dine evner i stand til at stige, selv når du er offline.

Ét enkelt univers - Deltag med hundredtusindvis af spillere i det samme vedvarende univers, hvor din berømmelse eller vanære ikke begrænses til bare en delmængde af spilstammen.

Gratis udvidelser – Du vil aldrig skulle betale for en EVE-udvidelse - når EVE-universet bliver større, gør fordelene ved din subskription det også.

Spil GRATIS – Fastslåede spillere kan med tiden betale for deres spiltid med penge, de tjener, mens de spiller.
Systemkrav til PC
Minimumskrav:


Understøttede OS: Windows® XP Service Pack 2 / Vista / 7

Processor: Intel Pentium® eller AMD på 1,5 Ghz eller bedre, som understøtter SSE2

Hukommelse: XP (SP2) - 1 GB / Vista - 1,5 GB

Harddisk: 6GB ledig harddiskplads

Video: Shader Model 3.0-understøttede grafikkort

Drivere: DirectX® 9.0c (medfølger) og seneste grafikkortdrivere

Netværk: 56k modem eller bedre internetforbindelse

Bemærk: Den mindste skærmopløsning til EVE er 1024x768. Lydhardware skal være Direct Sound-kompatibel. Af hensyn til bedst mulig ydeevne skal du bruge de nyeste tilgængelige drivere. Bemærk, at Windows 95, Windows 98, ME, NT og 2000 før SP2 ikke er understøttet.
Anbefalet:


Understøttede OS: Windows® XP Service Pack 2 / Vista / 7

Processor: Intel Pentium® eller AMD dual core på 2 GHz eller bedre, som understøtter SSE2

Hukommelse: 2 GB

Harddisk: 6,0 GB ledig harddiskplads

Grafik: Shader Model 3.0 Grafikkort

Drivere: DirectX® 9.0c (medfølger) og seneste grafikkortdrivere

Netværk: ADSL-forbindelse eller hurtigere
Systemkrav til Mac
Minimum:



Supported OS: Mac OS X 10.7.5

Processor: CPU that supports SSE2 (Intel Dual Core @ 2.0 GHz)

Memory: 2 GB

Hard Drive: 20 GB Free Space

Video: GPU with 256 MB VRAM or more that supports Shader Model 3 and DirectX 9.0c (NVIDIA GeForce 320m, Intel HD 3000)

Audio: Supports SSE, Direct Sound compatible

Network: ADSL connection (or faster)
Recommended:



OS: Mac OS X 10.7.5

Processor: Intel i7 Series @ 3.0 GHz or greater

Memory: 8 GB or greater

Hard Drive: 20 GB Free Space

Video: NVIDIA GeForce 675mx or better with at least 1 GB VRAM

Audio: Supports SSE, Direct Sound compatible

Network: ADSL connection (or faster)
Helpful customer reviews
Priser
MMORPG.com
2011 Players' Choice Game of the Year
TenTonHammer
2010 Online Community of the Decade
GDC Online
2010 Best Live Game of the Year