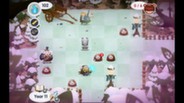 Road Not Taken is a roguelike puzzle game about surviving life's surprises. You play as a ranger adventuring through a vast, unforgiving forest in the aftermath of a brutal winter storm, rescuing children who have lost their way.
Veröffentlichung: 5. Aug. 2014
Alle 2 Trailer ansehen
15. September
Hi folks! We're pleased to announce the next major free update to Road Not Taken is now publicly available!

New "just for fun" Timed Mode: try to rescue all the kids within four minutes! You lose time whenever you take damage, and you add time to the clock whenever you eat food and rescue children. Timed Mode has no impact on your career, so it's a great way to enjoy Road Not Taken for a few minutes with limited stress. :-)


New creatures: the Forest Kraken and the Golem (and for those who haven't yet noticed it in our previous micro-update, the Ninja Bear!) These guys add a little spice to the early years of your career!


"Easier" mode and hard mode: In our previous micro-update, we split the game into two modes, Normal and Hard. "Hard" is basically our original gameplay mode with a few tweaks; "Normal" is more generous with energy and had less crowded rooms, among other changes. Checkpoints are also less punishing to use now. We've done more work in this update and now consider these features "complete!" This should make the game much more accessible to new users.


Mod support!: Now you can edit everything about the game, including the properties of objects and levels, make your own hand-crafted puzzle rooms and more, and share your work with your friends! Running a mod will prevent your game from uploading scores to the leaderboards (to keep them pure/fair.) Also, please note that using mods is something you do at your own risk! We're a very small studio and can't be expected to prevent or to fix every issue that could arise in the zillions of possible mods that can be created. We're excited to see those zillions of possibilities emerge though. :-) Detailed instructions on how to use and create mods can be found here.
We've worked hard on this update and really hope you enjoy it!
-Chedd
3 Kommentare
Weiterlesen
26. August
Hi folks!

Road Not Taken now contains two difficulty modes, "normal" and "hard." The latter, hard mode, is basically what the default mode of the game used to be. The new "normal" mode has less crowded rooms on average, easier-to-reach and use checkpoints, smaller door locks on average, and various other subtle changes that make it a little less difficult. It should still present a challenge to people who have not yet mastered the game.

One major change is that for *both* normal and hard mode players, we have made shrines (aka checkpoints) less punishing to use. You will keep a percentage of your items when you die and restore via checkpoint. Another change to both modes is that various objects now have a very small chance of dropping an object with thrown. Usually it's a good object like food or resources, and it's always the same object (i.e. a parent will always drop an apple when thrown, if it is going to drop anything at all.)

Another major change is the appearance of a new critter in the forest! Fans of our previous games will no doubt recognize it. :-)

As always, we're grateful for your feedback and support. This update is a direct result of the opinions you have so kindly shared with us in the forums. Please keep 'em coming!

-Chedd

PS. Playstation 4 users who happen to be reading this: we'll be migrating these changes to you eventually as well. It just takes a lot longer because of the Playstation certification process.
0 Kommentare
Weiterlesen
Reviews
"It looks like a cute fairy tale, but this is a turn-based game that's thorny with challenge and packed with an incredible number of gameplay secrets."
Should you play this game: YES – Kotaku

"Road Not Taken is the cutest catalyst for an existential crisis I've ever encountered"
4.5 out of 5 – Joystiq

"It's as mean as life, as cruel as the universe, and it still manages to be one of the most intriguing and moving titles released this year."
90 out of 100 – GamesBeat

Über das Spiel
Road Not Taken ist ein Roguelike-Puzzlespiel und handelt vom Bewältigen der Überraschungen des Lebens. Spiele einen Waldhüter, der durch einen riesigen, gnadenlosen Wald nach der Zerstörung eines heftigen Wintersturms reist und rette Kinder, die sich verirrt haben. Prozedural generierte Level sorgen für einen endlosen Vorrat an erforschbaren Möglichkeiten und Herausforderungen, die es zu meistern gilt. Deine Handlungen werden nicht nur Deine eigene Geschichte beeinflussen, sondern auch die der Dorfbewohner, mit denen Du Dich anfreunden möchtest, sowie die Stadt, die Du dein Zuhause nennst.

Jedes Mal, wenn Du Road Not Taken spielst, wirst Du aller Voraussicht nach eine andere Geschichte erleben. Deine gewählten Pfade und die geführten Beziehungen ändern sich auf unerwartete Weise. Hört sich wie nach dem echten Leben an.

Die Dorfbewohner von Road Not Taken glauben an ein optimales Leben: Ein guter Mensch hat einen Job, verliebt sich und bekommt Kinder. Wird Dir das auch passieren? Oder findest Du Deinen einzigartigen Weg durchs Leben?

Ein neuer Weg mit jedem Spiel

In Road Not Taken führt keine Reise zum selben Ziel. Die Wege und Beziehungen werden sich unerwartet ändern und die Geschichte, die Du mit Deinen Handlungen erschaffst, wartet auf Deine Entscheidungen. Jeder Durchgang bietet neue und ungewöhnliche Kreaturen, Geheimnisse und Gegenstände. Baue Beziehungen mit neuen Dorfbewohnern auf und löse teuflische, von Hand gemachte Puzzleräume.

Gehirnmasse statt Muskelmasse

Dein Charakter kann mit Magie Objekte aufheben und bewegen. Finde einen Weg, wie Du dieses Talent einsetzt, um eine Vielzahl an gefährlichen Kreaturen, Hindernissen und Endgegnern zu überwinden.

Eine Wildnis zum Verlieben

Road Not Taken wird durch umwerfendes 2D-Artwork, bezauberndes Sprite-Design und einen atmosphärischen Soundtrack zum Leben erweckt. Jedes Puzzle erfordert Erkundungsgeschick und eine gefinkelte Strategie. Es testet das Denken der Spieler, bevor sie ihren nächsten Schritt wagen.
Systemvoraussetzungen (PC)
Minimum:


OS: Windows XP

Memory: 2 GB RAM
Recommended:


OS: Windows 7

Memory: 6 GB RAM
Systemvoraussetzungen (Mac)
Minimum:


OS: Mac OS X v10.6 or later

Memory: 2 GB RAM
Recommended:


OS: Mac OS X v10.6 or later

Memory: 6 GB RAM
Hilfreiche Kundenreviews