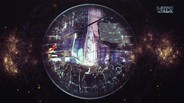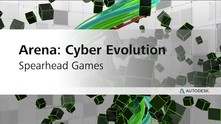 The world's first MOSA (Multiplayer Online Sports Arena) is now available on Steam Early Access!
Data de lançamento: 18/ago/2014
Assistir a todos os 2 trailers
Jogo com acesso antecipado
Comece a jogar agora e participe do desenvolvimento do jogo!
Observação: Este jogo com acesso antecipado pode ou não sofrer alterações significativas durante o desenvolvimento. Caso não esteja com vontade de jogá-lo no estado atual, talvez queira esperar até que o desenvolvimento esteja mais adiantado. Saiba mais
O que os desenvolvedores têm a dizer:
Por que acesso antecipado?
"We know that creating significant and meaningful on the eSport scene is no small task and this is why that we have involved the players community since the very beginning of the development (when there was no menu or options... Or texture )!
While there is still much to be done, we believe that our game is now ready to enter a new phase and we are ready to open our game to more through early access and use this opportunity to make it reach its full potential!"
Por quanto tempo este jogo estará em acesso antecipado?
"Until we reach a level where we can confidently organize pro-caliber tournament!
We expect it to take somewhere between 6 months and 1 year."
Como a versão completa será diferente da versão de acesso antecipado?
"
Less gameplay & connexion bugs

Better performance optimisation

Better lag management

Team system

Ranked mode

New characters

New implants

Improved spectator mode

Voice acting for characters

Dedicated servers

As well as other choices based on choice from the community playing the game!
"
Qual é o estado atual da versão de acesso antecipado?
"Core gameplay and meta-game are ALPHA. Fun is definitely there!
Still a lot of small bugs and visual polish to be done.
A few important features missing (team, rank, spectator mode)."
O preço do jogo será alterado após o fim do acesso antecipado?
"No!
Arena: Cyber Evolution is FREE and will always remain so. :-)"
Como vocês planejam envolver a comunidade durante o processo de desenvolvimento?
"Community is already actively part of Arena: Cyber Evolution since the very beginning (even when the game was so early it looked like an atari 2600 game). Here are a few initiatives already in place to interact with our players:
Daily design meeting on our Twitch channel (7PM ET every week day)

Open discussion about the design and development on our Steam forum

Our design documents are open and available for the community to see

Our entire development now archived on Youtube

Many people of our community take active part in the project (community management, QA, event organization, design, etc)

Supporters will get to vote for the next features we develop!
"
Leia mais
Jogar Arena : Cyber Evolution
Conteúdo adicional para este jogo
10 de setembro
ARENA: CYBER EVOLUTION
Version 0.4
==========================

NEW CONTENT
============
- New SHERIFFINATOR skin for The Negociator.
- New Cowboy Hat
(comes with the Sheriffinator skin, or can be bought separately).
- New Fireman Hat
- New Straw Hat
- New Helicopter Hat


COMMUNITY-REQUESTED CHANGES/FEATURES
==============================================
COOLDOWN VISIBILITY
- The in-game mouse laser/cursor now turns green when your Secondary (right click) Power is ready to be used. The laser turns white when it is on cooldown. This is only the first pass of an overhaul of the player HUD, there is a lot more coming to make all of the game's events and actions more clear.

GAME SPEED
- Slightly reduced size of players and their collision.
- Slightly increased movement speed.
- Slightly increased shot/pass strength.

IMPLANTS
- Reduced the effectiveness of the "Power on Pass" implant.


COMMUNITY-REPORTED BUG FIXES
=================================
"STUCK ON LOADING SCREEN" BUG
- This bug should no longer occur. If you still run into it, please report it via the Report Bug feature AND post about it in the ACE Steam forums (in the Bugs subforum). Thanks!

SCORING THROUGH GOAL
- We have reinforced the collision around the goals, so scoring through a goal wall should no longer be possible.

VENGEFUL STAR
- Fixed Vengeful Star's Hyperdisk (right click) power on clients.

CONTROLLER SUPPORT
- Fixed a bug where the characters would face the opposite direction of the movement direction when using a controller.

- Fixed a bug where the Back To Home Menu button would not appear at the end of a game if you played a game by yourself with no bots.

- Fixed hats sometimes appearing at characters' feet for clients.


OTHER NEW FEATURES/CHANGES
================================

Both teams will now see the victorious team's dance at the end of the match.
1 comentários
Leia mais
3 de setembro
ARENA: CYBER EVOLUTION
==========================
Version 0.3 (24151)
==========================

COMMUNITY-REQUESTED CHANGES/FEATURES
================================
REPLAYS
- Many players find that the replays are too long and eat up too much of the gameplay time and we agree. While we work to improve the replay system, we have temporarily removed replays completely. Please continue to provide feedback on the forums about the replay system and how you would like it to work. For example, we could show replays only when the teams' scores are 2-3 points or less apart, or only if there has been 1-2 passes X number of seconds before a goal is scored, etc.

MATCHMAKING
- Players with lower spec PCs can no longer host a game when using Find Normal Game. They can still host Custom Games, and will still be able to JOIN games using Find Normal Game or any other method. This will help prevent instances where a player with a slower PC is picked as the host, which would make the game laggier for everyone. The current cutoff for when a PC is considered "low-spec" is if you have less than any of the following: 2 CPU cores, 2.2ghz CPU speed, 2GB RAM.

FRIENDS LIST
- In-game friend list cap has been increased to 150. This should fix instances where you were not seeing all of your friends that were currently online.

OTHER
- Removed the 'say' and 'teamsay' console commands. These were not intended to be there and people were abusing them and harassing players with them.


COMMUNITY-REPORTED BUG FIXES
================================
"STUCK ON LOADING SCREEN" BUG
- Added additional logging to help us find the cause of this issue. Please use the Report Bug feature if you run into this issue after this update.

CUSTOM GAMES
- Fixed a bug where you could not host two Custom Games in a row without rebooting the game.

PARTY SYSTEM & MATCHMAKING
- The matchmaking system now takes into account Party size correctly when deciding which game to join. If there is not enough room in the game for the entire Party, the game will not be joined and that Party will wait for other players instead. Note that there is still a bug where if there is enough room in the game for a Party, but not enough room for them on the same team, that Party will be put on different teams. We are working to fix this issue on the next update.
- Parties will no longer be able to join Custom Games that do not have room for all of the Party's players on the same team.


CUSTOMIZATION
- Hats now disappear correctly when using Stalker's Invisibility.

GAMEPLAY
- Stalker no longer keeps the disc when he teleports. This worked correctly on the host, but clients were able to teleport with the disc.
- Fixed instances where the player model's rotation was not always facing where the mouse was aiming.
- Fixed instances where players on one team would not be facing the correct direction upon disc reset (after a goal).

CONTROLLER SUPPORT
- Fixed controller right stick getting inverted depending on which team you were on.
- Removed Ouya controller support. This MAY fix a problem where the game was detecting certain computer as having an Ouya controller when they did not, which resulted in their W and A keys are always active. Note that this is a bit of a 'blind' fix since we do not have an Ouya controller and are unable to reproduce this issue on our side. If you had this W and A key problem before this update, please try again and let us know if it's still occuring.


OTHER NEW FEATURES/CHANGES
================================
SKINS
- New Shinobi skin for the Stalker.

BOTS
- Nitrogen Queen Bot AI has been added and she is now added to the pool of possible bots that will be randomly picked when bots are enabled.
- Fixed bots not grabbing the disc sometimes even if they were 0 distance from it.

GAMEPLAY
- The Goal/Passes/etc stats at the end of the match have been hidden because some of them are not tracked properly (for example if you shoot at your own closed goal, it will add one goal to your player stats, same if you hit the pole on the enemy goal). We will reactivate them once we have fixed them. Right now it's just causing confusion more than anything.
4 comentários
Leia mais
Análises
"The futuristic cyberpunk soccer game was the best new esport at PAX East"
Dailydot

"It could very well be the next big esport at competitions all across the globe"
egmnow

"The communal aspect of Project Cyber is what revolutionizes this experience. Not only can you voice your opinion during the development process, you will also get the chance to change the match you're watching by choosing an event"
spiderduck

Sobre o jogo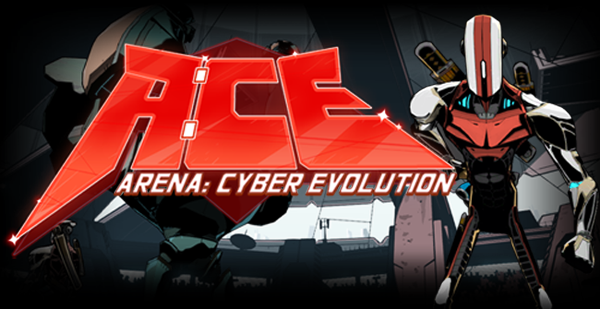 At Spearhead Games, we believe that e-sports are the next step in international competition. We believe that this growing trend is on the verge of becoming mainstream globally and will play a significant role in defining the future of sports.
Arena: Cyber Evolution is the result of our passion for this phenomenon and what it can become.
We know that creating a game that is significant and meaningful on the e-sport scene is no small task and this is why that we have involved the player community since the very beginning of the development, when there were no menus, options, or even textures!
Arena: Cyber Evolution (ACE) is a futuristic physics-based sports game in which players confront each other in 3 vs 3 matches of wits and twitch reflexes.
By featuring a MOBA-like champion logic, ACE brings an unprecedented twist to the sports genre by allowing players to choose from a variety of super-powered heroes and what style of gameplay they prefer to build their own team strategies.
Designed from the ground up around the mouse & keyboard, ACE was not envisioned only as a sport game, but really as a new sport.
ACE's ultra-precise control scheme allows players to analogically manipulate the disk using simple mouse gestures.
Just like in real sports, this gameplay allows for super intuitive gameplay while proposing nearly infinite depth & skill cap.
An unique blend of action games, sports games and MOBA.

The closest experience to playing a traditional sport in a video game.

Dynamic physics-based gameplay that is both deep and accessible.

Innovative mouse gesture control allows for fluid and natural actions (passes, shots, intercepts and jukes).

Having all human players makes positioning meaningful and allow for infinite team strategies.

Several characters each with unique powers and play styles

Unlock implants (to improve and customize your characters), team boosts, upgrades, and special abilities.

Very fun to watch as a spectator - even without prior knowledge of the game.

New characters, implants, custom arenas, events, challenges, and much more coming soon! New updates every month!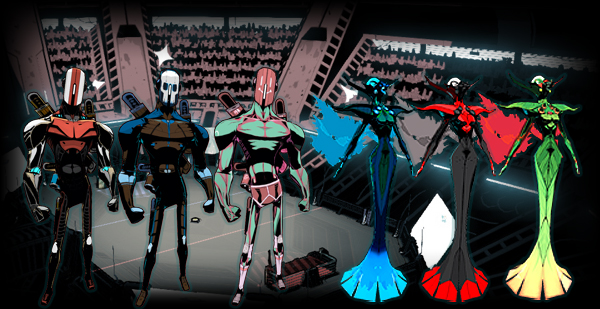 Arena: Cyber Evolution is free to play and we want it to stay this way forever. We believe that it should be at the core of any sport to be accessible for everyone to play and practice no matter what.
As an independent game studio, we however need some money to keep developing the game and improving it.
This is why we integrated monetization features in the game with the possibility to buy skins, hats and other customizations with real money. For us, this is a simple way to allow players who really enjoy and believe in the game to support its continued development by ''donating'' and receiving rewards for it.
All the money received this way will be used to fuel the game development. Based on how much we collect through monetization, we will develop the features listed in our stretch goals.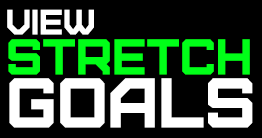 In addition to the items available in-game, the following great packages are available as DLC:
Supporters Pack DLC
Founders Pack DLC
Champions Pack DLC
Pillar Pack DLC
More
For more opportunities to support us, please visite our
web page
!
Requisitos de sistema
Minimum:


OS: Vista, 7, 8

Processor: P4 3 Ghz or Athlon 3400

Memory: 2 GB RAM

Graphics: 256 MB Video Memory with Shader Model 3.0 support; ATI Radeon X1600XT / NVIDEA GeForce 7800GS

DirectX: Version 9.0c

Network: Broadband Internet connection
Análises úteis de usuários
Título:
Arena : Cyber Evolution
Gênero:
Ação
,
Gratuito para Jogar (Free to Play)
,
Indie
,
Esportes
,
Estratégia
,
Acesso Antecipado
Desenvolvedor:
Spearhead Games
Distribuidora:
Spearhead Games
Data de lançamento:
18/ago/2014
Idiomas:
| | Interface | Dublagem | Legendas |
| --- | --- | --- | --- |
| Inglês | | | |