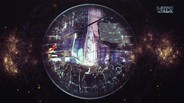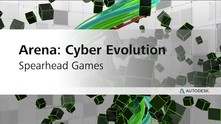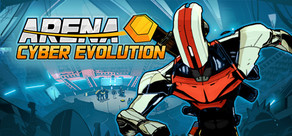 The world's first MOSA (Multiplayer Online Sports Arena) is now available on Steam Early Access!
Data di rilascio: 18 Ago 2014
Guarda tutti e 2 i trailer
Gioco con accesso anticipato
Ottieni l'accesso anticipato ed inizia a giocare ora; prendi parte a questo gioco mentre viene sviluppato.
Nota: questo gioco potrebbe cambiare significativamente durante lo sviluppo. Se non vuoi giocare al titolo nel suo stato attuale, puoi aspettare che venga sviluppato ulteriormente. Ulteriori informazioni
Cosa dicono gli sviluppatori:
Perché l'accesso è anticipato?
"We know that creating significant and meaningful on the eSport scene is no small task and this is why that we have involved the players community since the very beginning of the development (when there was no menu or options... Or texture )!
While there is still much to be done, we believe that our game is now ready to enter a new phase and we are ready to open our game to more through early access and use this opportunity to make it reach its full potential!"
Per quanto tempo questo gioco rimarrà in accesso anticipato?
"Until we reach a level where we can confidently organize pro-caliber tournament!
We expect it to take somewhere between 6 months and 1 year."
Quali saranno le differenze fra la versione completa e quella ad accesso anticipato?
"
Less gameplay & connexion bugs

Better performance optimisation

Better lag management

Team system

Ranked mode

New characters

New implants

Improved spectator mode

Voice acting for characters

Dedicated servers

As well as other choices based on choice from the community playing the game!
"
Qual è lo stato attuale della versione in accesso anticipato?
"Core gameplay and meta-game are ALPHA. Fun is definitely there!
Still a lot of small bugs and visual polish to be done.
A few important features missing (team, rank, spectator mode)."
Il prezzo del gioco varierà durante e dopo l'accesso anticipato?
"No!
Arena: Cyber Evolution is FREE and will always remain so. :-)"
Come pensate di coinvolgere la Comunità durante il processo di sviluppo?
"Community is already actively part of Arena: Cyber Evolution since the very beginning (even when the game was so early it looked like an atari 2600 game). Here are a few initiatives already in place to interact with our players:
Daily design meeting on our Twitch channel (7PM ET every week day)

Open discussion about the design and development on our Steam forum

Our design documents are open and available for the community to see

Our entire development now archived on Youtube

Many people of our community take active part in the project (community management, QA, event organization, design, etc)

Supporters will get to vote for the next features we develop!
"
Ulteriori informazioni
Questo prodotto non è disponibile nella tua lingua. Prima di eseguire l'acquisto, controlla la lista delle lingue disponibili.
Gioca a Arena : Cyber Evolution
Contenuti scaricabili per questo gioco
20 Agosto 2014


To celebrate its arrival on Early Access today, we finally got rid of our working title and found a proper name to our precious baby!

Starting August 18th, Arena: Cyber Evolution becomes available to download for free to everyone on Steam!




if your last memory of the game comes from PAX East (or even just from 1 month ago), I think you'll be mighty impressed to see how the game looks now!

https://www.youtube.com/watch?v=f4tM3UNMBrM&feature=youtu.be&utm_source=ACE+Mailing+list&utm_campaign=ebe33ff0f8-Early_Access_Launch_public_8_19_2014&utm_medium=email&utm_term=0_7cd882dc2a-ebe33ff0f8-164307373&goal=0_7cd882dc2a-ebe33ff0f8-164307373




Our work is not done yet!

Please help us to improve Arena: Cyber Evolution by giving us your feedback on Steam, your involvement makes a huge difference!

Head over our support page to get your EXCLUSIVE DLC!




Watch us on Twitch every weekday at 7PM ET for instructions and live games. http://www.twitch.tv/spearheadgames

-The Spearhead Games Team
5 commenti
Ulteriori informazioni
8 Agosto 2014


Hello Spearhead honorary members,

This is Simon speaking!

After 3 months of absence on a secret mysterious mission (that apparently took place all around the world - real and fictitious), I finally got back to the Spearhead HQ and I am ready to rock!

Honestly, I am really, really impressed by how the game has progressed in the last 3 months and I just LOVE the new art style and characters of the game :)




The next step will be a very important one: we are on the verge of really opening the game to everyone through Steam Early Access!

The Early Access launch will happen next Friday, on August 14th. It's coming up very soon!

We are getting ready for the big challenge we will soon be facing: getting the game to be known and played around the clock!

We are still figuring out the plan, but we can confirm it will involve the following topics:

Organizing tournaments

Figuring epic one-liners to describe our game

Creating viral marketing material

Harassing journalists

Trying to make friends who have lots of friends

Getting drunk (ok, this is not specific to the communication strategy, but it'll help us to make new friends)

And much more!
Help us out and spread the word about Project Cyber on Facebook, Twitter, Twitch.tv, at the water cooler, etc. Propose your marketing ideas to the
Steam forum
.
We can already announce that Project Cyber will be presented at PAX Prime (August 29th to September 1st) and that we will hold daily tournaments! This will be a chaotic, hardcore and also super fun experience for all involved!
If you're around, please come by and say hi. You'll find us at Booth #6016.
WE NEED YOU!
You are our very first core players and we will need your help for the coming push towards Early Access and afterwards! Join us on the daily
Community Stream on Twitch (7PM Eastern)
and invite your friends to watch as well.
Report any issues you see, which is as easy as pressing the Report Bug button in the pause menu on the
Twitch build
.
And as I mentioned before, if you have any ideas, contacts or advice on how to get the game better known, let us know on our
Steam forum
.
Cheers guys, see you on Twitch!
It's great to be back home. :-)
-Simon
4 commenti
Ulteriori informazioni
Recensioni
"The futuristic cyberpunk soccer game was the best new esport at PAX East"
Dailydot

"It could very well be the next big esport at competitions all across the globe"
egmnow

"The communal aspect of Project Cyber is what revolutionizes this experience. Not only can you voice your opinion during the development process, you will also get the chance to change the match you're watching by choosing an event"
spiderduck

Informazioni sul gioco
At Spearhead Games, we believe that e-sports are the next step in international competition. We believe that this growing trend is on the verge of becoming mainstream globally and will play a significant role in defining the future of sports.
Arena: Cyber Evolution is the result of our passion for this phenomenon and what it can become.
We know that creating a game that is significant and meaningful on the e-sport scene is no small task and this is why that we have involved the player community since the very beginning of the development, when there were no menus, options, or even textures!
Arena: Cyber Evolution (ACE) is a futuristic physics-based sports game in which players confront each other in 3 vs 3 matches of wits and twitch reflexes.
By featuring a MOBA-like champion logic, ACE brings an unprecedented twist to the sports genre by allowing players to choose from a variety of super-powered heroes and what style of gameplay they prefer to build their own team strategies.
Designed from the ground up around the mouse & keyboard, ACE was not envisioned only as a sport game, but really as a new sport.

ACE's ultra-precise control scheme allows players to analogically manipulate the disk using simple mouse gestures.
Just like in real sports, this gameplay allows for super intuitive gameplay while proposing nearly infinite depth & skill cap.
An unique blend of action games, sports games and MOBA.

The closest experience to playing a traditional sport in a video game.

Dynamic physics-based gameplay that is both deep and accessible.

Innovative mouse gesture control allows for fluid and natural actions (passes, shots, intercepts and jukes).

Having all human players makes positioning meaningful and allow for infinite team strategies.

Several characters each with unique powers and play styles

Unlock implants (to improve and customize your characters), team boosts, upgrades, and special abilities.

Very fun to watch as a spectator - even without prior knowledge of the game.

New characters, implants, custom arenas, events, challenges, and much more coming soon! New updates every month!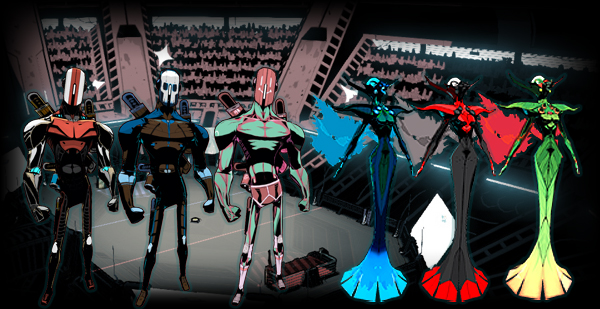 Arena: Cyber Evolution is free to play and we want it to stay this way forever. We believe that it should be at the core of any sport to be accessible for everyone to play and practice no matter what.
As an independent game studio, we however need some money to keep developing the game and improving it.
This is why we integrated monetization features in the game with the possibility to buy skins, hats and other customizations with real money. For us, this is a simple way to allow players who really enjoy and believe in the game to support its continued development by ''donating'' and receiving rewards for it.
All the money received this way will be used to fuel the game development. Based on how much we collect through monetization, we will develop the following features:
In addition to the items available in-game, the following great packages are available as DLC:
Supporters Pack DLC
Founders Pack DLC
Champions Pack DLC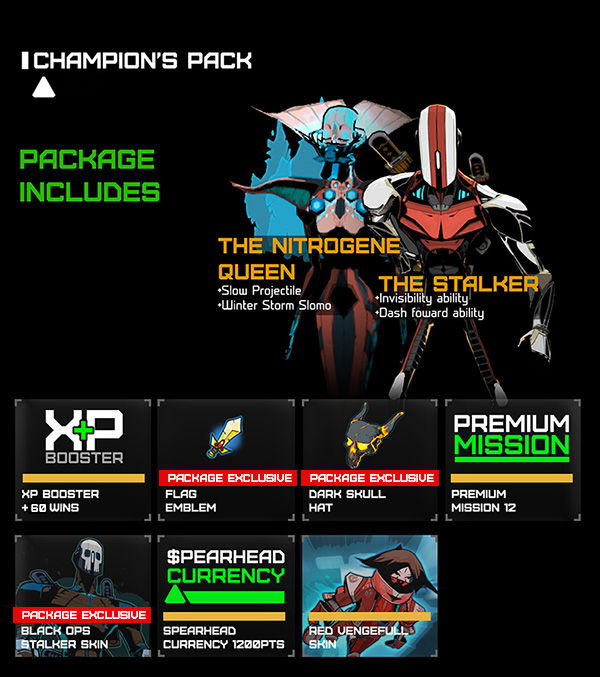 Pillar Pack DLC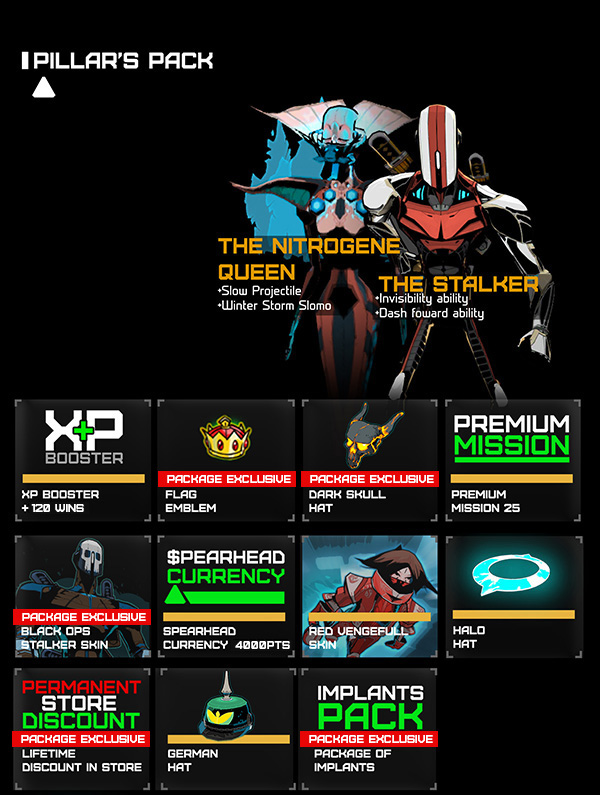 More
For more opportunities to support us, please visite our
web page
!
Requisiti di sistema
Minimum:


OS: Vista, 7, 8

Processor: P4 3 Ghz or Athlon 3400

Memory: 2 GB RAM

Graphics: 256 MB Video Memory with Shader Model 3.0 support; ATI Radeon X1600XT / NVIDEA GeForce 7800GS

DirectX: Version 9.0c

Network: Broadband Internet connection
Recensioni utili dai clienti
Titolo:
Arena : Cyber Evolution
Genere:
Azione
,
Free-to-Play
,
Indie
,
Sport
,
Strategia
,
Accesso anticipato
Sviluppatore:
Spearhead Games
Editore:
Spearhead Games
Data di rilascio:
18 Ago 2014
Lingue:
| | Interfaccia | Audio completo | Sottotitoli |
| --- | --- | --- | --- |
| Inglese | | | |