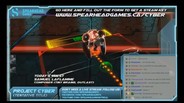 Join the adventure! We're building a team based competitive game, and open the development to the community from the very early steps. Watch the game evolve, playtest, participate actively in the game's development!
Megjelenés dátuma: 2014
Nézd meg a HD videót
30 július 2014
If you haven't heard the news, EA Seoul has been rebranded with the much catchier name, "Spearhead - An EA Company." Of course, we at Spearhead Games are flattered and honored that EA likes our name so much that they decided to try it on for themselves.

So for the sake of avoiding confusion, here's a quick compare and contrast between us, Spearhead Games, and them, Spearhead.

How Spearhead Games is similar to Spearhead:


We make video games (obviously).

"Continuous innovation" is a pillar of both companies.

We are passionate about pushing online sports gaming forward (with our Project Cyber, and their FIFA Online 3).
How Spearhead Games is different from Spearhead:
Spearhead Games is NOT an EA studio; we are an independent studio of 14 people.

Spearhead Games is located in the hockey-worshipping town of Montreal, Canada, not the horse-riding dance-district of Gangnam in Seoul, South Korea.

Spearhead Games is pushing game development forward via a communal development process. Our latest project, Project Cyber, is in pre-alpha and is free for anyone to play by registering at www.spearheadgames.ca/cyber. Players can lend their voice and shape the game through our daily 7:00 pm ET Twitch live-stream, Steam forum, or even by commenting directly in our public design documents.
So what's next for Spearhead Games? On the game front, the
Steam Early Access
build of Project Cyber launches on
August 14th
, with a ton of new features including new playable champions, a robust character-progression system, and most importantly, redesigned gameplay with a better focus on cooperative play.
Also, we are looking forward to years of answering players' emails about FIFA Online 3 and fielding online job requests for our brethren from across the globe. Apologies ahead of time to Spearhead for all the Steam key request emails and Tiny Brains fan art. We can send you guys locally-brewed beers if you want to send us some makgeolli!
3 megjegyzés
Tovább
24 július 2014
Hello Honorary Spearhead Members!

Only a few weeks left before the Early Access launch on Steam and yet still so much to do. The team preparing to switch to "ludicrous speed".

FYI As always, you can preview all the changes mentioned in this email by switching over to the Twitch build. This is the build we playtest live every weekday at 7PM. Instructions on how to switch builds can be found here.


Prepare to be chemically augmented!
We now have a new implant category, the BioMods, which unlock after you reach certain levels. When activated, each BioMod will grant you a special ability that will work once per match. But to make things more interesting, each time your team gets scored against we recharge this implant. The 3 chemically-enhanced abilities available (so far) are:
A short teleportation ability (blink)

An ease at turning 180 degrees

An instant reset of your secondary power's cooldown
As always, tell us what you think about these, and Project Cyber in general, in the
Steam forums
.
Tournament!
If you seek some team competition thrill and excitement, the pre-alpha tournament is the perfect place to find it.
Register your team here
on Challonge. Rules and conditions can be found
here
. The deadline to register your team is July 23rd. The finals and some matches of the competition will be broadcasted on our Twitch channel at
http://www.twitch.tv/spearheadgames
. This tournament's prize is a copy of the awesome game Brothers - A Tale of Two Sons.
Good luck to all!
Vengeful Star is getting revamped
The Star has been remodeled from the ground up. She now sports brand new boots with rockets allowing her to hover over the terrain and a new pistol for her projectile freezes.
What do you think? Let us know in the
Steam forums
.
Improved cutscenes and ice event
More polish has been applied to all of the games intermissions and cutscenes. With more dynamical effects and the return of a crowd-favorite event, the ice event, we can't wait to hear what you think.
Simon's current location is Alor Setar and yes he still is on his bike.You can follow him on
Facebook
. By all means if you are on it's way stop him and say hi!
The Spearhead Community Team
0 megjegyzés
Tovább
Értékelések
"The futuristic cyberpunk soccer game was the best new esport at PAX East"
Dailydot

"It could very well be the next big esport at competitions all across the globe"
egmnow

"The communal aspect of Project Cyber is what revolutionizes this experience. Not only can you voice your opinion during the development process, you will also get the chance to change the match you're watching by choosing an event"
spiderduck

A játékról:
Join the adventure! We're building a team-based competitive game and opened the development to the community from the earliest stage. Watch the game evolve, playtest it, participate actively in the design and development of the game!
What is Project Cyber
A game currently in
pre-demo
stage! That's even before pre-alpha!
Project Cyber is a team based competitive game. Two teams of 3 players battle on a futuristic Cyberpunk world inspired playing field.
In this world the game is everything and participants augment their bodies with implants that give them unique physics based powers.
Currently in-game:
Dynamic physics based intuitive gameplay

Innovative mouse gesture based controls allows for fluid and natural actions (passes, dribbles, shooting)

All human players makes positioning meaningful, and team strategic possibilities are endless.

Variety of characters, each with unique special powers.

Twitch integration for easy streaming (and watching!)
Coming soon:
As fun to play as it is to watch: Spectators of the game will not simply be passive. They will be able to vote for special events that happen during the games they're watching. They'll even gain in-game rewards in doing so!

Level ups, Missions and upgrades.
What to expect
You will see how games are developed...all of it, including:
Bugs, crashes and online issues like you've never seen before!

Features that stop working for no apparent reason!

Noodle soup.
But also:
A passionate team of developers facing fierce challenges and living an awesome journey together (on Twitch)!

A game constantly evolving and growing more awesome every day!

The opportunity to speak and interact directly with the developers to help shape the game's future
http://www.spearheadgames.ca/cyber
to get your
FREE
Steam key!
Meet us every day at 7pm EST on
Twitch
Like us on
Facebook
Follow us on
Twitter
Watch us on
Youtube
Rendszerkövetelmények
Minimum:


OS: Vista, 7, 8

Processor: P4 3 Ghz or Athlon 3400

Memory: 2 GB RAM

Graphics: 256 MB Video Memory with Shader Model 3.0 support; ATI Radeon X1600XT / NVIDEA GeForce 7800GS

DirectX: Version 9.0c

Network: Broadband Internet connection
Hasznos vásárlói értékelések
Cím:
Project Cyber
Műfaj:
Akció
,
Ingyenesen játszható
,
Indie
,
Sport
,
Stratégia
Fejlesztő:
Spearhead Games
Kiadó:
Spearhead Games
Megjelenés dátuma:
2014
Nyelvek:
| | Felület | Hang | Feliratozás |
| --- | --- | --- | --- |
| Angol | | | |