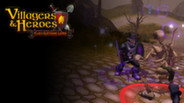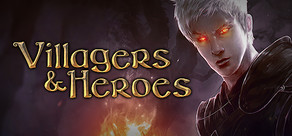 Welcome to a land you'll never want to leave! Villagers and Heroes is a free-to-play MMO game in which players experience not just the thrill of battling unique monsters or the satisfaction of tailoring an exquisite robe, but the pleasure of building lasting friendships within a friendly community.
Utgivelsesdato: 17. apr, 2014
Se HD-video
Spill Villagers and Heroes
Nedlastbart innhold for dette spillet
3. juni
(See the video here)

Midsummer's Eve has arrived, a time of year when the Fae visit to spread mirth and mischief.

Check out the new Midsummer's Eve Faerie wing outfit, the Lantern outfit, and the Nymph outfit.

In addition, we have made improvements to combat that allow you to move and attack and cast spells at the same time.

The build has a new system in place for Energy, or rather, Vim. Of course, changing the name from Energy to Vim and its color from yellow to purple does not change its nature ("A rose by any other name…" etc.) We have also changed the nature of the system from being a cash shop mechanic to a PURELY in game mechanic. Energy (now Vim) can no longer be purchased, but has to be earned through in game strategy, planning, and game play.

Full patch notes can be viewed here (our forums): https://forum.villagersandheroes.com/showthread.php?8967-English-Patch-Notes-2-28-4-Tuesday-June-3-2014
4 kommentarer
Les mer
23. mai

Also, all Clothing is now 30% off.
0 kommentarer
Les mer
Anmeldelser
"There are 10 different gathering professions: mining, fishing, bug lore, plant lore, smithing, cooking, tailoring, woodcrafting, gardening and ranching. The coolest part is that one character can become an expert at all of them. So Villagers and Heroes is a class-based, sandbox-crafter's paradise with nicely interactive housing."
Bestest Ever – Massively

Om spillet
Step into a magical land unlike any other!
Villagers and Heroes is a free-to-play MMO game in which players experience the thrill of battling unique monsters, the satisfaction of crafting powerful weapons and gear, and the pleasure of building lasting friendships in a friendly community.
Gnomish Augmentation = Sandbox Gameplay.
This unique feature is at the heart of the deep yet elegantly simple player choice system in Villagers & Heroes. The weapons and armor that a player equips not only grant a versatile assortment of heroic feats and spells, but also a large array of proficiencies and augmented abilities. The process of Gnogmenting gives the players the ability to mix, match, swap, replace, customize and design gear exactly how they want! Combine ancient elder gear with remarkable weaponry dropped from the monsters of the world. Or craft your own gear using any or all of the 10 gathering and crafting skills available. Gnogmenting is a completely free-form, sandbox system that is unmatched by any other game in its depth, and lets players test every tactic and indulge every creative whim.
Bounty Runs!
Bounties are powerful adversaries and monsters that roam every corner of the world. When a player defeats a bounty monster, they earn a large reward, regardless of the size of their party! Solo the beasties by yourself, or rampage across the countryside with a group of friends. Bounty rewards are instantaneous and do not require activation. This feature encourages teamwork and strategy.
Live in a Real Home in a Real Village.
You are the architect, the farmer, and the rancher. With a wide range of building styles to choose from, players can design and decorate their own houses, as well as choose which crops to plant in their garden, or select the type of animals they'd most like to raise. But players needn't go at it alone! Help your village grow from a tiny hamlet to a thriving metropolis by aiding your neighbors with community projects which will ultimately benefit every member of the village.
Features
8 Primary Combat Class Builds, with a myriad of meaningful variations

10 Crafting Professions: Fishing, Mining, Bug Collecting, Plant Lore, Woodcrafting, Smithing, Cooking, Tailoring, Gardening, and Ranching

Gardening and Ranching: hundreds of different crops, sheep, pigs, chickens, and exotics like ember sheep, shadow sheep, etc.

Bounty Runs! Now with over 1500 unique bounties.

Real player housing with dozens of decoration options

Real Villages that can be leveled up by all members of the Village with better facilities (Forge, Tailory, Kitchen, Woodshop), opening new neighborhoods with housing for more players, mayors, a shared vault, stocking village resources, and more...

Gnogmenting: Combine crafted gear and elder gear from defeating lair bosses and rare randomly found exotic gear for an unlimited number of combinations of functionality and appearance

Auction House with thriving in-game economy

Hundreds of Magical Spells, Heroic Feats, and Abilities

More than 1000 Quests and Charters
Press Coverage
Systemkrav
Minimum:


OS: Windows® 8, 7, Vista, or XP

Processor: Intel® Pentium® D or AMD Athlon™ 64 X2

Memory: 2 GB RAM

Graphics: On board graphics

DirectX: Version 9.0

Network: Broadband Internet connection

Hard Drive: 3 GB available space
Recommended:


OS: Windows® 8, 7, Vista, or XP

Processor: Intel® Core 2 Duo 2.2GHz, AMD Athlon™ 64 X2 2.6GHz or better

Memory: 4 GB RAM

Graphics: Graphics card with 512 MB of memory or more

DirectX: Version 9.0

Network: Broadband Internet connection

Hard Drive: 3 GB available space
Villagers and Heroes and Mad Otter Games are trademarks of Mad Otter Games, inc.
Villagers and Heroes, copyright 2007, Mad Otter Games.
Hjelpsomme kundeanmeldelser
Tittel:
Villagers and Heroes
Sjanger:
Gratis å spille
,
Indie
,
Massivt flerspiller
Utvikler:
Mad Otter Games
Utgiver:
Mad Otter Games
Utgivelsesdato:
17. apr, 2014
Språk:
| | Grensesnitt | Full lyd | Teksting |
| --- | --- | --- | --- |
| Engelsk | | | |
| Tysk | | | |
| Portugisisk | | | |