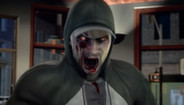 Contagion isn't your average Zombie Shooter but instead takes a more realistic and different approach to the popular genre with unique characters, environments, weapons, items, and a built in system that makes every round completely unpredictable with resources, objectives, and paths ever changing.
Julkaisupäivä: 25. loka, 2013
Katso kaikki 2 traileria
Osta Contagion 4 Pack
Includes four copies of Contagion - Send the extra copies to your friends!
2. syyskuu


We our very passionate about our work and community and from reactions from Romero's "Finally", to the cast of The Walking Dead sharing interest via tweets, as well as major editors and youtubers showing support it would seem we're not the only ones and feel lucky to have reached so many.

Apparently we reached an entire city that shares our passion for Contagion when a member of the ZombieFest commity in Lakeland, Florida USA introduced themselves and their event and asked if we would be interested in using their Studio (center of the Event), setup our game at the Venue, and be their headline Sponsor as they work towards obtaining the Guinness World Record for having the most "Zombies" in one location which is looking promising with the numbers looking to beat out those in Jersey from last year.

Apparently the City from the Mayors Office to the Police Department (running security) are fans of Contagion which blew our minds and really wanted us to participate when our name came popping up for a Game Center. We've also got Universal Studio's painting people up as Zombies, ZombieFest & Contagion Digital Billboards, Signs on Buses, and more all over Florida (if you're out there, keep your eyes peeled!).

All of Downtown Lakeland is participating and we're honored to be a part of it. They're even preparing a Cake (4'x3') for us and Most everyone from the team will be there as well a possible Special Guest! We'll also be doing a popular Talk Show (has been hinted there may be more than one) aired during Prime Time which we'll release more information regarding as we learn more but we do know we're recording on the 10th (so we'll be around from Oct 9th - Oct 14th with our Families but remember jet lag, 4am wake up for prep, and more. Doubt we'll need the make-up to pull off a decent zombie).




We're all very excited for the event but this has also locked us down in sorting out updates, hitting deadlines, and preparing the upcoming free DLC!

We haven't forgotten our Official Weekly WebComic (SickJoe is just that. Sick and we love it! He'll also be attending ZombieFest for fans of his work and may want to learn more about the Future of Monochrome LLC) and so here is our latest update which was unfortunately delayed due to our Weekend promo that is now over and our bandwidth being torn to shreds by the Steam Community heh.


Official Contagion Comic - Chapter 3 :: Week 9
We're looking into releasing our WebComic in a manageable format as well as our OST which will include our music from the game as well as our cinematic trailer! More surprises on the way and soon!
We really want to meet up with our Fans in Florida so if you can be there on October 11th it'll be hard to miss us. Come on in and say hi, sit down at one of numerous computers and play Contagion! Looking to have some swag and signings of our Comic and more!
If you're new to Contagion but in the area and/or a Zombie enthusiast we still hope to see you there!
-The Contagion Team
9 kommenttia
Lue lisää
29. elokuu


For those that missed it, Contagion is running a Free Weekend with 75% Discount right now. Here is the original announcement with more information about the game and future of Contagion - http://steamcommunity.com/games/contagion/announcements/detail/225499302965831249

The Free Weekend & Discount ends this Sunday at 1PM (PDT)

Also happy to announce that our "Friday Frenzy" Live Stream & Giveaway will be starting in 30mins from this post on our Twitch channel http://www.twitch.tv/tatsur0 . We've been working very hard the last couple weeks and were unable to hold it as usual so we apologize for the wait.




We stream our Official Contagion "Friday Frenzy" and/or "Contagious Gaming" via our Twitch.Tv Account at- http://www.twitch.tv/tatsur0 every Friday @ 7:30PM PST/PDT (GMT- 7:00) -Click here for current time- and will pass out one or more free copies of Contagion during the Stream!

-The Contagion Team


8 kommenttia
Lue lisää
Tietoja pelistä

What they're saying about Contagion
"Contagion aims to save the zombie game genre from itself"
-GamesBeat
"Contagion does have a small role to play in the great gaming zombie apocalypse. I quite like it."
-RockPaperShotgun
"Contagion is a gory, addictive horror game that's well worth its $20 price tag"
-Bloody-Disgusting
"Contagion presents a tense survival based horror game"
-Canadian Online Gamers
"Barlowe Square is one of the best levels featured in a multiplayer game"
-Hooked Gamers
Dynamic Gameplay
- Each play through is never the same with our built-in randomization system that changes the game/round each time you play!
State Of The Art Gore
- Our advanced gibbing system will immerse you into the game with limbs and organs being blown or hacked off!
Immersive Sound Effects
- Realistic ambient and sound effects that instantly draw you into the games dark apocalyptic atmosphere!
Traditional Zombies
- Slow moving undead that can only be truly laid to rest with a bullet to the brain or enough wasted lead in their body wasting away the ability to function.
Extensive Survival Equipment
- Over 28 vital pieces of equipment from a large selection of firearms, melee weapons, don't forget explosives, support items, tools, and much more to be added!
Unique Game Modes
- Choose from a multitude of classic and new game-modes that require co-op and survival skills in which you escape, extract civilians or hunt each other! Not to mention our Panic modes, upcoming Flatline (Survival) mode and more!
Stop paying more
- We will be releasing new content and 2 DLC Bundles in 2014... For Free! This was decided in 2010. Once you own Contagion you will never have to pay for updates or DLC bundles we develop for it... Ever.
Järjestelmävaatimukset
Minimum:


OS: Windows® 7 32/64-bit / Vista 32/64 / XP 32/64

Processor: 2.4 GHz Intel Dual Core Processor

Memory: 4 GB RAM

Graphics: DirectX® 9 compatible video card with 256 MB, Shader model 2.0. ATI X800, NVidia 6600 or better

DirectX®: 9.0c

Hard Drive: 7 GB HDD Space

Sound: DirectX 9.0c Compatible

Hardware: Mouse & Keyboard

Other Requirements: Broadband Internet Connection
Recommended:


OS: Windows® 7 64-bit / Vista 64-bit / XP 32/64

Processor: 2.4 GHz Intel Dual Core Processor

Memory: 8 GB RAM

Graphics: DirectX® 9 compatible video card with 512 MB, Shader model 3.0. ATI X1600, NVidia 7600 or better

DirectX®: 9.0c

Hard Drive: 7 GB HDD Space

Sound: DirectX 9.0c Compatible

Hardware: Mouse & Keyboard

Other Requirements: Broadband Internet Connection
© 2013 Monochrome, the Monochrome logo, Contagion, and the Contagion logo are trademarks and/or registered trademarks of Monochrome.
Steam, Source, Valve Source are trademarks of Valve Corporation and are used under license from Valve. All other trademarks are properties of their respective companies.
Hyödylliset arvostelut