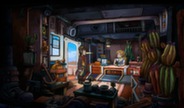 In Deponia, the world has degenerated into a vast garbage dump, in which the crotchety Rufus ekes out his sorry existence.
Data di rilascio: 6 Ago 2012
Guarda tutti e 3 i trailer
Pacchetti che includono questo gioco
Acquista Deponia Trilogy
Include 3 oggetti: Deponia, Chaos on Deponia, Goodbye Deponia
14 Novembre 2013
Please note that we cannot offer official technical support on Steam, except for posting the latest patch notes.


But your games and my computer don't work as a team! Where can I get help?
We do offer technical support. Just not in forums. Please contact our colleagues from the support via mail using
http://mailto:support@daeadalic.de
. However, feel free and use this forum (or our
official forum
) to address your technical problem. We are certain that many players of our games are able to help you out with certain problems.
What can I do to speed up the support process?
In order to speed up the process our support needs information of your running system and the game (version) you are playing. So
please read before reporting technical issues to us
.
Thank you very much for your ongoing support!
Best regards,
your Daedalic Entertainment Community Team
2 commenti
Ulteriori informazioni
Recensioni
"C'è una sola parola per descrivere il gioco: favoloso! La Lucasarts della Germania!"
88/100 – GameStar

"storia brillantemente assurda, uno stile fumettistico appropriato e dei bravissimi doppiatori."
90/100 – GamingXP

"La storia di amore, perdita e la comicità totale di Deponia rappresentano un pezzo di paradiso del 'punta e clicca' splendidamente congegnato."
80/100 – Gamespot
Informazioni sul gioco
Daedalic Entertainment, una volta definita dalla rivista GameStar "la Lucasarts della Germania", invita i giocatori a calarsi in una fantastica avventura comica incentrata sulla storia d'amore tra Rufus e Goal.
A Deponia, il mondo è degenerato in un'immensa discarica di rifiuti in cui il lunatico Rufus trascina la sua pietosa esistenza. Lui appartiene alla classe sociale più infima, destinato a condurre la sua vita letteralmente tra montagne di spazzatura. Spera di avere la possibilità di accedere al mondo dei ricchi che vivono nella città fluttuante al di sopra delle nuvole. Il destino sembra sorridere a questo moccioso buono a nulla quando, un bel giorno, un'attraente dama di nome Goal proveniente dalle alte sfere precipita su un cumulo di rifiuti. Refus decide di dare una mano alla giovane donna riportandola da suo marito. Quando scopre che quest'ultimo è tale e quale a lui, ordisce uno schema diabolico per accedere al mondo superiore. Tuttavia, le cose non vanno esattamente come previsto perché il debole che lui ha per la bellezza limita la sua normale mancanza di scrupoli.
Aiuta Rufus, il povero ragazzo della discarica, a ottenere la fanciulla del paradiso. Soltanto con questa ragazza ricca dei suoi sogni, lui potrà fuggire da Deponia e, inaspettatamente, salvare il pianeta.
Caratteristiche Principali:
Stile fumettistico unico con grafica 2D ad alta definizione disegnata a mano


Personaggi stravaganti e umorismo pazzesco


Rompicapi stimolanti e tante ore di dialoghi


Universo unico nella tradizione di Douglas Adams (Guida galattica per gli autostoppisti), Terry Pratchett (Mondo Disco) e Matt Groening (I Simpson, Futurama)


Dai creatori dei premiatissimi videogiochi Edna & Harvey: The Breakout, Edna & Harvey: Harvey's New Eyes e The Whispered World
Requisiti di sistema (PC)
Minimum:


OS:Windows XP

Processor:2.5 GHz (Single Core) or 2 GHz (Dual Core)

Memory:2 GB RAM

Graphics:OpenGL 2.0 compatible with 512 MB RAM (Shared Memory is not recommended)

DirectX®:9.0c

Hard Drive:5 GB HD space

Sound:DirectX compatible
Recommended:


OS:Windows Vista/7

Processor:2.5 GHz (Single Core) or 2 GHz (Dual Core)

Memory:4 GB RAM

Graphics:OpenGL 2.0 compatible with 512 MB RAM (Shared Memory is not recommended)

DirectX®:9.0c

Hard Drive:5 GB HD space

Sound:DirectX compatible
Requisiti di sistema (MAC)
Minimum:


OS:MacOS X Lion (10.7)

Processor: 2 GHz (Dual Core) Intel

Memory:2 GB RAM

Hard Drive:3.5 GB HD space
© 2012 Daedalic Entertainment GmbH.
Deponia, the Deponia logo and the Daedalic logo are trademarks of Daedalic Entertainment GmbH. All rights reserved.
Recensioni utili dai clienti
Premi