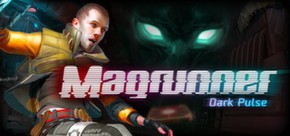 출루와 테크놀로지의 만남 마그러너: 다크펄스는 작가 H.P. Lovecraftd 의 작품에 등장하는 출루 미소스와 테크놀로지가 결합된 액션 퍼즐 게임입니다. 당신의 이름은 닥스입니다. 마그테크사의 우주 트레이닝에 참여하는 엘리트 조종사로 선발된 정예요원 7명 중 1명입니다. 하지만 최고의 기회가 최악의 상황으로 반전될 수 있습니다. 마그테크 글러브를 착용하고 대상물이 균형을 유지할 수 있도록 조종하면서 어려운 퍼즐을 해결합니다. 험난한 40 단계 이상의 레벨에서 자신의 최대 능력을 발휘하여 한계점을 통과합니다.
출시 날짜: 2013년 6월 20일
모든 2 예고편 보기
평가
"Magrunner: Dark Pulse may be the first game in history to blend a near-future cyberpunk setting with the famed Cthulhu Mythos"
Gamezebo

"Magrunner looks to be a highly polished, mechanically successful first person puzzler with a great aesthetic and great puzzles."
PCG Media

"MAGRUNNER IS REALLY DARN COOL!"
DESTRUCTOID
게임 정보
출루와 테크놀로지의 만남

마그러너: 다크펄스는 작가 H.P. Lovecraftd 의 작품에 등장하는 출루 미소스와 테크놀로지가 결합된 액션 퍼즐 게임입니다.

당신의 이름은 닥스입니다. 마그테크사의 우주 트레이닝에 참여하는 엘리트 조종사로 선발된 정예요원 7명 중 1명입니다. 하지만 최고의 기회가 최악의 상황으로 반전될 수 있습니다.

마그테크 글러브를 착용하고 대상물이 균형을 유지할 수 있도록 조종하면서 어려운 퍼즐을 해결합니다. 험난한 40 단계 이상의 레벨에서 자신의 최대 능력을 발휘하여 한계점을 통과합니다. 하이테크 트레이닝 룸과 잃어버린 우주의 끝없는 장애물을 통과하며 출루의 추악한 생명체들을 물리치세요.
시스템 요구 사항
Minimum:


OS:WINDOWS XP SP3/WINDOWS VISTA SP2/WINDOWS 7/WINDOWS 8

Processor:AMD/INTEL DUAL-CORE 2.4 GHZ

Memory:2048 MB RAM

Graphics:256 MB 100% DIRECTX 9 AND SHADERS 3.0 COMPATIBLE NVIDIA GEFORCE 8800/ATI RADEON HD 4800

DirectX®:9.0c

Hard Drive:4 GB HD space

Sound:DIRECTX 9 COMPATIBLE
©Magrunner: Dark Pulse. Copyright 2012-2013. 3 AM Games. 3 AM Games is a studio of Frogwares. 3 AM Games and Frogwares are trademarks of Frogwares. Focus, Focus Home Interactive and their logos are trademarks or registered trademarks of Focus Home Interactive. All other trademarks or registered trademarks belong to their respective owners. All rights reserved. Powered by Unreal Technology. Unreal® is a registered trademark of Epic Games, Inc. Unreal® Engine, Copyright 1998 – 2012, Epic Games, Inc.
유용한 고객 평가
제목:
Magrunner: Dark Pulse
장르:
액션
,
어드벤처
개발자:
Frogwares
배급사:
Focus Home Interactive
출시 날짜:
2013년 6월 20일
언어:
| | 인터페이스 | 음성 지원 | 자막 |
| --- | --- | --- | --- |
| 한국어 | | | |
| 영어 | | | |
| 독일어 | | | |
| 프랑스어 | | | |
| 이탈리아어 | | | |
| 스페인어 | | | |
| 러시아어 | | | |
| 폴란드어 | | | |
| 일본어 | | | |
모두 보기 9 언어 지원