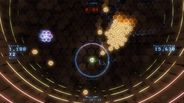 Wyczyść arenę z wrogów, jednocześnie zdobywając kombinacje za pomocą szybkich zabójstw i dobrze wymierzonych bomb.
Data wydania: 16 Lis 2011
Obejrzyj wszystkie zapowiedzi (2)
Kup Waves
OFERTA TYGODNIOWA! Oferta kończy się za
Zawartość do pobrania dla tej gry
16 Marzec 2014
A new free game mode has been added called "Hold".

In "Hold" your weapons are only available while you are inside the lit area.

Also as part of this update "Crunch Time" has been updated with some more spawn events, ambushes and mini-bosses from the other game modes as has been often requested by you; the fans.
Komentarzy: 9
Więcej
10 Luty 2014
As part of the ongoing Kickstarter campaign for the sequel to Waves I've released an update to coincide with it.

Update 1.3 includes two changes:


A Message screen on the titles telling you about the latest update.

The default weapon has been changed to the Beam Laser from the Sequel.
You can switch back to the original weapon by unchecking "Promotional Weapon" in the Game settings screen.
This promotion will only run for the duration of the Kickstarter campaign after which the weapons will return to normal.
Komentarzy: 8
Więcej
Recenzje
"One of the finest examples of the twin-stick arcade shooter genre"
8/10 – Eurogamer

"Worth splashing out on it."
81/100 – PC Gamer Feb 2012 Issue

"This is a damn fun arcade action game."
8/10 – Atomic Gamer
Informacje o grze
Fani strzelanek zasługują na więcej. A ci, którzy nie odkryli jeszcze przyjemności rozwałki z użyciem dwóch gałek pada, zasługują na nią. Przedstawiamy Waves, dwugałkowy FPS, w który może zagrać każdy, lecz z wystarczająco wysokim progiem trudności, aby nawet najtrwalsi mieli zabawę.
Waves został zbudowany jako dostępny dla wszystkich, lecz wymaga dużych umiejętności do perfekcji. Usuwa nieważne elementy i zostawia tylko jeden ważny aspekt: liczbę punktów.
Celem jest wyczyszczenie areny z wrogów, w międzyczasie zdobywając duże kombinacje za pomocą szybkich fragów i dobrze wymierzonych bomb; jeśli to jest trochę za wiele, możesz użyć swojego Bufora Czasu, aby spowolnić akcję i zmienić porażkę w zwycięstwo. Gracze mogą mierzyć się w pięciu różnych trybach gry z tabelami najlepszych wyników i osiągnięciami w poszukiwaniu perfekcji.
Kluczowe cechy:
Spowalniaj czas kiedy chcesz z użyciem Bufora Czasu.

Dziesiątkuj wrogów dobrze wymierzonymi bombami.

Łącz fragi, aby uzyskać wielkie kombinacje.

Zmierz się z wynikami swoich znajomych z użyciem sieciowych tablic wyników.

Crunch Time – 3 minuty, aby zdobyć największy wynik, jaki możesz.

Zdobywaj poziomy i pokonuj straszliwe Kostki, aby zdobyć więcej czasu w Rush.

Tryb Survival - 3 życia i więcej wrogów niż możesz zjeść, lecz uważaj na pułapki!

Bombing Run - brak broni, ale wiele bomb. BOOM!

Tryb wyzwań testuje twoje umiejętności za pomocą 20 poziomów, na które masz tylko 30 sekund – spróbuj zdobyć 5 gwiazdek na każdym.
Wymagania systemowe
Minimum:


OS:Windows XP SP2, Vista, 7

Processor:2.0+ GHz or better

Memory:1 GB RAM

Graphics:Shader Model 3 Compatible video card

DirectX®:9.0c

Hard Drive:250 MB HD space

Recommended:


Processor:Dual Core

Memory:2 GB RAM

DirectX®:9.0c

Pomocne recenzje klientów