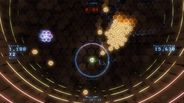 Faites le ménage et enchaînez les combos, les kills et les bombes à retardement.
Date de parution: 16 nov 2011
Regarder les 2 vidéos
Contenu téléchargeable disponible pour ce jeu
16 mars 2014
A new free game mode has been added called "Hold".

In "Hold" your weapons are only available while you are inside the lit area.

Also as part of this update "Crunch Time" has been updated with some more spawn events, ambushes and mini-bosses from the other game modes as has been often requested by you; the fans.
9 commentaires
Lire la suite
10 février 2014
As part of the ongoing Kickstarter campaign for the sequel to Waves I've released an update to coincide with it.

Update 1.3 includes two changes:


A Message screen on the titles telling you about the latest update.

The default weapon has been changed to the Beam Laser from the Sequel.
You can switch back to the original weapon by unchecking "Promotional Weapon" in the Game settings screen.
This promotion will only run for the duration of the Kickstarter campaign after which the weapons will return to normal.
8 commentaires
Lire la suite
Articles
"L'un des exemples les plus délicieux du genre arcade du jeu de tir à deux sticks"
8/10 – Eurogamer

"Ça vaut le coup de s'y plonger."
81/100 – PC Gamer Feb 2012 Issue

"C'est un jeu d'arcade et d'action sacrément sympathique."
8/10 – Atomic Gamer
À propos du jeu
Les fans de jeux de tir méritent plus. Et ceux qui n'ont pas encore découvert le plaisir de la destruction avec deux sticks méritent un point d'entré. Nous vous présentons Waves, un jeu de tir à deux sticks qui peut être joué par n'importe qui, mais qui possède un seuil techniques suffisamment élevé pour garder même le plus aguerri des fans de jeu de tir diverti.
Waves a été conçu dès le début pour être accessible, mais aussi pour nécessiter énormément de techniques afin être maitrisé. Il se sépare de la dimension narrative et réduit tout à ce qui est vraiment important: le Classement.
Le but est de nettoyer l'arène des ennemies tout en accumulant un bon gros Combo avec des frags rapides et des Bombes bien placées et si tout devient un peu trop oppressant vous pouvez utiliser votre Time Buffer pour ralentir le jeu et transformer une défaite en victoire. Les joueurs peuvent se défier à travers cinq modes de jeu différents avec des tableaux de classements en ligne et des Succès pour leur poursuite de la perfection.
Caractéristiques principales :
Ralentissez le temps à volonté avec le Time Buffer.

Décimez des ennemies avec des bombes bien placées.

Enchaînez des frags pour faire de nombreux combos.

Battez vous contre les scores de vos amis grâce au classement en ligne.

Crunch Time - vous avez 3 minutes pour obtenir le plus haut score possible.

Montez de niveau et anéantissez les effrayant Cubes pour prolonger votre limite de temps dans Rush.

Survival mode - 3 Vies et plus de méchants que vous ne pouvez manger mais prenez garde aux embuscades!

Bombing Run est précisément destiné au Boom. Pas de flingues mais beaucoup beaucoup de Boom. BOOM!

Le mode Challenge met vos capacités à rude épreuve avec 20 niveaux et seulement 30 secondes chacune - Essayez et obtenez 5-Étoiles partout.
Configuration requise
Minimum :


Système d'exploitation : Windows XP SP2, Vista, 7

Processeur : Au moins 2.0 GHz ou meilleur

Mémoire vive : 1 Go de RAM

Carte graphique : Carte avec support Shader Model 3

DirectX® : 9.0c

Disque dur : 250 Mo d'espace disque disponible
Recommandée :


Processeur : Double cœur

Mémoire vive : 2 Go de RAM

DirectX® : 9.0c
Évaluations intéressantes des utilisateurs