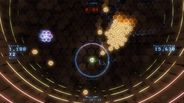 Waves is a twin stick shooter that can be played by anyone, but with a high enough skill threshold to keep even the most hardened shooter fan entertained.
Çıkış Tarihi: 16 Kasım 2011
Fragmanları seyret (2 fragman)
Bu Oyun İçin İndirilebilir İçerikler
16 Mart 2014
A new free game mode has been added called "Hold".

In "Hold" your weapons are only available while you are inside the lit area.

Also as part of this update "Crunch Time" has been updated with some more spawn events, ambushes and mini-bosses from the other game modes as has been often requested by you; the fans.
9 yorum
Daha fazlasını oku
10 Şubat 2014
As part of the ongoing Kickstarter campaign for the sequel to Waves I've released an update to coincide with it.

Update 1.3 includes two changes:


A Message screen on the titles telling you about the latest update.

The default weapon has been changed to the Beam Laser from the Sequel.
You can switch back to the original weapon by unchecking "Promotional Weapon" in the Game settings screen.
This promotion will only run for the duration of the Kickstarter campaign after which the weapons will return to normal.
8 yorum
Daha fazlasını oku
İncelemeler
"One of the finest examples of the twin-stick arcade shooter genre"
8/10 – Eurogamer

"Worth splashing out on it."
81/100 – PC Gamer Feb 2012 Issue

"This is a damn fun arcade action game."
8/10 – Atomic Gamer
Oyun Açıklaması
Nişancı türünün hayranları daha fazlasını; çift yönetme kolu ile gelen yıkımın zevkini henüz tatmamış olanlar ise bir tanışmayı hak ediyor. Sizlere; hem herkes tarafından oynanabilecek, hem de yeteri kadar yüksek kabiliyet seviyesi ile en azılı nişancı türü hayranlarını bile eğlendirebilecek bir, çift yönetme kolu oyunu olan Waves'i takdim ediyoruz.
Waves, tepeden tırnağa kadar, hem herkes tarafından oynanabilmesi, hem de dağlar kadar yetenek alanında uzmanlaşma gerektirmesi için tasarlandı. Oyun, önemsiz olan her şeyi geride bırakıyor ve aslında önemli olan tek şeye odaklanıyor: Yüksek skor puanı.
Amaç, hızlı öldürüşler ve iyi zamanlanmış bombalarla yüzlerce Combo puanı toplamak ve zorlandığınız noktada Time Buffer özelliğini kullanarak aksiyonu yavaşlatıp mağlubiyeti galibiyete çevirerek düşmanlarla kaplı meydanı temizlemek. Oyuncular, mükemmeliyeti arayışlarında, çevrimiçi yüksek skor tablosu ve çeşitli başarımlara sahip beş farklı oyun modunda yarışabilirler.
ANA ÖZELLİKLER:
İstediğiniz anda Time Buffer özelliği ile zamanı durdurun.

Düşmanları, iyi zamanlanmış bomba vuruşları ile kırıp geçirin.

Zincirleme öldürüşlerle büyük çapta combo puanları toplayın.

Çevrimiçi skor tablolarında arkadaşlarınızın skorlarını geçmek için onlara karşı savaşın.

Crunch Time – 3 dakikada ulaşabileceğiniz en yüksek puana ulaşın.

Seviye atlayarak korkulu Küp(Cubes)leri yenilgiye uğratın ve Koşuşturmada(Rush modunda) zamanınızı yükseltin.

Survival mode – 3 Can ve yiyebileceğinizden daha fazla kötü adam, fakat pusulara dikkat edin!

Bombing Run tam anlamıyla Boom. Sıfır silah ve bir sürü, bir sürü Boom. BOOM!

Challange modu, her biri 30 saniyeden oluşan 20 bölüm ile yeteneğinizi test ediyor – Deneyin ve hepsini 5 yıldız ile tamamlamaya çalışın.
Sistem Gereksinimleri
Minimum:


OS:Windows XP SP2, Vista, 7

Processor:2.0+ GHz or better

Memory:1 GB RAM

Graphics:Shader Model 3 Compatible video card

DirectX®:9.0c

Hard Drive:250 MB HD space

Recommended:


Processor:Dual Core

Memory:2 GB RAM

DirectX®:9.0c

Yararlı müşteri incelemeleri