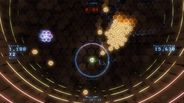 Waves is a twin stick shooter that can be played by anyone, but with a high enough skill threshold to keep even the most hardened shooter fan entertained.
Data de lançamento: 16 Nov, 2011
Ver todos os 2 trailers
Conteúdo transferível para este produto
Análises
"One of the finest examples of the twin-stick arcade shooter genre"
8/10 – Eurogamer

"Worth splashing out on it."
81/100 – PC Gamer Feb 2012 Issue

"This is a damn fun arcade action game."
8/10 – Atomic Gamer
Acerca do Jogo
Os fãs de shooters merecem melhor. E os que ainda não descobriram o prazer da destruição "twin stick" merecem uma entrada. Apresentamos Waves, um "twin stick shooter" que pode ser jogado por toda a gente, mas com um nível de habilidade alta que chegue para manter os mais duros fãs de "shooters" entretidos.
Waves foi construído de raiz para ser acessível, mas requer um monte de habilidade para ser dominado. Ele corta toda a fofura e ferve tudo até ao que é mais importante: Pontuações.
O objetivo é limpar a arena de inimigos acumulando um grande "combo" de mortes rápidas e bombas bem cronometradas e se for demasiado pode-se usar o "Time Buffer" para abrandar a ação e transformar a derrota numa vitória. Os jogadores podem competir através de cinco modos de jogo com tabelas de pontuações online e Proezas na sua busca pela perfeição.
CARACTERÍSTICAS-CHAVE:
Abranda o tempo quando quiseres com o "Time Buffer".

Dizima inimigos com bombas bem cronometradas.

Acumula mortes causadas para "combos" massivos.

Compete com as pontuações dos teus amigos graças às tabelas de liderança online.

Crunch Time - 3 minutos para teres a melhor pontuação possível.

Avança de nível e derrota os temíveis "Cubes" para estenderes o teu tempo no "Rush".

Modo de sobrevivência - 3 vidas e mais mauzões do que podes aguentar, mas cuidado com emboscadas!

O Bombing Run (Corrida de Bombardeamento) tem tudo a ver com o Boom. Não há armas mas há muito, mas mesmo muito boom. BOOM!

O Challenge mode (Modo de Desafio) testa as tuas habilidades com 20 níveis e só 30 segundos em cada - Tenta ter 5 estrelas em todas.
Requisitos do Sistema
Minimum:


OS:Windows XP SP2, Vista, 7

Processor:2.0+ GHz or better

Memory:1 GB RAM

Graphics:Shader Model 3 Compatible video card

DirectX®:9.0c

Hard Drive:250 MB HD space

Recommended:


Processor:Dual Core

Memory:2 GB RAM

DirectX®:9.0c

Análises úteis de clientes