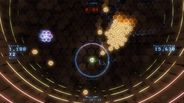 Waves is a twin stick shooter that can be played by anyone, but with a high enough skill threshold to keep even the most hardened shooter fan entertained.
Datum vydání: 16. lis. 2011
Sledovat všechny 2 upoutávky
Stáhnutelný obsah pro tuto hru
Recenze
"One of the finest examples of the twin-stick arcade shooter genre"
8/10 – Eurogamer

"Worth splashing out on it."
81/100 – PC Gamer Feb 2012 Issue

"This is a damn fun arcade action game."
8/10 – Atomic Gamer
O hře
Fanoušci stříleček si zaslouží více! A ti kteří neobjevili kouzlo destrukce si zaslouží poznání. Představujeme vám Waves, střílečka, kterou může hrát kdokoliv. Hardcore hráči určitě ocení, že se jedná o nejtěžší střílečku všech dob.
Waves bylo vytvořeno od základu pro všechny, s odstupem času však vyžaduje větší přesnost a precisnost. Odbourává všechny zbytečnosti a zaměřuje se na to hlavní: VYSOKÉ SKÓRE!
Cíl hry je jednoduchý a to vyčistit arenu od nepřátel s největší kombem a precisně načasovanými bombami, pokud je to na vás moc, jistě vám pomůže vyrovnávač času, který promění jasnou prohru ve vítězství. Hráči můžou hrát až 5 rozdílných herních módu, které jsou propojené s tabulkou skóre a s archívem úspěchu.
Klíčové vlastnosti:
Zpomalovaní času s vyrovnávačem času.

Destrukci nepřátel s časovanými bombami.

Řetězové zabíjení pro masivní komba.

Souboj proti přátelům v online tabulce skóre.

Crunche Time – máte 3 minuty na to aby jste dosáhli největšího skóre.

Zvyšte úroveň a poražte více nebojácných krychlí ve velmi omezeném čase.

Survive mod - Máte 3 životy a snažíte se vydržet co nejdéle.

Bombing Run je jen o bombách. Žádné zbraně, jen BOMBY!

Challenge mod otestuje vaši precisnost a sílu ve 20 úrovních a na každou máte jen 30 sekund.
Systémové požadavky
Minimum:


OS:Windows XP SP2, Vista, 7

Processor:2.0+ GHz or better

Memory:1 GB RAM

Graphics:Shader Model 3 Compatible video card

DirectX®:9.0c

Hard Drive:250 MB HD space

Recommended:


Processor:Dual Core

Memory:2 GB RAM

DirectX®:9.0c

Užitečné recenze od zákazníků