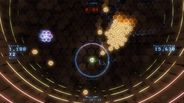 Waves is a twin stick shooter that can be played by anyone, but with a high enough skill threshold to keep even the most hardened shooter fan entertained.
출시 날짜: 2011년 11월 16일
모든 2 예고편 보기
This item does not have support for your local language. Please review the supported language list before purchasing
이 게임의 다운로드할 수 있는 컨텐츠
2014년 3월 16일
A new free game mode has been added called "Hold".

In "Hold" your weapons are only available while you are inside the lit area.

Also as part of this update "Crunch Time" has been updated with some more spawn events, ambushes and mini-bosses from the other game modes as has been often requested by you; the fans.
댓글 9 개
더 읽어보기
평가
"One of the finest examples of the twin-stick arcade shooter genre"
8/10 – Eurogamer

"Worth splashing out on it."
81/100 – PC Gamer Feb 2012 Issue

"This is a damn fun arcade action game."
8/10 – Atomic Gamer
게임 정보
슈팅게임 팬들은 더 많은 것을 얻을 자격이 있습니다. 특히 트윈 스틱을 사용해서 적을 파괴하는 기쁨을 아직 누려보지 못한 사람들에게는 이 게임이 그 기쁨으로의 진입로가 될 것입니다. 웨이브(Waves)는 트윈 스틱을 사용해서 누구나 즐길 수 있지만 슈팅게임 매니아라도 클리어하기 위해서는 노력이 필요한 게임입니다.
웨이브(Waves)는 평지만큼 진입장벽은 낮지만 정복을 하려면 거대한 산만큼의 노력을 해야합니다. 그리고 그 노력은 진짜 중요한 것에서 진가를 발휘하죠, 바로 그건 높은 점수입니다.
이 게임의 목표는 재빠른 킬과 적절하게 사용된 폭탄 그리고 제대로 사용하면 패배를 승리로 만들수 있는 시간 완충제를 이용해서 엄청난 콤보를 쌓아서 적들을 제거하는 것입니다. 여러분은 온라인과 연동된 스코어보드와 업적을 이용해서 5개의 모드를 플레이할 수 있습니다..
특징들
시간 완충제를 이용해서 마음대로 적들을 느리게 하세요.

폭탄을 적절하게 사용해서 적들을 제거하세요.

엄청난 콤보를 이용해서 적을 연속적으로 제거하세요.

친구들과 온라인 점수판으로 겨뤄보세요.

뿌셔뿌셔 – 3분안에 가장 높은 점수를 얻어보세요.

레벨을 올리고 무시무시한 큐브를 파괴해서 시간을 더 얻으세요.

서바이벌- 3개의 생명을 가지고 당신의 한계를 시험해보십시오. 특히 깜짝 공격을 조심하세요!

폭탄 전쟁은 단지 폭탄만 가지고 진행을 하게 됩니다. 총 없이 폭탄으로만 진행해보세요. 빵!

도전모드는 각각 30초씩 20개로 구성된 스테이지에서 당신의 실력을 시험해 볼 수 있습니다. 모든 스테이지에서 별 5개를 따보세요.
시스템 요구 사항
Minimum:


OS:Windows XP SP2, Vista, 7

Processor:2.0+ GHz or better

Memory:1 GB RAM

Graphics:Shader Model 3 Compatible video card

DirectX®:9.0c

Hard Drive:250 MB HD space

Recommended:


Processor:Dual Core

Memory:2 GB RAM

DirectX®:9.0c

유용한 고객 평가