En Puzzle Pirates cada actividad es un rompecabezas único y divertido: ya sea navegando, disparando cañones o recuperando tesoros, ¡tu habilidad para resolver puzles determinará tu éxito!
Fecha de lanzamiento: 31 de Ago, 2011
18 de Septiembre
Ahoy, ye salty sea dogs!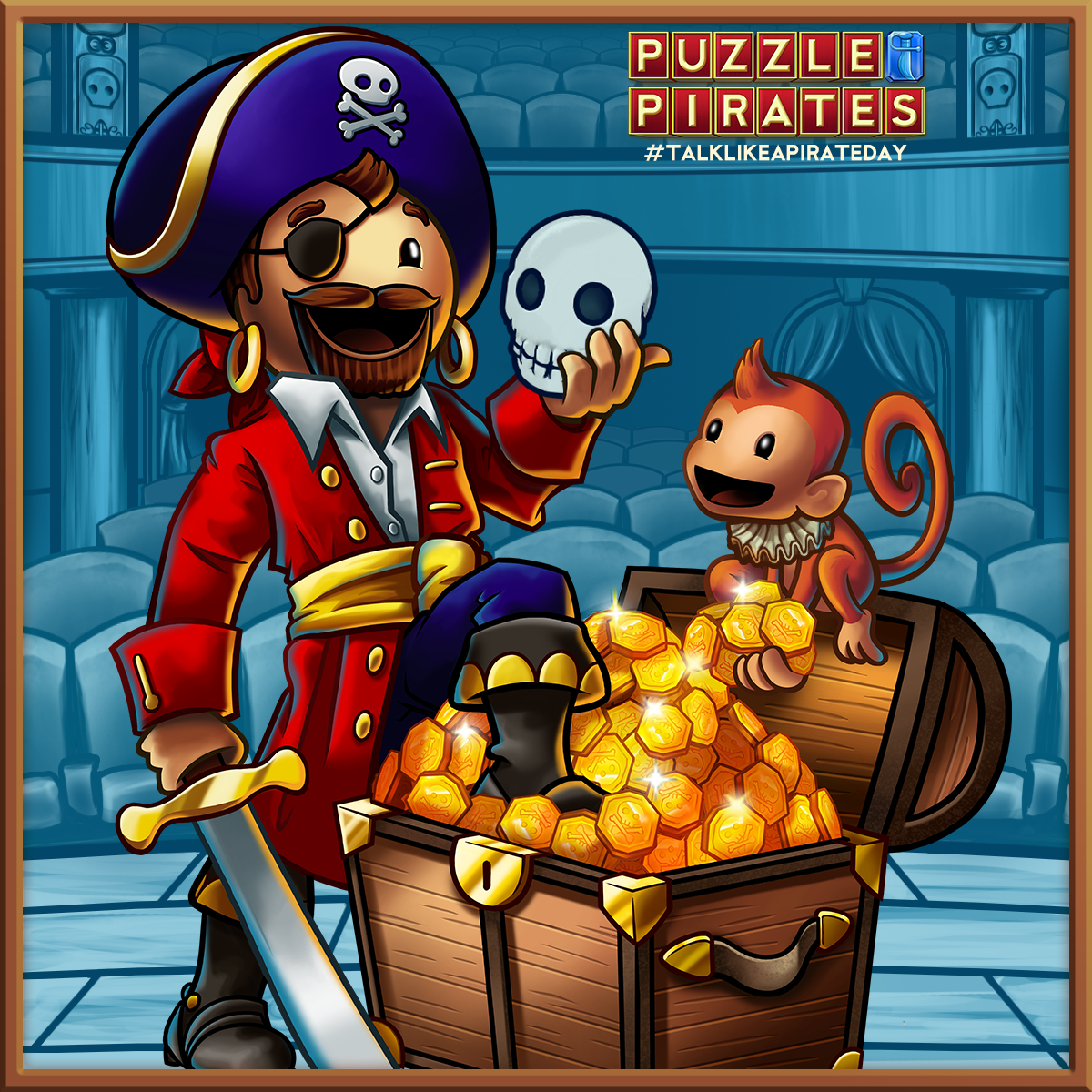 We know ye embrace the piratey lifestyle, as ye pillage and plunder all year long. Alas, there are lubbers who only embrace the thrill o' the high seas once a year on September 19th - Talk Like a Pirate Day. As expert seafarers, show these bilge rats the ropes and have yarrrrself a bootyful day.

To celebrate Talk Like a Pirate Day, the Ocean Masters have scheduled special tournaments and puzzle competitions. Keep a weather eye on the Notice Board in-game to catch them!

Ye can also gather yer hearties and commission a portrait aboard one these fine vessels with unusual names: Lingua Piratica, Bountiful Booty and Booched Blunderbuss.

IMPORTANT: Be sure ye talk piratey-like while visiting the inns and other public places in Puzzle Pirates on Talk Like a Pirate Day! We'll be takin' notes, an' you could find yerself rewarded the mere act o' usin' proper pirate lingo. A list o' winners will be posted on the forums...after we've had time to recover from the festivities.

1 comentarios
Leer más
12 de Septiembre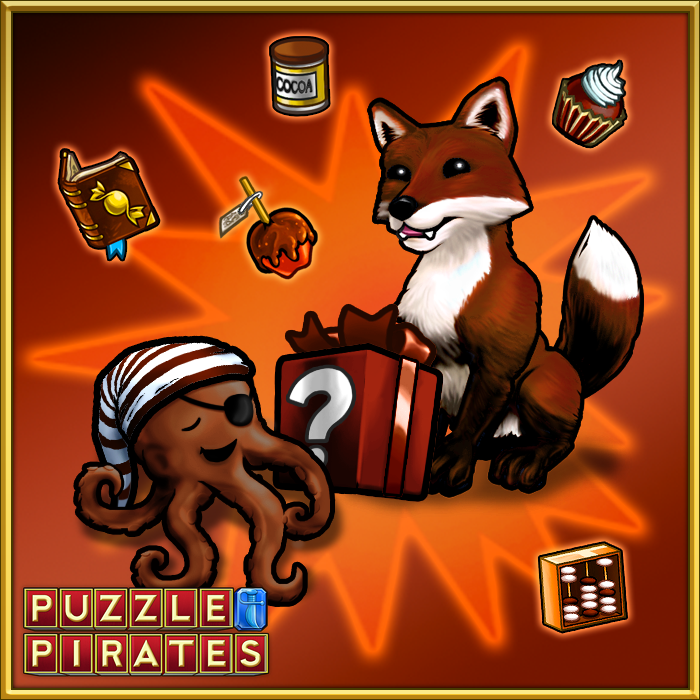 This year we've asked our chocolate artisans to put together a box with the highest quality fresh ingredients. They've created a box that will thrill and delight any pirate! We have 3 varieties of octopus familiars. Chocolate with and without sleeping hats, and a tan octopus. There's a new chocolate fox pet, which is sure to melt your heart. Indulge with furniture, chormas, trinkets and clothing in delectable chocolate.

From now until 3:00 PM PDT on September 22nd , 2014 you'll receive a free Chocolate Mystery Box for every $9.99 you spend on doubloons, or every month of subscription time you purchase!

For more information about the full contents of the 2014 Chocolate Mystery Box, as well as the official rules, please click here. The Chocolate Mystery Boxes are only available for a limited time, so surrender to this delightful box now!
0 comentarios
Leer más
Acerca del juego
¡Prepárate para la acción y los puzles de capa y espada mientras te abres camino hacia la gloria a base de pillaje a través del profundo océano!
¡Crea y personaliza tu pirata, consigue el botín y gestiona tu equipo de asesinos! Todo lo que hagas en Puzzle Pirates es un puzle único y divertido: ya sea navegando, disparando o recogiendo un tesoro, ¡tus propias habilidades para desentrañar los enigmas te llevarán a la victoria!
Características Principales
Coopera con otro bucanero: ¡Recorre los mares con tus amigos a bordo de tu propio barco y su tripulación de bandidos y mercaderes!
Abundantes puzles: ¡Participa en más de 20 puzles y mini juegos de temática pirata, como el duelo con espadas o llevar el timón!
¡Embárcate en la aventura!: ¡Explora un mundo vivo repleto de miles de jugadores! ¡Da caza a peligrosos monstruos marinos y viaja hasta reinos llenos de tesoros como el Mar Embrujado!
¡Botín!: ¡Personaliza a tu pirata con un sinfín de prendas y equipo!
Dirige la economía: Encárgate de tu propia tienda y crea armas y otros bienes para venderlos. Une a los bandos bajo una majestuosa "Bandera Pirata" y conviértete en gobernador del paraíso de los bucaneros
¡Free to Play!: Puzzle Pirates es Free to Play, ¡no es necesaria una suscripción para disfrutar de todo el contenido que ofrece el juego!
Requisitos del sistema (PC)
SO: Windows 98, ME, 2000, XP, Vista o 7

Procesador: 500 MHz

Memoria: 256 MB de RAM

Disco Duro: 100 MB de espacio libre
Requisitos del sistema (MAC)
SO: OS X versión Leopard 10.5.8, Snow Leopard 10.6.3 o posterior

Procesador: 500 MHz

Memoria: 256 MB de RAM

Disco Duro: 100 MB de espacio libre
Análisis útiles de usuarios
Título:
Puzzle Pirates
Género:
Aventura
,
Casual
,
Free to Play
,
Multijugador masivo
,
Estrategia
Desarrollador:
Three Rings
Editor:
Three Rings
Fecha de lanzamiento:
31 de Ago, 2011
Idiomas:
| | Interfaz | Voces | Subtítulos |
| --- | --- | --- | --- |
| Español | | | |
| Inglés | | | |
| Alemán | | | |
Premios
Best PC Puzzle/Rhythm Game, Metacritic, 2005

Editor's Choice Award, IGN, 2004

Webby Award for Games, 2004

Technical Excellence and Audience Choice awards at the Annual Independent Games Festival, 2004