Elke activiteit in Puzzle Pirates is een unieke en leuke puzzel: of het nu varen, schieten of schattenjagen is - je eigen puzzelvaardigheden bepalen je succes!
Releasedatum: 31 aug 2011
1 juli 2014

There's nothing better on a summer evenin' than enjoying the glint and glimmer of fire light reflecting off yer gold and gems. Earn yer July Seal o'Piracy by completing 30 sea battles. Battles involving a cutter (either as your ship or the opponent) count triple!



The monthly reward for July is a tabletop model longship! Own a subscription or make a purchase of $9.99 or higher to get this furniture item!

1 opmerkingen
Meer informatie
6 juni 2014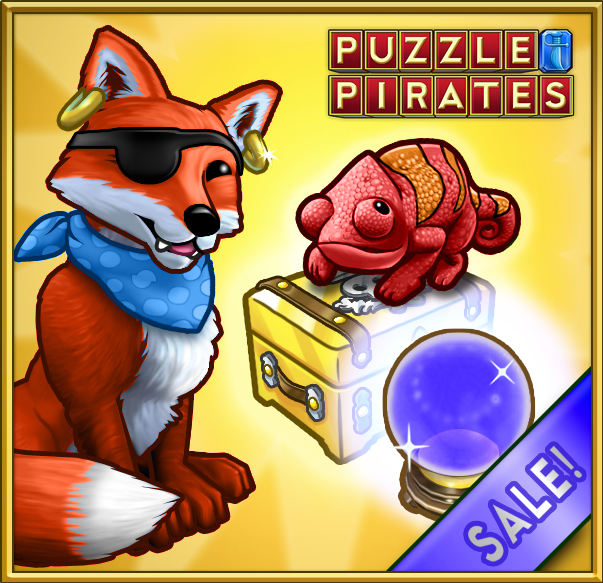 Gold Boxes are now available! The color-changing chameleon familiar returns with secondary colors orange, light green and navy blue. The sea turtle pet is off surfing the ocean currents, and is temporarily unavailable. However, we have a new pirate pet for you to love! The Patchy Fox wears a handkerchief and has the look o' a pirate. This month's fox has persimmon fur with handkerchief colors of aqua, blue and navy blue.

Watch for chroma and trinkets in June's seasonal color, banana. Collect gold trinkets, furniture and pets, and keep an eye out for pink pomade hair dye and purple crystal ball furniture!

Find Gold boxes at your island bank until June 16th at 3 PM PDT. You can find the full list of prizes, right here.
1 opmerkingen
Meer informatie
Info over het spel
Brace yourself for swashbuckling puzzle action as you pillage your way to glory across the briny deep!
Create and customize a pirate, collect booty, and join a player-run crew of cutthroats! Every activity in Puzzle Pirates is a uniquely fun puzzle: be it sailing, gunning, or hauling treasure, your own puzzling skill determines your success!
Key features
Co-operative Piracy: Sail the seas with your friends and pillage brigands and merchants aboard your very own pirate ship!

A Plethora of Puzzles: Play more than 20 puzzles and mini-games, representing various piratey exploits, such as Swordfighting and Sailing!

Sail to Adventure!: Explore a living world filled with thousands of other players! Hunt dangerous Sea Monsters and voyage to lost treasure-filled realms, such as the Haunted Seas!

Booty!: Customize your pirate with a bounty of different clothing items and equipment!

Player-Run Economy: Run your own shop and produce weapons, ships and other goods for sale. Band crews together under a mighty "Pirate Flag" and become governor of a pirate haven.

Free to Play!: Puzzle Pirates is free to play, no subscription is required to enjoy everything the game has to offer!

Systeemeisen (PC)
OS: Windows 98, ME, 2000, XP and Vista, 7

Processor: 500 MHz

Memory: 256 MB

Hard Disk Space: 100 MB

Java: Version 1.5

Systeemeisen (Mac)
OS: OS X version Leopard 10.5.8, Snow Leopard 10.6.3, or later.

Processor: 500 MHz

Memory: 256 MB

Hard Disk Space: 100 MB

Java: Version 1.5

Nuttige klantrecensies
Titel:
Puzzle Pirates
Genre:
Avontuur
,
Casual
,
Gratis spelen
,
MMO
,
Strategie
Ontwikkelaar:
Three Rings
Uitgever:
Three Rings
Releasedatum:
31 aug 2011
Talen:
| | Interface | Spraak | Ondertiteling |
| --- | --- | --- | --- |
| Engels | | | |
| Duits | | | |
| Spaans | | | |
Prijzen
Best PC Puzzle/Rhythm Game, Metacritic, 2005

Editor's Choice Award, IGN, 2004

Webby Award for Games, 2004

Technical Excellence and Audience Choice awards at the Annual Independent Games Festival, 2004