Every activity in Puzzle Pirates is a uniquely fun puzzle: be it sailing, gunning, or hauling treasure, your own puzzling skill determines your success!
출시 날짜: 2011년 8월 31일
2014년 9월 18일
Ahoy, ye salty sea dogs!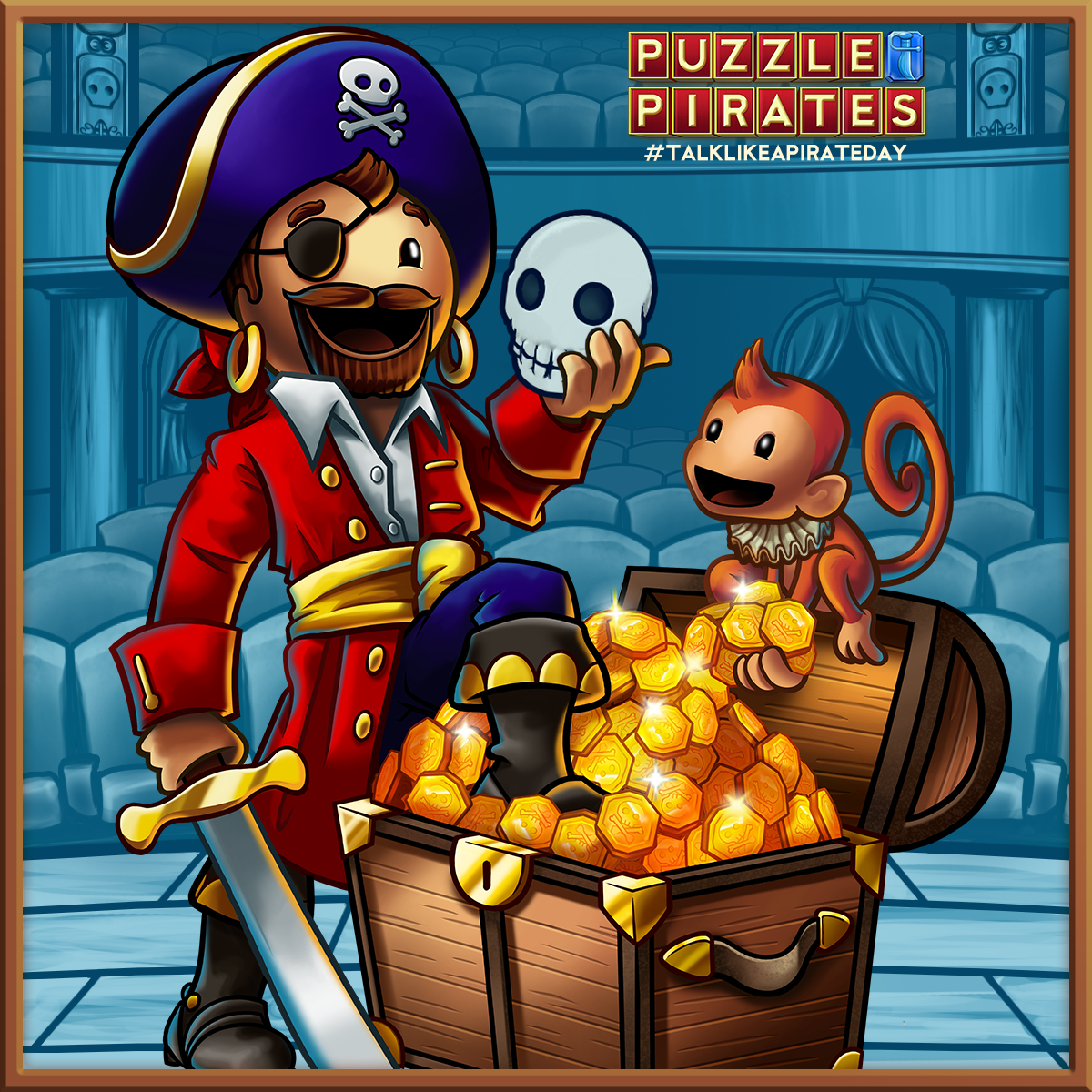 We know ye embrace the piratey lifestyle, as ye pillage and plunder all year long. Alas, there are lubbers who only embrace the thrill o' the high seas once a year on September 19th - Talk Like a Pirate Day. As expert seafarers, show these bilge rats the ropes and have yarrrrself a bootyful day.

To celebrate Talk Like a Pirate Day, the Ocean Masters have scheduled special tournaments and puzzle competitions. Keep a weather eye on the Notice Board in-game to catch them!

Ye can also gather yer hearties and commission a portrait aboard one these fine vessels with unusual names: Lingua Piratica, Bountiful Booty and Booched Blunderbuss.

IMPORTANT: Be sure ye talk piratey-like while visiting the inns and other public places in Puzzle Pirates on Talk Like a Pirate Day! We'll be takin' notes, an' you could find yerself rewarded the mere act o' usin' proper pirate lingo. A list o' winners will be posted on the forums...after we've had time to recover from the festivities.

댓글 1 개
더 읽어보기
2014년 9월 12일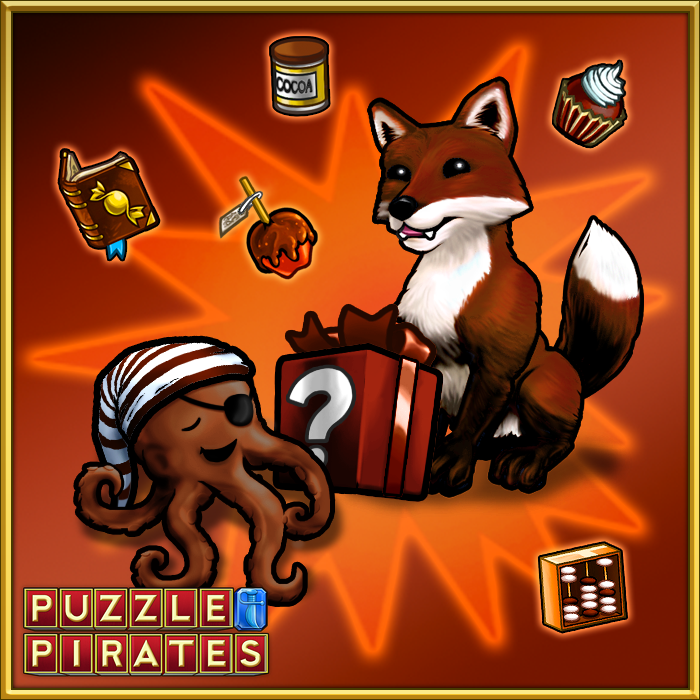 This year we've asked our chocolate artisans to put together a box with the highest quality fresh ingredients. They've created a box that will thrill and delight any pirate! We have 3 varieties of octopus familiars. Chocolate with and without sleeping hats, and a tan octopus. There's a new chocolate fox pet, which is sure to melt your heart. Indulge with furniture, chormas, trinkets and clothing in delectable chocolate.

From now until 3:00 PM PDT on September 22nd , 2014 you'll receive a free Chocolate Mystery Box for every $9.99 you spend on doubloons, or every month of subscription time you purchase!

For more information about the full contents of the 2014 Chocolate Mystery Box, as well as the official rules, please click here. The Chocolate Mystery Boxes are only available for a limited time, so surrender to this delightful box now!
댓글 0 개
더 읽어보기
게임 정보
Brace yourself for swashbuckling puzzle action as you pillage your way to glory across the briny deep!
Create and customize a pirate, collect booty, and join a player-run crew of cutthroats! Every activity in Puzzle Pirates is a uniquely fun puzzle: be it sailing, gunning, or hauling treasure, your own puzzling skill determines your success!
Key features
Co-operative Piracy: Sail the seas with your friends and pillage brigands and merchants aboard your very own pirate ship!

A Plethora of Puzzles: Play more than 20 puzzles and mini-games, representing various piratey exploits, such as Swordfighting and Sailing!

Sail to Adventure!: Explore a living world filled with thousands of other players! Hunt dangerous Sea Monsters and voyage to lost treasure-filled realms, such as the Haunted Seas!

Booty!: Customize your pirate with a bounty of different clothing items and equipment!

Player-Run Economy: Run your own shop and produce weapons, ships and other goods for sale. Band crews together under a mighty "Pirate Flag" and become governor of a pirate haven.

Free to Play!: Puzzle Pirates is free to play, no subscription is required to enjoy everything the game has to offer!

시스템 요구 사항 (PC)
OS: Windows 98, ME, 2000, XP and Vista, 7

Processor: 500 MHz

Memory: 256 MB

Hard Disk Space: 100 MB

Java: Version 1.5

시스템 요구 사항 (MAC)
OS: OS X version Leopard 10.5.8, Snow Leopard 10.6.3, or later.

Processor: 500 MHz

Memory: 256 MB

Hard Disk Space: 100 MB

Java: Version 1.5

유용한 고객 평가
제목:
Puzzle Pirates
장르:
어드벤처
,
캐주얼
,
무료
,
대규모 멀티플레이어
,
전략
개발자:
Three Rings
배급사:
Three Rings
출시 날짜:
2011년 8월 31일
언어:
| | 인터페이스 | 음성 지원 | 자막 |
| --- | --- | --- | --- |
| 영어 | | | |
| 독일어 | | | |
| 스페인어 | | | |
수상
Best PC Puzzle/Rhythm Game, Metacritic, 2005

Editor's Choice Award, IGN, 2004

Webby Award for Games, 2004

Technical Excellence and Audience Choice awards at the Annual Independent Games Festival, 2004