Chaque activité dans Puzzle Pirates est un puzzle amusant unique : que ça soit naviguer, tirer ou tracter un trésor, seul vos talents en puzzle détermine votre succès !
Date de parution: 31 août 2011
18 septembre
Ahoy, ye salty sea dogs!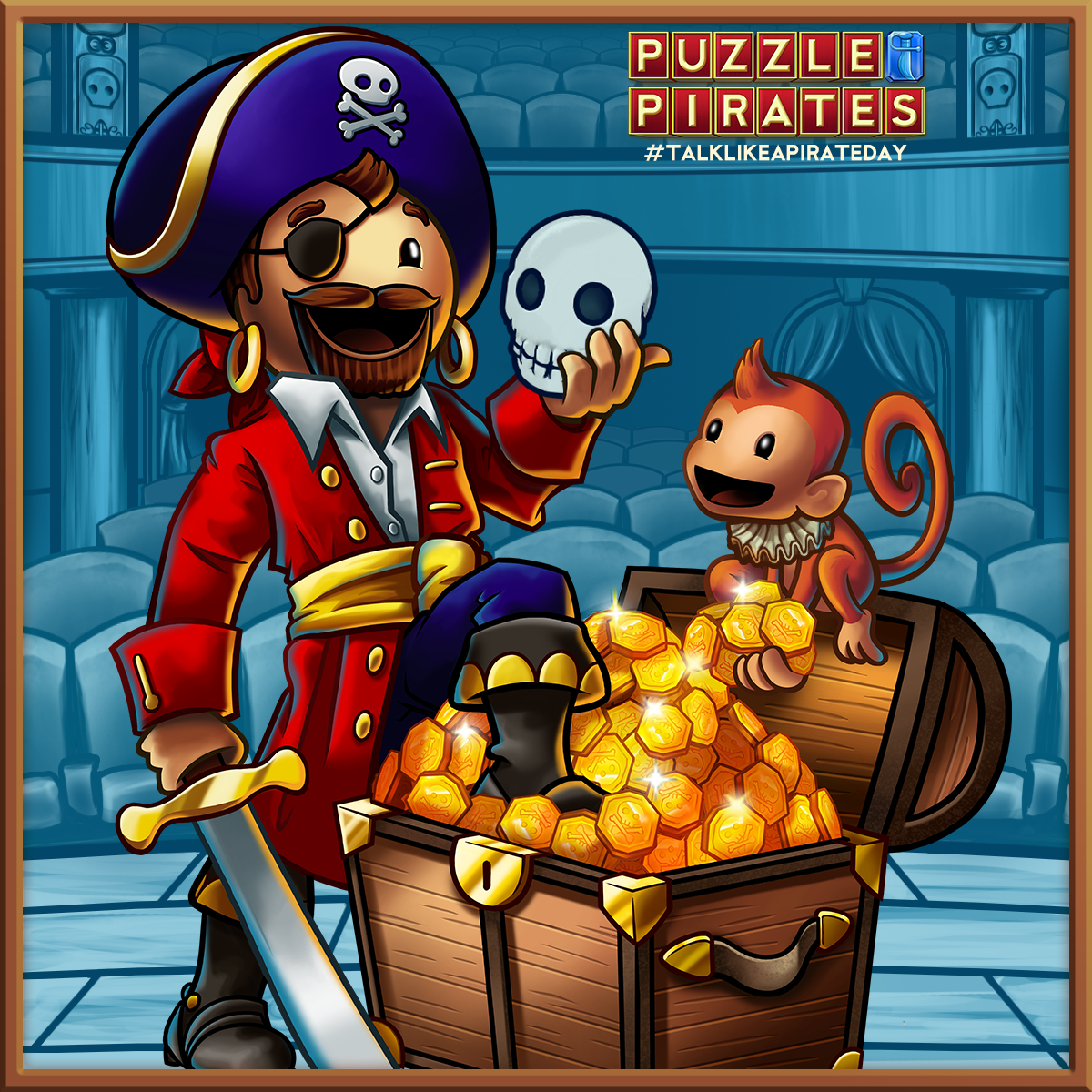 We know ye embrace the piratey lifestyle, as ye pillage and plunder all year long. Alas, there are lubbers who only embrace the thrill o' the high seas once a year on September 19th - Talk Like a Pirate Day. As expert seafarers, show these bilge rats the ropes and have yarrrrself a bootyful day.

To celebrate Talk Like a Pirate Day, the Ocean Masters have scheduled special tournaments and puzzle competitions. Keep a weather eye on the Notice Board in-game to catch them!

Ye can also gather yer hearties and commission a portrait aboard one these fine vessels with unusual names: Lingua Piratica, Bountiful Booty and Booched Blunderbuss.

IMPORTANT: Be sure ye talk piratey-like while visiting the inns and other public places in Puzzle Pirates on Talk Like a Pirate Day! We'll be takin' notes, an' you could find yerself rewarded the mere act o' usin' proper pirate lingo. A list o' winners will be posted on the forums...after we've had time to recover from the festivities.

1 commentaires
Lire la suite
12 septembre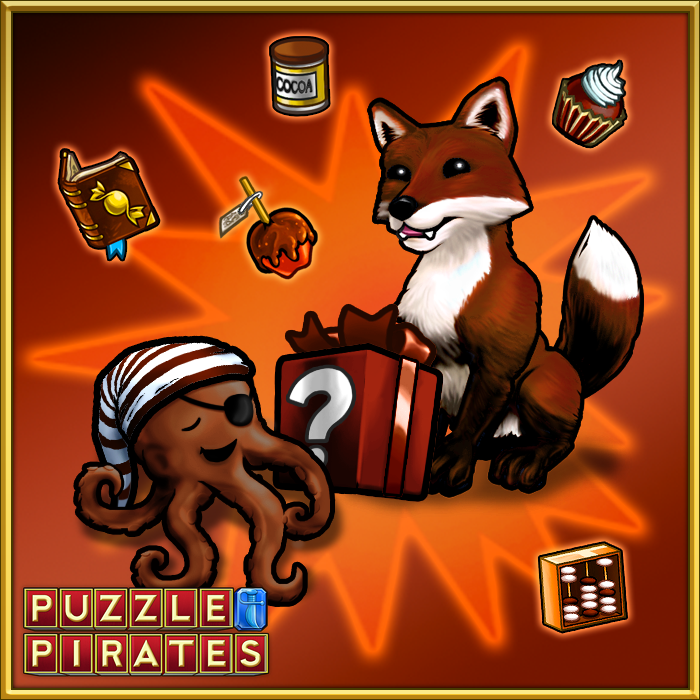 This year we've asked our chocolate artisans to put together a box with the highest quality fresh ingredients. They've created a box that will thrill and delight any pirate! We have 3 varieties of octopus familiars. Chocolate with and without sleeping hats, and a tan octopus. There's a new chocolate fox pet, which is sure to melt your heart. Indulge with furniture, chormas, trinkets and clothing in delectable chocolate.

From now until 3:00 PM PDT on September 22nd , 2014 you'll receive a free Chocolate Mystery Box for every $9.99 you spend on doubloons, or every month of subscription time you purchase!

For more information about the full contents of the 2014 Chocolate Mystery Box, as well as the official rules, please click here. The Chocolate Mystery Boxes are only available for a limited time, so surrender to this delightful box now!
0 commentaires
Lire la suite
À propos du jeu
Accrochez-vous pour de l'action pure et allez de pillage en pillage pour atteindre la gloire !
Créez et personnalisez votre pirate, collectionnez les trésors et rejoignez un équipage de coupe-gorge. Chaque activité dans Puzzle Pirates est un jeu : navigation, tir, découvrir des trésors... Serez-vous à la hauteur ?
Comprend
Piraterie en coopération : Parcourez les océans avec vos amis et rançonnez les brigands et les marchands. Commandez votre propre navire !

Un grand nombre d'énigmes : Plus de 20 énigmes et mini-jeux.

Partez à l'aventure : Explorez un univers avec des milliers d'autres joueurs. Partez à la chasse aux monstres dans des royaumes féériques et parcourez les mers hantées.

Butin ! : Personnalisez votre pirate avec des habits et des équipements !

Déterminez votre propre économie : Faites votre propre production d'armes, de vaisseaux et d'autres biens. Créez votre équipage et gouvernez la nation pirate.

Gratuit ! : Puzzle Pirates est gratuit. Aucune souscription n'est nécessaire pour profiter du jeu.
Configuration requise (PC)
Système d'exploitation : Windows 98, ME, 2000, XP et Vista, 7

Processeur : 500 MHz

Mémoire vive : 256 Mo de RAM

Disque dur : 100 Mo d'espace disque disponible
Configuration requise (MAC)
Système d'exploitation : Mac OS X version Leopard 10.5.8, Snow Leopard 10.6.3 ou ultérieure.

Processeur : 500 MHz

Mémoire vive : 256 Mo de RAM

Disque dur : 100 Mo d'espace disque disponible
Évaluations intéressantes des utilisateurs
Titre:
Puzzle Pirates
Genre:
Aventure
,
Petit jeu
,
Gratuit
,
Massivement multijoueur
,
Stratégie
Développeur:
Three Rings
Éditeur:
Three Rings
Date de parution:
31 août 2011
Langues:
| | Interface | Son | Sous-titres |
| --- | --- | --- | --- |
| Anglais | | | |
| Allemand | | | |
| Espagnol | | | |
Récompenses
Best PC Puzzle/Rhythm Game, Metacritic, 2005

Editor's Choice Award, IGN, 2004

Webby Award for Games, 2004

Technical Excellence and Audience Choice awards at the Annual Independent Games Festival, 2004