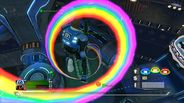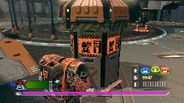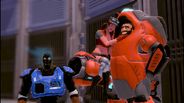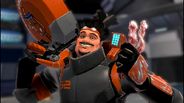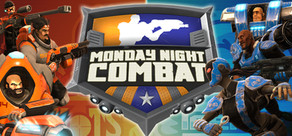 Monday Night Combat es un shooter en tercera persona basado en clases… ¡y el deporte letal más popular del futuro!
Fecha de lanzamiento: 24 de Ene, 2011
Ver los 4 trailers
Comprar Monday Night Combat
Comprar Monday Night Combat 4-Pack
Incluye cuatro copias de Monday Night Combat - Envía las copias extra a tus amigos.
Acerca del juego
Monday Night Combat es un shooter en tercera persona basado en clases… ¡y el deporte letal más popular del futuro! Es una mezcla de fiero combate, movimientos finales y desafíos y recompensas estilo espectáculo que genera una experiencia de acción como ninguna otra. ¿Por qué luchar por el "honor" o el "deber" cuando puedes luchar por el auténtico sueño americano?: ¡Dinero, fama y promociones!
Características Principales:
¡Es hora de dar caña en Monday Night Combat! ¡El parque de atracciones del Tío Tully ya está disponible y con nuevas características! En primer lugar tenemos a Chickey Cantor, que aparecerá en el parque de atracciones del Tío Tully. ¡Haz volar a Chickey disparándole y ganando una gran bonificación durante una vida para todo tu equipo! ¡Espera a que Chickey toque tierra y móntalo durante ocho segundos para conseguir una gran cantidad de dinero! Ten cuidado, los jinetes suelen ser un blanco fácil para los pros del equipo contrario. En segundo lugar tenemos los nuevos generadores de bots. Estos generadores tienen botones específicos para generar Jackbots, Black Jacks, Slims, Scramblers, Gremlins, Gapshots y Bouncers.
Cooperativo
El modo Blitz permite a los jugadores defender su Bola de Dinero contra ejércitos de robots, en solitario o en grupos de cuatro jugadores mediante Steam. Durante los diversos desafíos de Blitz, los jugadores pueden utilizar el dinero obtenido al destruir robots para construir torretas defensivas alrededor de la Bola de Dinero, mejorar una de las seis clases únicas de personaje o preparar trampas en el escenario para los robots. Los Desafíos varían desde la Exhibición Blitz de diez rondas hasta las oleadas infinitas de robots de dificultad creciente el modo Súper Muerte Súbita Blitz. El dinero obtenido en cada Desafío pasará a formar parte de sus Ganancias Vitalicias y le permitirá desbloquear más de 370 ProTags, crear clases personalizadas y puntuar en las tablas de clasificación.
Multijugador Competitivo
El modo Fuego Cruzado enfrenta a dos equipos de jugadores mediante Steam. Cada equipo dispone de oleadas inagotables de robots que lucharán para ellos; ¡superar a las oleadas del enemigo, mejorar tus Pros y las defensas de tu base son la clave del éxito!
Personajes Personalizables
Cada Pro se adapta a un estilo de juego y dispone de su propio juego de habilidades mejorables. Personaliza aún más estas habilidades con una gran variedad de productos desbloqueables con la características Clase Personalizada.
Estadísticas Persistentes
Cada partida de Monday Night Combat hace ganar dinero al jugador y se acumula en sus Ganancias Vitalicias, que se pueden utilizar para desbloquear clases personalizadas y comprar los ProTags obtenidos. Las Ganancias Vitalicias de que dispongas también determinarán tu nivel. Monday Night Combat mantiene una gran cantidad de estadísticas persistentes para todos los aspectos del juego. MNC incluye más de 370 'ProTags' personalizables que podrás mostrar a otros jugadores y a tus amigos.
Servidores Dedicados
Hospeda varias instancias del servidor dedicado de MNC desde el mismo cliente del juego.
Requisitos del sistema
SO: XP (SP3) / Vista / Windows 7
Procesador: 2 GHz
Memoria: 1 GB de RAM
Gráficos: Compatible con DirectX 9.0c y Shader Model 3.0, 512 MB de VRAM (familia nVidia GeForce 7800 o ATI Radeon X1900)
DirectX®: 9.0c
Disco Duro: 2 GB de espacio libre
Sonido: Compatible con DirectX 9.0c
© 2010 Uber Entertainment, Inc. All rights reserved. Monday Night Combat is a trademark of Uber Entertainment and used under license. © 2009-2010. Uber Entertainment and the Uber logo are registered trademarks of Uber Entertainment, Inc in the U.S. and/or other countries.
Análisis útiles de usuarios