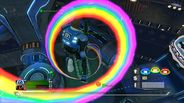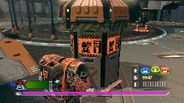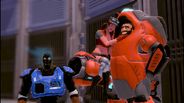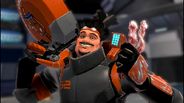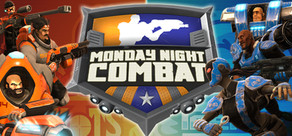 Monday Night Combat ist Third-Person-Shooter per Klassen… und der beliebteste, tödliche Sport der Zukunft!
Veröffentlichung: 24. Jan. 2011
Alle 4 Trailer ansehen
Monday Night Combat kaufen
Monday Night Combat 4-Pack kaufen
Beinhaltet vier Kopien von Monday Night Combat - Verschenken Sie Extrakopien an Ihre Freunde.
Über das Spiel
Monday Night Combat ist ein klassenbasierter Third-Person Shooter ... und die beliebteste tödliche Sportart in der Zukunft! Eine Verbindung aus intensiven Kämpfen, Finishern, Herausforderungen im Gameshow-Stil und Belohnungen erzeugt eine einzigartige Spielerfahrung. Warum für Werte wie "Moral" oder "Pflicht" kämpfen, wenn man auch für den Amerikanischen Traum kämpfen kann: Geld, Ruhm und Anerkennung?
Hauptmerkmale:
Es ist 'Throwback Throwdown' Zeit in Monday Night Combat! 'Uncle Tully's Funland' steht jetzt in 'Crossfire' mit neuen Spielfunktionen zur Verfügung! Zu aller erst haben wir 'Chickey Cantor'. Er wird nun in 'Uncle Tully's Funland' auftreten. Schießen Sie auf 'Chickey', damit er davonfliegt und Sie erhalten einen großen Lebensbonus für Ihr gesamtes Team! Warten Sie, bis 'Chickey' auf den Boden aufschlägt, damit Sie ihn sich holen können. Reiten Sie ihn für acht Sekunden und Sie werden reichlich entlohnt werden! Aber seien Sie vorsichtig, denn Reiter werden für feindliche Pros leichtes Kanonenfutter sein. Zudem führen wir neue 'Bot Spawners' ein. Diese Spawner besitzen Schaltflächen, um spezielle Jackbots, Black Jacks, Slims, Scramblers, Gremlins, Gapshots und Bouncers fallen zu lassen.
Co-op
Im Blitz-Modus kämpft der Spieler alleine oder zusammen mit bis zu vier Spielern über Steam gegen eine Armee von Robotern um den Money Ball zu verteidigen. Während der Blitz-Herausforderungen ist es Spielern möglich Geld für Geschütztürme um den Money Ball, ein Upgrade für eine der 6 unterschiedlichen Klassen oder tödliche Roboterfallen auszugeben, welche sie Vorher durch das Ausschalten der Roboter erhalten haben. Die Herausforderungen beinhalten eine zehnründige Blitz Partie oder ein unendliches Spiel namens Super Sudden Death Blitz, bei dem der Schwierigkeitsgrad kontinuierlich steigt. Mit dem aus den Herausforderungen verdienten Geld können Belohnungen gekauft werden, um über 370 ProTags freizuschalten, neue Klassen zu erschaffen oder in den Highscorelisten eingetragen zu werden.
Kompetitiver Mehrspielermodus
Über Steam können im Crossfire-Modus Teams gegeneinander antreten. Jedes Team wird durch eine endlose Armee Roboter unterstützt. Der Schlüssel zum Ziel ist es hierbei, die gegnerische Armee zurückzudrängen, Pros upzugraden und die Basis zu verteidigen!
Anpassbare Charaktere
Jeder Pro besitzt eine einzigartige Spielweise und besitzt ein eigenes Set und verbesserbaren Skills. Passen Sie die Skills und Fähigkeiten weiter an, indem Sie ihren Pro mit einer großen Auswahl an freischaltbaren Objekten ausrüsten.
Permanente Boni
Jedes Monday Night Combat Match gewährt dem Spieler Geld, dass in permanente Boni umgewandelt werden kann. Diese permanenten Boni können eingesetzt werden um anpassbare Klassen freizuschalten und ProTags zu kaufen. Die Anzahl der permanenten Boni beeinflusst auch den Spielerlevel. Monday Night Combat beinhaltet eine große Anzahl an permanenten Boni für viele verschiedene Spielaspekte. In MNC gibt es außerdem über 370 'ProTags', die angepasst und Mitspielern oder Freunden gezeigt werden können.
Dedizierte Server
Hosten Sie verschiedene Instanzen dezidierter MNC Server. Vollständiger Stand-Alone Client wird bald veröffentlicht.
Systemvoraussetzungen
Betriebssystem: XP(SP3)/Vista/Windows 7
Prozessor: 2 GHz Prozessor
Speicher: 1 GB RAM
Grafik: DirectX 9.0c/Shader3.0 kompatibel, VRAM 512 MB (NVIDIA GeForce 7800 Serien oder ATI Radeon X1900)
DirectX®: 9.0c
Festplatte: 2 GB frei
Sound: DirectX 9.0c kompatible Soundkarte
© 2010 Uber Entertainment, Inc. All rights reserved. Monday Night Combat is a trademark of Uber Entertainment and used under license. © 2009-2010. Uber Entertainment and the Uber logo are registered trademarks of Uber Entertainment, Inc in the U.S. and/or other countries.
Hilfreiche Kundenreviews