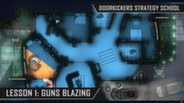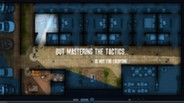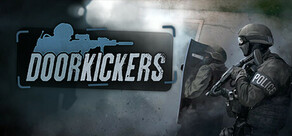 Door Kickers is an innovative realtime strategy game that puts you in charge of a SWAT team and lets you command them during a tactical intervention. Analyze the situation, plan team routes, choose equipment and breach points and coordinate multiple troopers to reach the hostage room before the bad guys get to press that trigger.
Veröffentlichung: 3. Sep. 2013
Alle 2 Trailer ansehen
Early Access-Spiel
Erhalten Sie sofortigen Zugang und bringen Sie sich in die Entwicklung des Spiels ein.
Hinweis: Dieses Early Access-Spiel könnte sich im Entwicklungsverlauf erheblich verändern. Wenn Ihnen das Spiel im aktuellen Zustand nicht gefällt, sollten Sie warten, bis das Spiel einen fortgeschritteneren Entwicklungsstand erreicht hat. Mehr erfahren
Was die Entwickler zu sagen haben:
Wozu Early Access?
"We've started Door Kickers with a dream of an indie game, a lot of game dev experience under our belt and a question of people want this as much as we do.
And players have answered a clear YES. Early Access has meant a steady income that we have used to fund the final development of Door Kickers. You have proven to us that you guys want this game badly, and thanks to YOU Door Kickers's future is assured.
Also, there's nothing like actual player feedback and testing, and we cherish the input we get from our fans. Having direct user feedback as we develop ensures the version stays clean and bugfree."
Wie lange wird dieses Spiel den "Early Access"-Status haben?
"We plan to release the Gold version of Door Kickers in
Q4 2014
and further support it after that. However, we feel that having a polished, fully featured game is more important than calling a version "final" on a preset date."
Wie soll sich die Vollversion von der Early Access-Version unterscheiden?
"The game is in continuous development with regular updates, so our players are never too long without an updated version of Door Kickers. But to put the target version in the picture...
Planned improvements in final version of Door Kickers:
35+ more handcrafted missions

5-10 more weapons and gear items

multi-layered levels

surrendering bad guys

improved trooper development and Squad Doctrine Tree

true location editor allowing the drawing of walls

campaign mode

Steam Achievements
"
Was ist der derzeitige Stand der Early Access-Version?
"Door Kickers is currently in Beta (build 0.102). Some features are missing but the fun and addiction are already in, at least according to our players!
In the current build you can play 68 handcrafted levels, use the mission generator and check a large chunk of the gameplay and tactical options.
Key Features of Beta 1

all troopers classes are present

over 40 weapons and gear items

functional trooper and squad development

gear and class unlocking

Mission Editor

Modding Support

Steam Workshop Support
Next planned build - Beta 2:

True level editor, including easy wall drawing

new bad guys

interface improvements

new gear
*all content subject to change
"
Wird das Spiel während und nach Early Access unterschiedlich viel kosten?
"The game is currently cheaper in price compared to the final version by an estimated 25%."
Wie werden Sie versuchen, die Community in den Entwicklungsprozess mit einzubeziehen?
"We're actively involving the community in the decision making of our game, asking for thoughts on various developments, polling their opinion on critical items and listening to what they feel we should focus on.
We're constantly reading both the steam forum and our own (
http://inthekillhouse.com/forum
) to make sure we take all suggestions into account, we answer where its needed and consult with mod makers to fulfill their need.
We fell that developers, modders and players - we're all part of a big team, with one goal:
build a kickass strategy game that we'll all love and play for years to come.
"
Weiterlesen
11. September
Here's the final call if you want to get your name/portrait in the game!
We will be interrupting the Stuff of Legends package from September 15th.

http://inthekillhouse.com/buy/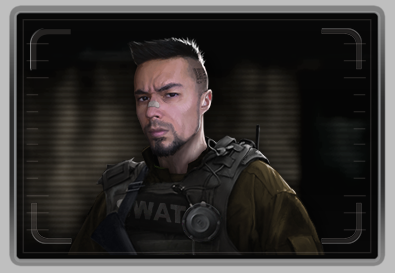 0 Kommentare
Weiterlesen
28. August
Changelist:
- added support for Intel HD Graphics
- fixed bug where sometimes you could see through editor walls
- fixed wall shadows showing up in editor
4 Kommentare
Weiterlesen
Reviews
"Door Kickers is a very fun, very simple to pick up but difficult to master strategy with real time SWAT tactics."
GamersDissent about Alpha 4

"If you're a fan of the SWAT games, Rainbow Six, Frozen Synapse, (...) then you've probably got Door Kickers pencilled in your diary, perhaps even accompanied by a couple of exclamation marks."
PC Gamer covers Alpha 3

"It's a thing of beauty and manages to capture the planning and satisfying execution of more complex strategy games, as well as the gung-ho and the popping-off of growly man in military shooters. (...) It's probably the best man-shootery game I've played in years."
Indie Statik on Alpha 3

Steam Greenlight

This game was picked with help from the Steam Community. To vote for other games you'd like to
see made available on Steam, please visit Steam Greenlight.
Über das Spiel
Door Kickers
is an innovative realtime strategy game that puts you in charge of a SWAT team and lets you command them during a tactical intervention.
Analyze the situation, plan team routes, choose equipment and breach points and coordinate multiple troopers to reach the hostage room before the bad guys get to press that trigger.
It may sound daunting, and like real world CQB combat, it sure is. But
most levels can be completed in minutes
and on the fly improvisation works. Achieving the perfect planning, getting the mission done with no false steps, that's a skill harder to master.
Quick Points:
2D, Top Down for optimal tactical analysis

Real Time With Free Pause

No turns, no hexes, no action points or awkward interfaces

Realistic but action packed

Non-linear levels, freeform gameplay

Mission editor and modability

Unlimited gameplay via mission and campaign generators

Single Player (but MP might come later)
Door Kickers is currently in Beta, very playable but not finished yet. But our users and the press think its already very fun and addictive! And there's a lot of gameplay in over 70 handcrafted levels + the mission generator.
What can you actually expect? Obviously some features are not yet implemented. There are also small bugs or gameplay tuning issues and you can say the experience is not yet final quality. We are releasing regular updates to the game and will continue to do so, with an
Estimated release of the final game in Q3 2014
. Each update comes with new stuff, new toys, new levels.
By buying the game in Early Access you will also receive the full game, upon its release.
Planned Key Features of Door Kickers:
6 controllable unit types, each with pros and cons

over 10 enemy bad guy types, giving distinct challenges in firepower and behaviour

customizable unit loadouts affecting their behaviour and abilities in the field

level locations of all sizes and shapes, with infinite scenarios generated over them

natural, easy to use context-sensitive interface

clever AI that needs no babysitting

Location and Mission Builder at your fingertips, with missions easy to share between players

freeform gameplay supported by reactive AI, open structures and multiple gameplay options

realistic tactical options such as door breaching, flash bangs, coordinated entries and sniper support
Systemvoraussetzungen (PC)
Minimum:


OS: Windows XP SP3

Processor: Intel Pentium IV 2.6 GHz or equivalent

Memory: 2 GB RAM

Graphics: An OpenGL 2.0 graphics adapter. NOT SUPPORTED: Intel GMA or older.

Hard Drive: 2 GB available space

Additional Notes: 1366x768 minimum display resolution
Recommended:


OS: Windows 7

Processor: Intel Core 2 Duo or AMD Athlon 64 X2 5600

Memory: 4 GB RAM

Graphics: NVidia Geforce 9xxx / AMD Radeon HD / IntelHD 3000 series or better

Hard Drive: 2 GB available space

Additional Notes: A resolution of 1920x1080
Systemvoraussetzungen (Mac)
Minimum:


OS: OSX 10.7

Processor: Intel Pentium IV 2.6 GHz or equivalent

Memory: 2 GB RAM

Graphics: An OpenGL 2.0 graphics adapter. NOT SUPPORTED: Intel GMA or older.

Hard Drive: 2 GB available space

Additional Notes: 1366x768 minimum display resolution
Recommended:


OS: OSX 10.8

Processor: Intel Core 2 Duo or AMD Athlon 64 X2 5600

Memory: 4 GB RAM

Graphics: NVidia Geforce 9xxx / AMD Radeon HD / IntelHD 3000 series or better

Hard Drive: 2 GB available space

Additional Notes: A resolution of 1920x1080
Systemvoraussetzungen (Linux)
Minimum:


OS: Linux

Processor: Intel Pentium IV 2.6 GHz or equivalent

Memory: 2 GB RAM

Graphics: An OpenGL 2.0 graphics adapter. NOT SUPPORTED: Intel GMA or older.

Hard Drive: 2 GB available space

Additional Notes: 1366x768 minimum display resolution
Recommended:


OS: Linux

Processor: Intel Core 2 Duo or AMD Athlon 64 X2 5600

Memory: 4 GB RAM

Graphics: NVidia Geforce 9xxx / AMD Radeon HD / IntelHD 3000 series or better

Hard Drive: 2 GB available space

Additional Notes: A resolution of 1920x1080
Hilfreiche Kundenreviews
Titel:
Door Kickers
Genre:
Action
,
Indie
,
Simulation
,
Strategie
,
Early Access
Entwickler:
KillHouse Games
Publisher:
KillHouse Games
Veröffentlichung:
3. Sep. 2013
Sprachen:
| | Oberfläche | Ton | Untertitel |
| --- | --- | --- | --- |
| Englisch | | | |