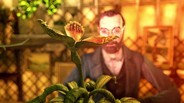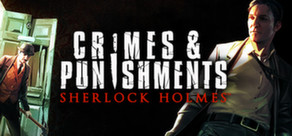 Become the most celebrated detective of all time: Sherlock Holmes! Use your impressive talents as a detective to solve six thrilling and varied cases: murders, missing persons, spectacular thefts and numerous investigations that sometimes lead you into the realms of the fantastic.
Date de parution: 29 sept 2014
Visionner la vidéo HD
Disponible : 29 septembre
Ce jeu sera déverrouillé dans environ 1 semaine, 4 jours et 5 heures
18 septembre
His skills, your wits!

Having explored some of Holmes' skills in previous gameplay videos of Crimes & Punishments - your new investigation game coming from September 30 on PS4®, PS3®, Xbox One®, Xbox 360® and PC - Frogwares and Focus Home Interactive today introduce the complexity of not the cases, but the characters of Crimes & Punishments. It is a trailer about empathy, blame, and punishment - not of the suspect, but of Sherlock himself, as he lives with the decisions made throughout the game.

https://www.youtube.com/watch?v=bjy62bei8c4

Crimes & Punishments introduces moral changes to the Sherlock Holmes series. Not only are you charged with selecting the suspect who committed the crime, but also what to do with him, either handing him to the police or empathizing with his or her situation, setting them free after a dressing down in true Holmes style. Not only can you commit any of up to five suspects, but you can also commit two - then, your moral choice will follow, and their fate will be left in your hands, with all the responsibility on your conscience.

You can watch our previous gameplay trailers here, and, if you wish to get a more in depth look at some of the London-based locations you'll be inspecting this September, watch last week's Location Trailer!

His skills, your wits - become Sherlock Holmes in Crimes & Punishments from September 30 on PS4®, PS3®, Xbox One®, Xbox 360®, and PC.
0 commentaires
Lire la suite
11 septembre
His skills, your wits!

From luscious gardens to Victorian manors, to grim crimes scenes, discover the beautiful and meticulously detailed environments you will explore as Sherlock Holmes in Frogwares' latest investigation game, Crimes & Punishments, coming from September 30 on PS4®, PS3®, Xbox One®, Xbox 360® and PC.
A testimony to Frogwares' care and attention to detail in their gorgeous recreation of the Victorian era, this video is the third of a series focusing on the many new aspects brought to Crimes & Punishments, expanding on the series in every way.

http://www.youtube.com/watch?v=DZJ4Hzq4uC8&list=UUaLdl0827np4QVPESo794og

London and its suburbs are composed of varied and exotic locations, sprawling with culture and class at every turn. From moon-lit grimy alleys, to sun-kissed Chinese gardens, no matter how seemingly peaceful a scene may be, it is always open to the horrible thefts and murders that Holmes charges himself with investigating. Hot on the scent, you – along with Watson – will find yourself readying the motor-carriage to visit some of the most famous locations in and around London, such as Kew Gardens and the Roman city of St Albans. Where there is beauty there is murder, in this faithful recreation of the Victorian world.

There are six unique cases in Sherlock Holmes Crimes & Punishments, and with each new case new locations to explore and piece together all the clues in order to feel confident about the choices you make, culminating in either the absolving or condemning of a suspect. Expanding on the universe of Sherlock Holmes games, Scotland Yard makes an appearance as the central-hub for interrogating suspects once arrested, examining evidence, and even inspecting corpse after autopsy, for any all-important missing clues!

Last week, we witnessed Holmes's Art of Subversion, as well as his Art of Interrogation. We'll be bringing you a new video each week, right up until launch, so stay tuned!

Become Sherlock Holmes in Crimes & Punishments from September 30 on PS4®, PS3®, Xbox One®, Xbox 360®, and PC.
0 commentaires
Lire la suite
Offre de précommande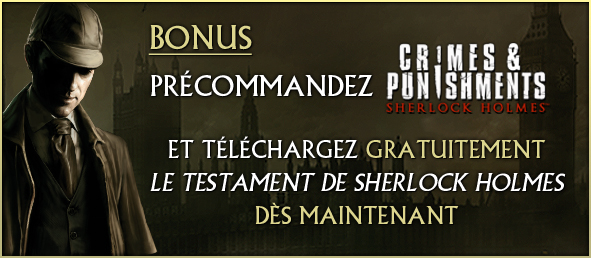 À propos du jeu
Devenez le plus grand détective de tous les temps : Sherlock Holmes ! Grâce à vos extraordinaires capacités de détective, résolvez 6 grandes affaires passionnantes et variées : meurtres, disparitions, vols spectaculaires et autres enquêtes qui vous emmèneront parfois aux frontières du fantastique.

Écouterez-vous votre sens moral, ou appliquerez-vous la justice à la lettre ?

L'immense liberté d'action de Crimes & Punishments vous permet de mener les enquêtes comme bon vous semble. Grâce aux extraordinaires dons de détective de Sherlock, choisissez les pistes à suivre, interrogez vos suspects et déterminez vous-même ceux que vous pensez être coupables... et décidez même de leur sort ! Les ramifications sont légion et vos décisions ont ainsi une véritable influence, à travers votre réputation ou encore des conséquences qui se manifesteront parfois de manière inattendue.
Configuration requise
Minimum:


OS: WINDOWS VISTA SP2/WINDOWS 7/WINDOWS 8

Processor: AMD/INTEL DOUBLE-COEUR 2.4 GHZ

Memory: 2048 MB RAM

Graphics: 256 MO 100% COMPATIBLE DIRECTX 9 AMD RADEON HD 3850/NVIDIA GEFORCE 8600 GTS OU SUPERIEUR

DirectX: Version 9.0c

Hard Drive: 14 GB available space

Sound Card: COMPATIBLE DIRECTX 9

Additional Notes: CONNEXION INTERNET REQUISE POUR L'ACTIVATION DU JEU
©Copyright 2014 Frogwares. Published under license and authorization of Frogwares. All rights reserved. Copyright 2000-2014 "Sherlock Holmes" and Frogwares and their respective logos are trademarks of Frogwares. Focus, Focus Home Interactive and its logos are trademarks or registred trademarks of Focus Home Interactive. All rights reserved. All other company names, brand names and logos are property of their respective owners. "Sherlock Holmes", inspired by the Adventures of Sherlock Holmes written by Sir Arthur Conan Doyle.
Il n'existe pas encore d'évaluation pour ce produit
Vous pouvez rédiger une évaluation sur ce produit pour partager votre expérience avec la communauté. Utilisez l'encadré situé au-dessus des options d'achat pour rédiger votre évaluation.
Titre:
Sherlock Holmes: Crimes and Punishments
Genre:
Aventure
Développeur:
Frogwares
Éditeur:
Focus Home Interactive
Date de parution:
29 sept 2014
Langues:
| | Interface | Son | Sous-titres |
| --- | --- | --- | --- |
| Français | | | |
| Anglais | | | |
| Italien | | | |
| Allemand | | | |
| Espagnol | | | |
| Tchèque | | | |
| Polonais | | | |
Tout afficher 7 langues supportées
Récompenses