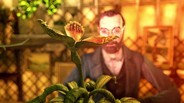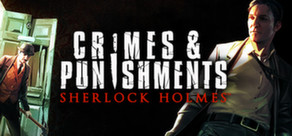 Become the most celebrated detective of all time: Sherlock Holmes! Use your impressive talents as a detective to solve six thrilling and varied cases: murders, missing persons, spectacular thefts and numerous investigations that sometimes lead you into the realms of the fantastic.
Data wydania: 29 Wrz, 2014
Obejrzyj film HD
Dostępne: 29 września
Ta gra zostanie odblokowana za około 1 tyg., 6 dni i 21 godz.
11 września
His skills, your wits!

From luscious gardens to Victorian manors, to grim crimes scenes, discover the beautiful and meticulously detailed environments you will explore as Sherlock Holmes in Frogwares' latest investigation game, Crimes & Punishments, coming from September 30 on PS4®, PS3®, Xbox One®, Xbox 360® and PC.
A testimony to Frogwares' care and attention to detail in their gorgeous recreation of the Victorian era, this video is the third of a series focusing on the many new aspects brought to Crimes & Punishments, expanding on the series in every way.

http://www.youtube.com/watch?v=DZJ4Hzq4uC8&list=UUaLdl0827np4QVPESo794og

London and its suburbs are composed of varied and exotic locations, sprawling with culture and class at every turn. From moon-lit grimy alleys, to sun-kissed Chinese gardens, no matter how seemingly peaceful a scene may be, it is always open to the horrible thefts and murders that Holmes charges himself with investigating. Hot on the scent, you – along with Watson – will find yourself readying the motor-carriage to visit some of the most famous locations in and around London, such as Kew Gardens and the Roman city of St Albans. Where there is beauty there is murder, in this faithful recreation of the Victorian world.

There are six unique cases in Sherlock Holmes Crimes & Punishments, and with each new case new locations to explore and piece together all the clues in order to feel confident about the choices you make, culminating in either the absolving or condemning of a suspect. Expanding on the universe of Sherlock Holmes games, Scotland Yard makes an appearance as the central-hub for interrogating suspects once arrested, examining evidence, and even inspecting corpse after autopsy, for any all-important missing clues!

Last week, we witnessed Holmes's Art of Subversion, as well as his Art of Interrogation. We'll be bringing you a new video each week, right up until launch, so stay tuned!

Become Sherlock Holmes in Crimes & Punishments from September 30 on PS4®, PS3®, Xbox One®, Xbox 360®, and PC.
Komentarzy: 0
Więcej
5 września
His skills, your wits!

Crimes & Punishments, the new investigation game from Frogwares, today unveils a new gameplay video, presenting one of the many skills of Sherlock: the Art of Subversion! This new video is the second of a series of videos we will be releasing over the coming weeks until the release of the game on September 30 on PS4, PS3, Xbox One, Xbox 360 and PC.

https://www.youtube.com/watch?v=5lZDgHEDW9Q

Holmes is known for his high intelligence, and high level of deduction skill. However, Sherlock as he was imagined and written by Arthur Conan Doyle is also a master of disguise, a characteristic that Frogwares transposed in Crimes & Punishments, as one of the many skills the players will actively use to solve the 6 cases of the game.

In turn, we find at Baker Street, in Holmes' bedroom, a wardrobe that holds the key to Holmes' disguises, as well as a dressing table housing wigs, hats, glasses, different hair styles and beards. everything needed to transform into about anyone! This is a very useful skill, when it comes to approaching suspects who might be wary of a well-known detective, and get information - or even confessions - by faking being a member of their social class. This is exactly what reveals today's video, "Art of Subversion", as we witness Sherlock disguising as an Irish sailor to approach a suspect.

We'll have a new video of Crimes and Punishments every week until launch, coming to the PS4®, PS3®, Xbox One®, Xbox 360®, and PC, from September 30th.
Komentarzy: 1
Więcej
Oferta przedsprzedaży
Informacje o grze
Wciel się w Sherlocka Holmesa, najsłynniejszego detektywa wszech czasów! Rozwiąż sześć tajemniczych zagadek, w których zetkniesz się z zabójstwami, porwaniami, zuchwałymi kradzieżami i ze zjawiskami z pogranicza fantastyki.

Czy pokieruje Tobą poczucie sprawiedliwości czy raczej ścisłe przestrzeganie litery prawa?

Gra Crimes & Punishments (Zbrodnie i kary) pozwoli Ci na poprowadzenie śledztw na wiele różnych sposobów. Korzystaj z 14 technik detektywistycznych, podążaj za najbardziej obiecującymi tropami, przesłuchuj podejrzanych i decyduj o dalszych losach zdemaskowanych sprawców przestępstw! Dzięki twojej reputacji, twoje decyzje będą miały daleko idący i często zaskakujący wpływ na rozwój fabuły.
Wymagania systemowe
Minimum:


OS: WINDOWS VISTA SP2/WINDOWS 7/WINDOWS 8

Processor: AMD/INTEL DUAL-CORE 2.4 GHZ

Memory: 2048 MB RAM

Graphics: KOMPATYBILNA Z DIRECTX 9 ORAZ Z 256 MB PAMIECI AMD RADEON HD 3850/NVIDIA GEFORCE 8600 GTS LUB SZYBSZA

DirectX: Version 9.0c

Hard Drive: 14 GB available space

Sound Card: KOMPATYBILNA Z DIRECTX 9

Additional Notes: POLACZENIE Z INTERNETEM WYMAGANE DLA AKTYWACJI GRY
©Copyright 2014 Frogwares. Published under license and authorization of Frogwares. All rights reserved. Copyright 2000-2014 "Sherlock Holmes" and Frogwares and their respective logos are trademarks of Frogwares. Focus, Focus Home Interactive and its logos are trademarks or registred trademarks of Focus Home Interactive. All rights reserved. All other company names, brand names and logos are property of their respective owners. "Sherlock Holmes", inspired by the Adventures of Sherlock Holmes written by Sir Arthur Conan Doyle.
Jeszcze nie ma recenzji tego produktu
Możesz napisać swoją własną recenzję dla tego produktu, żeby podzielić się swoimi wrażeniami ze społecznością. Użyj obszaru, który znajduje się na tej stronie nad przyciskiem zakupu, żeby napisać swoją recenzję.
Tytuł:
Sherlock Holmes: Crimes and Punishments
Gatunek:
Przygodowe
Producent:
Frogwares
Wydawca:
Focus Home Interactive
Data wydania:
29 Wrz, 2014
Języki:
| | Interfejs | Pełny dżwięk | Napisy |
| --- | --- | --- | --- |
| Polski | | | |
| Angielski | | | |
| Francuski | | | |
| Włoski | | | |
| Niemiecki | | | |
| Hiszpański | | | |
| Czeski | | | |
Zobacz wszystkie 7 wspierane języki
Nagrody