Ride your music. Use your own music to create your own experience on a roller-coaster-like track. The shape, the speed, and the mood of each ride is determined by the song you choose.
Veröffentlichung: 2. Okt. 2013
HD-Video ansehen
Early Access-Spiel
Erhalten Sie sofortigen Zugang und bringen Sie sich in die Entwicklung des Spiels ein.
Hinweis: Dieses Early Access-Spiel könnte sich im Entwicklungsverlauf erheblich verändern. Wenn Ihnen das Spiel im aktuellen Zustand nicht gefällt, sollten Sie warten, bis das Spiel einen fortgeschritteneren Entwicklungsstand erreicht hat. Mehr erfahren
Was die Entwickler zu sagen haben:
"Customizable mods are a big part of Audiosurf 2. I've finished a few already, but now I want to open it up to the community. There are lots of ways to play with Audiosurf's visual anticipation technology and I'm excited to see what the community comes up with. But more than that, I need you to tell me what to focus on next! Like the first Audiosurf, community feedback will shape it into the best game it can be. If you're interested in creating and sharing mods (scripting required) or skins (can be done with image, sound, and 3d model changes - and optionally with scripting), even better!

Wakeboard mode is my favorite way to ride (so far) because it uses the song's overall shape as a central part of the gameplay. You anticipate upcoming changes in the music visually and try to build up a big trick multiplier (full puzzle grid) just before jumping from a wavetop. The classic modes are still great and will evolve and twist in different directions. Audiosprint, the local-multiplayer party mode is simple (2 buttons) and a blast with friends.

Warning - there will be bugs! Please use the forum to report problems, request additions, or just discuss what's working well and what isn't. See you there.

Major Features not yet finished:
-- Scoreboard for every song, for every mod (scoreboards are currently sparse and unreliable)
-- Graphical music collection browser
-- Gamepad support in menus
-- Mac, Linux, SteamOS support
-- Translations from English
-- VR (Oculus Rift)
-- Even more official modes
-- Even more official skins
-- Important things I didn't think of yet!" Weiterlesen
29. August
Just a quick note to let everyone know the next big update is only about 2 weeks away.
30 Kommentare
Weiterlesen
27. Mai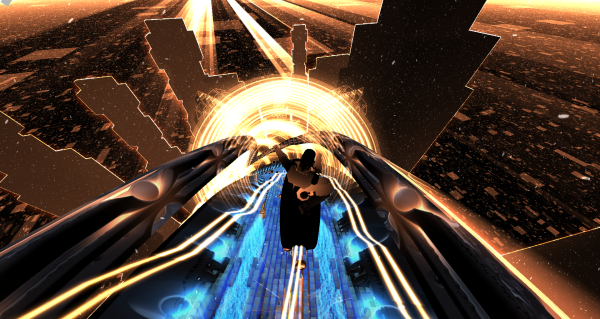 This is a big one. What's new?

Dethrones added. See when another player has beaten one of your high scores and take it back quickly by loading the right song and mod with one click.

Friend challenges added. Challenge friends to play the songs and mods you enjoy most.

Mono mode now generates better rides with corkscrews, loops, and bonus powerups from the music.

New Stadium skin incorporates music-reactive blocks and backgrounds. It also has shiny, pulsing siderails using recent graphics technology (in high detail mode) and also a new hovership.

Updated Neon skin featuring music-reactive terrain and blocks.

Song of the Day added to the title screen. Just click any entry to see the scoreboard and play.

Popular songs are now shown on the title screen for whatever mod you currently have selected. Play any obscure mod you want and see what songs competitors are riding with that mod.

Pusher mode now generates better rides with corkscrews, loops, and paint powerups from the music.

In wakeboard grid mode, you can now jump by quickly crossing either wake without holding any buttons. Crossing a wake slowly won't cause you to jump.

Added experimental modes audiosprint, audiosphere, and audioshmup. Feedback appreciated about which one should be improved next.

Improved UI screens with better layout and faster responsiveness

Mods and Skins now sorted by play recency - making it easy to select the ones you use most.

Friends-only scoreboard tab added

Many more fixes and improvements
56 Kommentare
Weiterlesen
Über das Spiel
Audiosurf 2 is not yet finished, but if you get it during Early Access you can play right away, you'll get every update, and you'll get the finished game. Watch here to see what's new with each update, and watch Steam Workshop to see what new gameplay (mods) and graphic styles (skins) others in the community are inventing.

You'll also get to help shape the future of Audiosurf, and you'll get to try out all the experimental new modes before anybody else does. Which ones are too wacky to go into the final product? Which are jaw-droppingly amazing? Which have potential but need more work before they're released? You get to help decide.



By blending gameplay with music visualization, Audiosurf puts you inside your music in a way nothing else can.

Audiosurf 2's music analysis engine knows when the best moments of a song are coming, and it allows you to experience these moments on a roller-coaster-like track as beat-matched blocks, corkscrews, loops, deafening applause, shimmering colors, and accelerating drops. Head out to Workshop to see the latest experimental modes and things get wild--the track can become water where a wakeboarder catches huge air at a song's biggest moments; a dirt track where runners jump over musically-timed hurdles; or anything else anybody who wants to use the game's built-in modding tools can dream up. The possibilities for experiencing your music in Audiosurf 2 are endless.

Audiosurf has been called a near-religious music experience and it's like nothing else in the world of music games. Ride your music.
Systemvoraussetzungen
Minimum:


OS: Windows XP

Processor: Intel Core i3

Memory: 2 GB RAM

Graphics: Intel HD3000

DirectX: Version 9.0c

Hard Drive: 350 MB available space

Additional Notes: Runs well on even older systems with minimal settings
Hilfreiche Kundenreviews
Titel:
Audiosurf 2
Genre:
Early Access
,
Indie
Entwickler:
Dylan Fitterer
Publisher:
Dylan Fitterer
Veröffentlichung:
2. Okt. 2013
Sprachen:
| | Oberfläche | Ton | Untertitel |
| --- | --- | --- | --- |
| Englisch | | | |