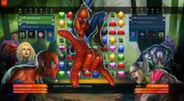 The Heroes of the Marvel Universe Unite With the Best In Puzzle Games
Çıkış Tarihi: 5 Ara 2013
Fragmanları seyret (2 fragman)
Marvel Puzzle Quest Oynayın
Bu Oyun İçin İndirilebilir İçerikler
29 Temmuz
R58 is now available. Download now!


NOW FEATURING 100% MORE DEADPOOL! Event starts August 1st!
Gameplay
New Feature: Team-Ups
Team-Ups are single use abilities that can be brought into battle that allow users to use abilities from characters that aren't directly on their teams

Most abilities are available to drop as Team-Ups for usage

Team-Up abilities have a chance to drop when defeating non-minion characters

New Team-Up tile art has been implemented

Team-Up tiles replace Environment tiles on all boards that use Environment tiles

Enemies can select and use Team-Ups
UI
"Dark Reign" has been removed from the title screen as future story events will expand outside of the Dark Reign storyline

There is now a visual distinction between Alliance and Personal rewards

Limited recommended update notifications when a new version is available
Characters
Ares (Dark Avengers) - Sunder - Fixed Sunder Countdown tile not disappearing when used by an enemy team if Ares defeats himself by using the ability

Updated the following abilities to use the new Team-Up function

Black Panther (Man Without Fear) - Battleplan

Daredevil (Classic) - Radar Sense

Storm (Modern) - Mistress of the Elements

Storm (Gold) - Mistress of the Elements
For Full (English Only) Patch Notes, please go to: http://d3pforums.com
5 yorum
Daha fazlasını oku
9 Haziran
R55 is now available. Download now!

Gameplay
- Skip costs for retaliations have been removed
- Fixed an issue with special tile ownership

Characters
- Hawkeye (Modern): Avoid - Hawkeye will no longer jump to the front when a team damage ability is used while he is in the second position of the line-up.
- Daredevil (Classic): All abilities - Traps will now trigger properly when they are matched but otherwise cannot be re-placed due to having not enough of that color tiles on the board.
- Ares (Dark Avengers): Sunder -The Countdown tile will now properly disappear when Ares falls in battle due to using this ability.

- The following abilities will no longer be usable and take up AP if the applicable tiles are not available for the ability to be effective when fired:
- Human Torch (Classic): Inferno
- Black Panther (Man Without Fear): Battle Plan
- Sentry (Dark Avengers): Sacrifice
- Daredevil (Classic): Radar Sense, Equalizer, Ambush
- Characters will now properly take damage from their own powers if abilities are used that damage themselves while they are Invisible

UI
- Events with points that lower when cleared now display a timer in the mission info screen as to when the points will be at maximum again

For Full (English Only) Patch Notes, please go to: http://d3pforums.com
35 yorum
Daha fazlasını oku
Güncelleme Notları
İngilizce tam notlar için www.d3pforums.com ziyaret edin.
Oyun Açıklaması
En iyi eşleştirme-3 bulmaca oyunu, Marvel'in en büyük Süper Kahramanlarını ve Süper Kötülerini telefonunda ve tabletinde en masalsı bulmaca macera oyununda bir buluşturuyor! Marvel Bulmaca Macerası en sevdiğin Marvel karakterlerini derin RPG ayarlama, oyuncu turnuvaları, ittifaklar ve daha fazlası ile birleştiriyor. İçindeki Süper Kahramanı açığa çıkarma ve düşmanlarına savaş açma zamanı.

Şimdi %100 daha fazla Ölüm Havuzu özelliği!

10'da 9,1 "Karmaşık bir örgü ve göz alıcı derinlik deneyimi -- Marvel Bulmaca Macerası adından beklenenin çok daha fazlasını veriyor." - IGN.com (Editors' Choice Ödülü)

Özellikler
• ÜCRETSİZ
• Kaptan Amerika, Örümcek Adam, Hulk, Thor, Loki, Cezalandırıcı, Karadul, Zehir ve daha birçok sevdiğin Marvel Süper Kahramanı ve Süper Kötüleri ile en iyi takımı oluştur!
• Takımını geliştirmek için Iso-8 gücünü kullan ve yeni karakterleri ve yetenekleri açmak için çizgi kahramanları topla.
• Marvel Universe'in yeni karakterleri ve sürekli geliştirilen oyun özellikleri!
• Yeni oyunlar keşfetmen için her ay düzenlenen tamamen yeni turnuvalar ve etkinlikler.
• Eşsiz strateji ve derinlik! Dünya çapında bir maceraya çık ve en sevdiğin Marvel karakterleri ile rakiplerini yenmek ve bozguna uğratmak için gücünü ve yeteneklerini açığa çıkar.
• Arkadaşlarınla İttifaklar kur ve rakip İttifaklarla rekabet et.
• Yeni karakter ödülleri ve diğer hediyeler için Turnuvalar, İttifaklar ve Sezon Oyununda en üst sıralara yerleş!
• Norman Osborn'u ve dünya çapında süren terör çılgınlığını durdur ve X-Men, S.H.I.E.L.D. ve H.A.M.M.E.R. (Dark Avengers) gibi farklı karakterlerin kaynaklar ve güç için savaştığı hikayeyi izle.
• Marvel emektarları Frank Tieri (Iron Man, Wolverine, Weapon X) ve Alex Irvine (Iron Man: The Rapture, Daredevil Noir) tarafından yazılan, Marvel tarihine damga vurmuş Karanlık Saltanat serisine dayanan masalsı bir hikayede Marvel Universe'un parçası ol.

Uygulama İngilizce, Fransızca, İtalyanca, Almanca, İspanyolca, Japonca ve Korece dillerinde sunulmaktadır.
Sistem Gereksinimleri
Minimum:


OS: Windows XP SP3

Processor: Intel Pentium 4 3.00GHz or better

Memory: 1 GB RAM

Graphics: Intel HD 3000 / Nvidia GeForce 8600 GT / ATI Radeon HD 4650

DirectX: Version 9.0c

Network: Broadband Internet connection

Hard Drive: 250 MB available space

Sound Card: Windows Compatible Card
© MARVEL
PUZZLE QUEST™ AND THE ASSOCIATED CHARACTERS AND NAMES ARE TRADEMARKS OF INFINITE INTERACTIVE PTY. LTD., AND USED UNDER LICENSE. D3PUBLISHER AND ITS LOGO ARE TRADEMARKS OR REGISTERED TRADEMARKS OF D3PUBLISHER OF AMERICA, INC., OR ITS AFFILIATES. DEMIURGE IS A REGISTERED TRADEMARK OF DEMIURGE STUDIOS, INC. ALL RIGHTS RESERVED.
Yararlı müşteri incelemeleri
Başlık:
Marvel Puzzle Quest
Tür:
Basit Eğlence
,
Oynaması Ücretsiz
,
RYO
Geliştirici:
Demiurge Studios
Yayımcı:
D3Publisher of America, Inc.
Çıkış Tarihi:
5 Ara 2013
Diller:
| | Arayüz | Seslendirme | Altyazı |
| --- | --- | --- | --- |
| İngilizce | | | |
| Fransızca | | | |
| İtalyanca | | | |
| Almanca | | | |
| İspanyolca | | | |
| Japonca | | | |
Tümünü gör 6 desteklenen diller