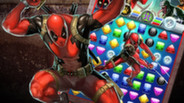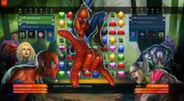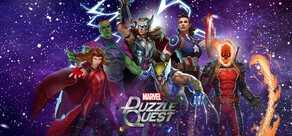 The Heroes of the Marvel Universe Unite With the Best In Puzzle Games
Data de lançamento: 5 Dez 2013
Assistir a todos os 2 trailers
Jogar Marvel Puzzle Quest
Conteúdo adicional para este jogo
29 julho 2014
R58 is now available. Download now!


NOW FEATURING 100% MORE DEADPOOL! Event starts August 1st!
Gameplay
New Feature: Team-Ups
Team-Ups are single use abilities that can be brought into battle that allow users to use abilities from characters that aren't directly on their teams

Most abilities are available to drop as Team-Ups for usage

Team-Up abilities have a chance to drop when defeating non-minion characters

New Team-Up tile art has been implemented

Team-Up tiles replace Environment tiles on all boards that use Environment tiles

Enemies can select and use Team-Ups
UI
"Dark Reign" has been removed from the title screen as future story events will expand outside of the Dark Reign storyline

There is now a visual distinction between Alliance and Personal rewards

Limited recommended update notifications when a new version is available
Characters
Ares (Dark Avengers) - Sunder - Fixed Sunder Countdown tile not disappearing when used by an enemy team if Ares defeats himself by using the ability

Updated the following abilities to use the new Team-Up function

Black Panther (Man Without Fear) - Battleplan

Daredevil (Classic) - Radar Sense

Storm (Modern) - Mistress of the Elements

Storm (Gold) - Mistress of the Elements
For Full (English Only) Patch Notes, please go to: http://d3pforums.com
3 comentários
Leia mais
9 junho 2014
R55 is now available. Download now!

Gameplay
- Skip costs for retaliations have been removed
- Fixed an issue with special tile ownership

Characters
- Hawkeye (Modern): Avoid - Hawkeye will no longer jump to the front when a team damage ability is used while he is in the second position of the line-up.
- Daredevil (Classic): All abilities - Traps will now trigger properly when they are matched but otherwise cannot be re-placed due to having not enough of that color tiles on the board.
- Ares (Dark Avengers): Sunder -The Countdown tile will now properly disappear when Ares falls in battle due to using this ability.

- The following abilities will no longer be usable and take up AP if the applicable tiles are not available for the ability to be effective when fired:
- Human Torch (Classic): Inferno
- Black Panther (Man Without Fear): Battle Plan
- Sentry (Dark Avengers): Sacrifice
- Daredevil (Classic): Radar Sense, Equalizer, Ambush
- Characters will now properly take damage from their own powers if abilities are used that damage themselves while they are Invisible

UI
- Events with points that lower when cleared now display a timer in the mission info screen as to when the points will be at maximum again

For Full (English Only) Patch Notes, please go to: http://d3pforums.com
35 comentários
Leia mais
Notas de atualização
Visite www.d3pforums.com para notas completas em Inglês.
Sobre o jogo
Assemble a team of Marvel's biggest super heroes and villains and battle with Puzzle Quest's trademark match-3 and story-telling gameplay in a game that combines favorite Marvel characters with a deep RPG leveling, player vs. player, character upgrades, and more.

Now featuring 100% more Deadpool!

In the wake of the Iso-8 Outbreak, the super hero community struggles to recover. Taking advantage of the chaos, super villains take control of National Security. Dark Reign follows these events that twist the destinies of both the heroes and villains of the Marvel Universe forever.


FEATURES
TWO AWESOME WORLDS UNITE
Marvel's biggest heroes and villains join forces with Puzzle Quest, the award winning match-3 puzzle adventure franchise for an amazing new way to experience the Marvel Universe.

ASSEMBLE YOUR HEROES
With the forces of good and evil banding together to fight a greater foe, players will be able to create teams from a roster of Marvel super heroes and villains like Iron Man, Thor, and Venom.

UNMATCHED STRATEGY AND DEPTH
Head into battle with fast, tactical reaction-based gameplay, or select specific heroes whose special abilities complement each other to strategically plan each encounter.

COLLECT AND UPGRADE
Unlock new characters, alter the various talents of your team, or enhance a character's current abilities.

AN AUTHENTIC MARVEL EXPERIENCE
Journey across the globe in an original, epic story for the single-player campaign, written by Marvel veteran Frank Tieri (Iron Man, Wolverine, Weapon X) and Alex Irvine (Iron Man, Daredevil) based on one of the most impactful events in Marvel history.
Requisitos de sistema
Minimum:


OS: Windows XP SP3

Processor: Intel Pentium 4 3.00GHz or better

Memory: 1 GB RAM

Graphics: Intel HD 3000 / Nvidia GeForce 8600 GT / ATI Radeon HD 4650

DirectX: Version 9.0c

Network: Broadband Internet connection

Hard Drive: 250 MB available space

Sound Card: Windows Compatible Card
© MARVEL
PUZZLE QUEST™ AND THE ASSOCIATED CHARACTERS AND NAMES ARE TRADEMARKS OF INFINITE INTERACTIVE PTY. LTD., AND USED UNDER LICENSE. D3PUBLISHER AND ITS LOGO ARE TRADEMARKS OR REGISTERED TRADEMARKS OF D3PUBLISHER OF AMERICA, INC., OR ITS AFFILIATES. DEMIURGE IS A REGISTERED TRADEMARK OF DEMIURGE STUDIOS, INC. ALL RIGHTS RESERVED.
Análises úteis de usuários
Título:
Marvel Puzzle Quest
Gênero:
Casual
,
Gratuito para Jogar (Free to Play)
,
RPG
Desenvolvedor:
Demiurge Studios
Distribuidora:
D3Publisher of America, Inc.
Data de lançamento:
5 Dez 2013
Idiomas:
| | Interface | Dublagem | Legendas |
| --- | --- | --- | --- |
| Inglês | | | |
| Francês | | | |
| Italiano | | | |
| Alemão | | | |
| Espanhol | | | |
| Japonês | | | |
Ver todos 6 idiomas disponíveis