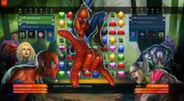 Gli eroi dell'Universo Marvel si uniscono al non plus ultra dei giochi puzzle
Data di rilascio: 5 dic 2013
Guarda tutti e 2 i trailer
Gioca a Marvel Puzzle Quest
Contenuti scaricabili per questo gioco
29 luglio
R58 is now available. Download now!


NOW FEATURING 100% MORE DEADPOOL! Event starts August 1st!
Gameplay
New Feature: Team-Ups
Team-Ups are single use abilities that can be brought into battle that allow users to use abilities from characters that aren't directly on their teams

Most abilities are available to drop as Team-Ups for usage

Team-Up abilities have a chance to drop when defeating non-minion characters

New Team-Up tile art has been implemented

Team-Up tiles replace Environment tiles on all boards that use Environment tiles

Enemies can select and use Team-Ups
UI
"Dark Reign" has been removed from the title screen as future story events will expand outside of the Dark Reign storyline

There is now a visual distinction between Alliance and Personal rewards

Limited recommended update notifications when a new version is available
Characters
Ares (Dark Avengers) - Sunder - Fixed Sunder Countdown tile not disappearing when used by an enemy team if Ares defeats himself by using the ability

Updated the following abilities to use the new Team-Up function

Black Panther (Man Without Fear) - Battleplan

Daredevil (Classic) - Radar Sense

Storm (Modern) - Mistress of the Elements

Storm (Gold) - Mistress of the Elements
For Full (English Only) Patch Notes, please go to: http://d3pforums.com
5 commenti
Ulteriori informazioni
9 giugno
R55 is now available. Download now!

Gameplay
- Skip costs for retaliations have been removed
- Fixed an issue with special tile ownership

Characters
- Hawkeye (Modern): Avoid - Hawkeye will no longer jump to the front when a team damage ability is used while he is in the second position of the line-up.
- Daredevil (Classic): All abilities - Traps will now trigger properly when they are matched but otherwise cannot be re-placed due to having not enough of that color tiles on the board.
- Ares (Dark Avengers): Sunder -The Countdown tile will now properly disappear when Ares falls in battle due to using this ability.

- The following abilities will no longer be usable and take up AP if the applicable tiles are not available for the ability to be effective when fired:
- Human Torch (Classic): Inferno
- Black Panther (Man Without Fear): Battle Plan
- Sentry (Dark Avengers): Sacrifice
- Daredevil (Classic): Radar Sense, Equalizer, Ambush
- Characters will now properly take damage from their own powers if abilities are used that damage themselves while they are Invisible

UI
- Events with points that lower when cleared now display a timer in the mission info screen as to when the points will be at maximum again

For Full (English Only) Patch Notes, please go to: http://d3pforums.com
35 commenti
Ulteriori informazioni
Note sull'aggiornamento
È disponibile l'aggiornamento R58. Scaricalo ora!

Deadpool è in arrivo presto!

Gameplay
Nuova funzionalità: Assist - La funzionalità Assist permette ai giocatori di utilizzare in battaglia (una sola volta) le abilità di personaggi non direttamente presenti nel loro team
- La maggior parte delle abilità sarà disponibile per l'uso in modalità Assist
- Le abilità Assist vengono abbandonate in maniera casuale dai nemici sconfitti (esclusi i personaggi di livello più basso)
- Implementata nuova grafica per le tessere Assist
- Le tessere Assist sostituiscono le tessere ambientali in tutti i tabelloni che le comprendono
- Anche i nemici possono selezionare e usare gli Assist

IU - ""Dark Reign"" è stato rimosso dal titolo; gli eventi futuri si svilupperanno in nuove direzioni
- I premi Alleanza appaiono ora graficamente distinti da quelli Personali
- Limitato il numero di notifiche inviate quando diventa disponibile una nuova versione

Personaggi
- Ares (Dark Avengers) - Scissione - Risolto il problema che impediva alla tessera Conto alla rovescia di sparire quando Ares muore usando l'abilità
- Le seguenti abilità sono state aggiornate per essere usate con la funzionalità Assist:
- Black Panther (Man Without Fear): Piano di battaglia
- Daredevil (Classic): Senso radar
- Storm (Modern) - Signora degli elementi
- Storm (Gold) - Signora degli elementi


Note complete (in inglese) su: http://d3pforums.com
Informazioni sul gioco
Il meglio dei puzzle "match 3", i più grandi supereroi e i peggiori super-criminali Marvel insieme, in un leggendario puzzle avventura per smartphone e tablet. Marvel Puzzle Quest combina i tuoi personaggi Marvel preferiti con un sistema di livelli degno dei migliori GDR, tornei PvP, alleanze e altro ancora. È giunto il momento di scatenare il supereroe che è in te e dichiarare guerra ai tuoi nemici.

E ora con il 100% di Deadpool in più!

9,1/10 "Un'esperienza elaborata, curata e incredibilmente approfondita: Marvel Puzzle Quest non solo soddisfa le aspettative ma le supera." - IGN.com (Editors' Choice Award)

Caratteristiche
• GRATUITO
• Crea una squadra straordinaria con i tuoi supereroi e super-cattivi Marvel preferiti come Captain America, Spider-Man, Hulk, Thor, Loki, Punisher, Black Widow, Venom e molti altri!
• Sfrutta la potenza dell'Iso-8 per potenziare la tua squadra e raccogli fumetti per sbloccare nuovi personaggi e nuove abilità.
• Scopri nuovi personaggi dal Marvel Universe e nuove funzionalità in continua espansione!
• Partecipa a nuovissimi tornei ed eventi lanciati ogni mese per aggiornare il gameplay.
• Strategia e profondità senza precedenti! Parti per un viaggio su scala globale e sfrutta la tua forza e il tuo ingegno con i tuoi personaggi Marvel preferiti per mettere nel sacco e sconfiggere gli avversari.
• Crea Alleanze con gli amici e affronta le Alleanze rivali.
• Raggiungi le prime posizioni nei Tornei, nelle Alleanze e negli Eventi stagionali per ottenere nuovi personaggi e altri premi!
• Ferma Norman Osborn e l'ondata di terrore che ha scatenato nel mondo, e segui lo sviluppo della competizione di forze diverse come X-Men, S.H.I.E.L.D. e H.A.M.M.E.R. (Dark Avengers) alla conquista di risorse e influenza.
• Entra a far parte del Marvel Universe in una storia epica scritta dai veterani Marvel Frank Tieri (Iron Man, Wolverine, Weapon X) e Alex Irvine (Iron Man: The Rapture, Daredevil Noir) basata sulle vicende del Dark Reign, un capitolo monumentale nella storia Marvel.

L'app è disponibile in inglese, francese, italiano, tedesco, spagnolo, giapponese e coreano.
Requisiti di sistema
Minimum:


OS: Windows XP SP3

Processor: Intel Pentium 4 3.00GHz or better

Memory: 1 GB RAM

Graphics: Intel HD 3000 / Nvidia GeForce 8600 GT / ATI Radeon HD 4650

DirectX: Version 9.0c

Network: Broadband Internet connection

Hard Drive: 250 MB available space

Sound Card: Windows Compatible Card
© MARVEL
PUZZLE QUEST™ AND THE ASSOCIATED CHARACTERS AND NAMES ARE TRADEMARKS OF INFINITE INTERACTIVE PTY. LTD., AND USED UNDER LICENSE. D3PUBLISHER AND ITS LOGO ARE TRADEMARKS OR REGISTERED TRADEMARKS OF D3PUBLISHER OF AMERICA, INC., OR ITS AFFILIATES. DEMIURGE IS A REGISTERED TRADEMARK OF DEMIURGE STUDIOS, INC. ALL RIGHTS RESERVED.
Recensioni utili dai clienti
Titolo:
Marvel Puzzle Quest
Genere:
Casual
,
Free-to-Play
,
GDR
Sviluppatore:
Demiurge Studios
Editore:
D3Publisher of America, Inc.
Data di rilascio:
5 dic 2013
Lingue:
| | Interfaccia | Audio completo | Sottotitoli |
| --- | --- | --- | --- |
| Italiano | | | |
| Inglese | | | |
| Francese | | | |
| Tedesco | | | |
| Spagnolo | | | |
| Giapponese | | | |
Mostra tutte e 6 le lingue supportate