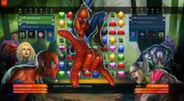 The Heroes of the Marvel Universe Unite With the Best In Puzzle Games
Datum vydání: 5 pros. 2013
Sledovat všechny 2 upoutávky
Stáhnutelný obsah pro tuto hru
29 července 2014
R58 is now available. Download now!


NOW FEATURING 100% MORE DEADPOOL! Event starts August 1st!
Gameplay
New Feature: Team-Ups
Team-Ups are single use abilities that can be brought into battle that allow users to use abilities from characters that aren't directly on their teams

Most abilities are available to drop as Team-Ups for usage

Team-Up abilities have a chance to drop when defeating non-minion characters

New Team-Up tile art has been implemented

Team-Up tiles replace Environment tiles on all boards that use Environment tiles

Enemies can select and use Team-Ups
UI
"Dark Reign" has been removed from the title screen as future story events will expand outside of the Dark Reign storyline

There is now a visual distinction between Alliance and Personal rewards

Limited recommended update notifications when a new version is available
Characters
Ares (Dark Avengers) - Sunder - Fixed Sunder Countdown tile not disappearing when used by an enemy team if Ares defeats himself by using the ability

Updated the following abilities to use the new Team-Up function

Black Panther (Man Without Fear) - Battleplan

Daredevil (Classic) - Radar Sense

Storm (Modern) - Mistress of the Elements

Storm (Gold) - Mistress of the Elements
For Full (English Only) Patch Notes, please go to: http://d3pforums.com
5 komentářů
Zjistit více
9 června 2014
R55 is now available. Download now!

Gameplay
- Skip costs for retaliations have been removed
- Fixed an issue with special tile ownership

Characters
- Hawkeye (Modern): Avoid - Hawkeye will no longer jump to the front when a team damage ability is used while he is in the second position of the line-up.
- Daredevil (Classic): All abilities - Traps will now trigger properly when they are matched but otherwise cannot be re-placed due to having not enough of that color tiles on the board.
- Ares (Dark Avengers): Sunder -The Countdown tile will now properly disappear when Ares falls in battle due to using this ability.

- The following abilities will no longer be usable and take up AP if the applicable tiles are not available for the ability to be effective when fired:
- Human Torch (Classic): Inferno
- Black Panther (Man Without Fear): Battle Plan
- Sentry (Dark Avengers): Sacrifice
- Daredevil (Classic): Radar Sense, Equalizer, Ambush
- Characters will now properly take damage from their own powers if abilities are used that damage themselves while they are Invisible

UI
- Events with points that lower when cleared now display a timer in the mission info screen as to when the points will be at maximum again

For Full (English Only) Patch Notes, please go to: http://d3pforums.com
35 komentářů
Zjistit více
Detaily aktualizací
Navštivte www.d3pforums.com pro kompletní poznámky v angličtině.
O hře
To nejlepší z herního stylu her typu match-3 se spojí s největšími superhrdiny a superzločinci společnosti Marvel v nejepičtější dobrodružné puzzle hře dostupné pro váš telefon nebo tablet! Hra Marvel Puzzle Quest kombinuje vaše oblíbené postavy společnosti Marvel s povyšováním na úrovně ve stylu RPG, turnaji hráč-vs-hráč, aliancemi, a mnoho dalšího. Přišel čas osvobodit vašeho vnitřního superhrdinu a vést válku proti vašim nepřátelům.

Nyní o 100 % více Deadpoola!

9,1 z 10 "Zručně zkombinované, poskytující pozoruhodně hluboký zážitek -- hra Marvel Puzzle Quest nejen splňuje očekávání plynoucího ze svého názvu, ona je překračuje." - IGN.com (cena Editors' Choice Award)

Hlavní rysy hry
• HRANÍ JE ZDARMA
• Sestavte jedinečný tým z vašich oblíbených superhrdinů a superzločinců společnosti Marvel, např. Captain America, Spider-Man, Hulk, Thor, Loki, Punisher, Black Widow, Venom a mnoho dalších!
• Ovládněte sílu Iso-8 a vylepšete svůj tým, a sbírejte komiksy, čímž odemknete nové postavy a schopnosti.
• Představujeme nové postavy ze světa společnosti Marvel a průběžně rozšiřujeme herní prvky!
• Každý měsíc jsou zahajovány zbrusu nové turnaje a akce, které hráčům umožňují prozkoumávat nové herní styly.
• Bezkonkurenční strategie a hloubka hry! Vydejte se na cestu globálních rozměrů a dejte průchod své síle a důvtipu s vašimi oblíbenými postavami společnosti Marvel, a přechytračte a poražte své protivníky.
• Vytvořte aliance mezi přáteli a soupeřte s konkurenčními aliancemi.
• Uchvaťte čelní pozici v Turnajích, Aliancích a Sezónní hře, a získejte odměny v podobě nových postav a jiné ceny!
• Zastavte Normana Osborna a jeho vládu teroru po celém světě a sledujte postupné odkrývání příběhu, kdy různé síly, jako jsou X-Men, S.H.I.E.L.D. a H.A.M.M.E.R. (Dark Avengers), soupeří o zdroje a vliv.
• Staňte se součástí světa společnosti Marvel v epickém příběhu napsaném veterány Marvelu - Frankem Tierim (Iron Man, Wolverine, Weapon X) a Alexem Irvinem (Iron Man: The Rapture, Daredevil Noir) založeném na dějové linii Dark Reign, monumentálním příběhu v historii Marvelu.

Aplikace je dostupná v angličtině, francouzštině, italštině, němčině, španělštině, japonštině a korejštině.
Systémové požadavky
Minimum:


OS: Windows XP SP3

Processor: Intel Pentium 4 3.00GHz or better

Memory: 1 GB RAM

Graphics: Intel HD 3000 / Nvidia GeForce 8600 GT / ATI Radeon HD 4650

DirectX: Version 9.0c

Network: Broadband Internet connection

Hard Drive: 250 MB available space

Sound Card: Windows Compatible Card
© MARVEL
PUZZLE QUEST™ AND THE ASSOCIATED CHARACTERS AND NAMES ARE TRADEMARKS OF INFINITE INTERACTIVE PTY. LTD., AND USED UNDER LICENSE. D3PUBLISHER AND ITS LOGO ARE TRADEMARKS OR REGISTERED TRADEMARKS OF D3PUBLISHER OF AMERICA, INC., OR ITS AFFILIATES. DEMIURGE IS A REGISTERED TRADEMARK OF DEMIURGE STUDIOS, INC. ALL RIGHTS RESERVED.
Užitečné recenze od zákazníků
Název:
Marvel Puzzle Quest
Žánr:
Nenáročné
,
Free to play
,
RPG
Vývojář:
Demiurge Studios
Vydavatel:
D3Publisher of America, Inc.
Datum vydání:
5 pros. 2013
Jazyky:
| | Rozhraní | Zvuk | Titulky |
| --- | --- | --- | --- |
| Angličtina | | | |
| Francouzština | | | |
| Italština | | | |
| Němčina | | | |
| Španělština | | | |
| Japonština | | | |
Zobrazit všechny 6 podporované jazyky