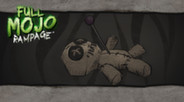 Full Mojo Rampage is a rogue-like game that takes place within the confines of the Voodoo reality. In this realm only the most powerful rites and powers can provide a safeguard against evil. Dying is not the end, only the beginning to becoming a stronger voodoo soul!
Çıkış Tarihi: 8 May 2014
HD Videoyu İzle
Full Mojo Rampage Satın Alın
Full Mojo Rampage - Four Pack Satın Alın
31 Mayıs
The patch that you downloaded today has a few bugs fixed reported from the earlier version.

Changes:

Gold and unlockable pins are now shared in online coop

Loot modes: now you can choose between "free for all" and "round robin" modes. These modes affect loot. Free for all makes loot available for everyone (default) and Round Robin mode makes loot specific for every player. My buddy Syrneth implemented this, so maybe he can post more info about this later.

Multiplayer drops increased by number of players: more players, more loot.

Mojos on the ground will now stay on the ground a lot longer. They will still disappear after a while, but this time has been increased (from 10 seconds to 100 seconds).
Bug fixes:
Screen resolution problems (GUi didnt display correctly on resolutions higher than 1080).

Ghoulified enemies could sometimes damage the player.

Russian text: the letter "б" (only the small letter) has a weird spacing before and after it.

Fixed a bug in quest 3 where the player didnt receive experience after finishing the first level.

Added two scrolls that were missing from the library.
Other:
Translations updated.

Fixed support for other gamepads. Some gamepads still need emulator to work perfectly.

New voodoo doll added into the library.
Please give us feedback about the gamepad update. If you could not play with gamepad, try it now and tell us if its fixed.
3 yorum
Daha fazlasını oku
8 Mayıs
Version 1.0 is here! we are so happy about this! Please give it a try and give us feedback.

There are plenty of ideas for new content and updates (free, no DLC or similar stuff), so keep an eye on this forum and our web for information. At this point is fairly easy to add new Loas, mojos and game modes.

We are thinking about organizing a small VS party in the next days to celebrate the release. Is anyone up for that?

We want to hear feedback and comments from you. This community has been awesome so far. You have helped us find bugs, improve gameplay features and you have translated the game to several languages (some languages still need to be finished and might have pending text still in English).

Hope to see you in the game servers! ːmojitoː ːgaperː

21 yorum
Daha fazlasını oku
İncelemeler
"Full Mojo Rampage could be the next great rogue-like. I had the privilege to play a few hours with the alpha version and came away, for the most part, pleased. The game plays very similar to a more expansive version of Binding of Isaac, but instead of using a keyboard to shoot projectiles, players utilize a mouse. The magic shooting feels very smooth and intuitive. The pace of the combat is fairly fast and, at times, can turn into a bullet hell very quickly."
HardcoreGamer

"Its already really solid, its got a lot of good content even tough its only in alpha..."
Total Biscuit - The Cynical Brit

"The alpha is surprisingly polished, mostly lacking in content and minor tweaks. Over The Top Games may have a top quality AAA indie title growing in their offices."
Capsule Computers

Oyun Açıklaması
Full Mojo Rampage is a rogue-like game that takes place within the confines of the Voodoo reality. In this realm only the most powerful rites and powers can provide a safeguard against evil. Dying is not the end, only the beginning to becoming a stronger voodoo soul!
The game includes several
multiplayer cooperative and competitive modes
to play with friends.
Key Features
Randomly-generated items and levels in beautiful 3D. Not two playthroughs will be the same.
Improve your character by leveling up and unlocking voodoo pins that you can use and upgrade to receive special bonuses.
Online Co-op: Up to 4 players can play together each campaign.
Multiplayer VS modes: Play online with up to 8 players in fiersome battles. (Current modes available: deathmatch, team deathmatch, Capture the Flag, King of Mojo). Level up and customize your character to show your friends who is the best!
Tons of items and unlockables: masks, pins, mojos and power-ups.
Unique "class" system that revolves around choosing a voodoo god each with their own special powers and attributes.
Music composed by Alistar Lindsay (Prison Architect).
Several easter eggs from our favorite games!



The Quests




When you start a new game you can select which quest you want to do. Each quest has a different story, goal and setting. The quest map and each individual level is randomly generated, so you can replay the game and be challenged each time.

Quests include: campaign quests, daily quest, survival and survival unlimited.

Customizing Your Character




After choosing a quest you will be able to customize your character.

In this screen you can choose a mask, a parent god and the voodoo pins you want to carry. In one of the last updates we added "Blessings" as an extra expensive buff for the current quest you want to play.

Each god has a set of spells that define how you play the game. There are 8 voodoo Loa you can unlock.

Voodoo Pins are very important. They provide unique bonuses that will help you in the game. At the beginning you wont have any pins unlocked, but by playing you will unlock them and with the gained gold you can upgrade them. The number of pins you can select at the same time will increase as you progress in the adventure.

In this menu you can also level up your character once you have enough experience. Experience is gained by exploring, progressing through the levels and doing events.




The Dungeon Map




The dungeon map is randomly generated. The icons represent cemeteries, swamps, bosses, events, vendors and shrines.

There are many events that are quite fun and have some surprises, so make sure to visit all the "?" icons as those are special challenges for your current game.

Gameplay




Each level is randomly generated with enemies and secrets.

In future updates we plan to add some crafting or mixing options to customize your items.

Levels have doors to vendors, god shrines and mixing rooms: the more you explore the more prepared you are for the dungeons!

In this world death is around every corner, though do not fret! Dying is not an end, and rather only a means of becoming a stronger voodoo soul! Being a practitioner of voodoo has nourished your soul with immortality. As such, any gold and experience you earn will persist with your character through death itself. Use this gold and experience earned to buy new pins and the favor of Loa to progress through even harder challenges!
Sistem Gereksinimleri
Minimum:


OS: Windows XP SP3, Windows Vista, Windows 7, Windows 8

Processor: Intel Core 2 Duo or AMD equivalent or better

Memory: 2 GB RAM

Graphics: Nvidia Geforce 8800GT or ATI Radeon HD 3870 or better

DirectX: Version 9.0c

Hard Drive: 1 GB available space

Sound Card: DirectX compatible Sound Card
Yararlı müşteri incelemeleri
Başlık:
Full Mojo Rampage
Tür:
Aksiyon
,
Bağımsız Yapımcı
,
RYO
Geliştirici:
Over the Top Games
Yayımcı:
Over The Top Games
Çıkış Tarihi:
8 May 2014
Diller:
| | Arayüz | Seslendirme | Altyazı |
| --- | --- | --- | --- |
| İngilizce | | | |
| İspanyolca | | | |
| Fransızca | | | |
| İtalyanca | | | |
| Almanca | | | |
| Flemenkçe | | | |
| Macarca | | | |
| Lehçe | | | |
| Portekizce | | | |
| Brezilya Portekizcesi | | | |
| Rusça | | | |
Tümünü gör 11 desteklenen diller