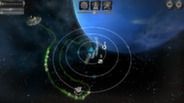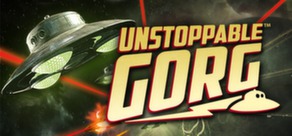 Defend the solar system from fearsome aliens by sending satellites into orbit in revolutionary tower defense action!
Utgivningsdatum: 19 jan, 2012
Titta på alla 2 trailers
Recensioner
"There's lots to like about Unstoppable Gorg, and not just the neat presentation and excellent production: the actual tower-defence model is clever too." - Rock, Paper, Shotgun

"...an entertaining tribute to the alien-invasion movies of days gone by and an enjoyable tower defense game that requires you to think on your feet" Gamespot

"...a joy to behold for any sci-fi fan that knows there is a version of The Day The Earth Stood Still that doesn't star Keanu Reeves." Destructoid
Om spelet
Gör dig beredd på en galet revolutionerande upplevelse inom kategorin tornförsvarsspel. Unstoppable Gorg utmanar dig att försvara solsystemet från förskräckliga utomjordingar genom att du skickar upp dina satelliter i omloppsbana. Helt olikt andra tornförsvarsspel så kan du i Unstoppable Gorg röra dina torn genom att rotera på den omgivande spelplanen runt dina planeter, månar eller rymdstationer.
Unstoppable Gorg är en kärleksfull hyllning till 1950-talets science fiction-filmer och innehåller därför naturligtvis både flygande tefat, gummiaktiga utomjordingar och fantasifulla effekter. Spelets inspelade story-scener innehåller små miniatyrer, modeller och riktiga skådespelare, som sedan klippts ihop med rörligt bildmaterial ur de gamla arkiven för att på så sätt skapa en klassisk science-fiction-saga av stora mått.
Huvudfunktioner:
Slåss mot Gorg i mer än 40 revolutionerande och utmanande nivåer.

Satelliter i omloppsbana ersätter de klassiska tornen och rutnäten som används i vanliga tornförsvarsspel.

Flytta dina satellit som kretsar i omloppsbana för att försöka skapa ett så starkt försvar som möjligt.

Upplev en spännande berättelse som inspirerats av gamla sci-fi-filmer från 1950-talet.

Lås upp Steam-prestationer och försök att få med ditt namn på topplistorna.

Vacker 3D-grafik och effekter för en bättre spelkänsla.
Systemkrav (PC)
Operativsystem: Windows® XP SP3 / Windows® Vista / Windows® 7

Processor: Intel® Pentium® 4 (2Ghz) eller AMD® Athlon 64 (1.6GHz) processor eller bättre

Minne: 1GB RAM

Hårddiskutrymme: 2GB ledigt

Grafikkort: NVIDIA 6600 eller ATI X700, 256MB-GPU minne eller bättre

DirectX®: DirectX® 9 eller senare

Ljud: DirektX-kompatibelt ljudkort
Systemkrav (MAC)
Operativsystem: OS X version Leopard 10.5.8, Snow Leopard 10.6.3, eller senare.

Processor: 2.0 GHz Intel Core 2 Duo

Minne: 1GB RAM

Hårddiskutrymme: 2GB ledigt

Grafikkort: NVIDIA Geforce 9400M
© 2011 Futuremark® Corporation. Futuremark® Games Studio and Unstoppable Gorg™ trademarks and logos, character names and distinctive likenesses, are the exclusive property of Futuremark Corporation.
Hjälpsamma kundrecensioner