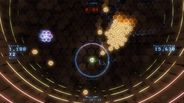 Despeja el campo de enemigos mientras acumulas combos con muertes rápidas y bombas bien programadas.
Fecha de lanzamiento: 16 Nov 2011
Ver los 2 trailers
Contenido descargable para este juego
16 marzo 2014
A new free game mode has been added called "Hold".

In "Hold" your weapons are only available while you are inside the lit area.

Also as part of this update "Crunch Time" has been updated with some more spawn events, ambushes and mini-bosses from the other game modes as has been often requested by you; the fans.
9 comentarios
Leer más
10 febrero 2014
As part of the ongoing Kickstarter campaign for the sequel to Waves I've released an update to coincide with it.

Update 1.3 includes two changes:


A Message screen on the titles telling you about the latest update.

The default weapon has been changed to the Beam Laser from the Sequel.
You can switch back to the original weapon by unchecking "Promotional Weapon" in the Game settings screen.
This promotion will only run for the duration of the Kickstarter campaign after which the weapons will return to normal.
8 comentarios
Leer más
Análisis
"Uno de los mejores ejemplos del género de arcade shooter a dos sticks".
8/10 – Eurogamer

"Vale la pena zambullirse en él".
81/100 – PC Gamer Feb 2012

"Este es un juego de acción de arcade condenadamente divertido".
8/10 – Atomic Gamer
Acerca del juego
Los fans de los shooters merecen más. Y aquellos que no han descubierto el placer de la destrucción usando dos palancas merecen un punto de partida. Presentamos Waves, un shooter de dos palancas que puede ser jugado por cualquiera, pero con un umbral de habilidad suficiente para mantener entretenido incluso a los fans más puristas.
Waves ha sido diseñado desde cero para ser accesible, aunque hay que ser muy hábil para llegar a dominarlo. Desecha lo innecesario para centrarse en lo verdaderamente importante: Las puntuaciones.
El objetivo es limpiar la fase de enemigos mientras encadenas un gran combo con veloces habilidades y el uso de bombas en el momento adecuado. Si se vuelve demasiado complicado, puedes usar un Time Buffer para frenar la acción y convertir la derrota en victoria. Los jugadores pueden competir en cinco modos de juego diferentes con tablas de puntuación en línea y logros en su búsqueda de la perfección.
Características Principales:
Frena el tiempo a tu voluntad con el Time Buffer

Diezma a tus enemigos con bombas en el momento adecuado

Encadena muertes para conseguir combos masivos

Compite contra las puntuaciones de tus amigos en las tablas de clasificación en línea

Crunch Time, 3 minutos para conseguir la máxima puntuación que puedas

Sube de nivel y vence a los tremendos Cubos para ampliar tu tiempo en Rush

Modo Survival con 3 vidas y más enemigos de los que puedas comerte, ¡pero cuidado con las emboscadas!

Modo Bombing Run, está todo en el boom. Sin armas pero con grandes cantidades de Booms. ¡BOOM!

Modo Challenge que pone a prueba tus habilidades con 20 niveles y sólo 30 segundos cada uno. Intenta conseguir las 5 estrellas en todos ellos
Requisitos del sistema
Mínimo:


SO: Windows XP SP2 / Windows Vista / Windows 7

Procesador: 2.0+ GHz o superior

Memoria: 1 GB de RAM

Gráficos: Gráfica con soporte para Shader Model 3

Versión de DirectX®: 9.0c

Disco Duro: 250 MB de espacio libre
Recomendado:


Procesador: Dual Core

Memoria: 2 GB de RAM

Versión de DirectX®: 9.0c
Análisis útiles de usuarios