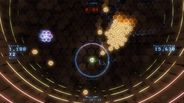 Waves is a twin stick shooter that can be played by anyone, but with a high enough skill threshold to keep even the most hardened shooter fan entertained.
发行日期: 2011年11月16日
观看所有 2 段宣传片
2014年3月16日
A new free game mode has been added called "Hold".

In "Hold" your weapons are only available while you are inside the lit area.

Also as part of this update "Crunch Time" has been updated with some more spawn events, ambushes and mini-bosses from the other game modes as has been often requested by you; the fans.
9 条评论
了解更多
评测
"One of the finest examples of the twin-stick arcade shooter genre"
8/10 – Eurogamer

"Worth splashing out on it."
81/100 – PC Gamer Feb 2012 Issue

"This is a damn fun arcade action game."
8/10 – Atomic Gamer
关于游戏
射击游戏迷有福了。对于那些没体验过双棒破坏的人,这个游戏值得一试。我们为您推介 Waves,一个双棒射击游戏,任何人都能轻易上手,但又包含有高技术的玩法,甚至那些最核心的射击游戏玩家都为之痴迷。
Waves 入门简单,即便如此,它有大量的技能需要您去学习。它抛弃一切无关痛痒的玩意,直指游戏的真谛:高分。
游戏的目标是清除区域内的敌人,同时用快速的击杀和时机准确的炸弹来累积连击。如果感到困难了,您可以使用时间缓冲器来放慢动作,反败为胜。玩家在追求完美的过程中,可以在五个不同的游戏模式中挑战网上的高分榜和成就。
游戏特色:
用时间缓冲器来随心所欲地减缓时间。

用时机准确的炸弹来一击摧毁敌人。

把击杀串起来制造超级连击。

在网上排行榜中与您的朋友一较高下。

危急时间 – 在 3 分钟内尽可能地获得高分。

升级,打败可怕的方块怪,并在冲刺模式中延长您的时间。

生存模式 – 3 次生命,更多的坏人,小心埋伏!

在轰炸航路里无时无刻都在爆炸。没有枪,但很多很多炸弹。轰隆!

在挑战模式里测试您的技能,20 个关卡,每个 30 秒 – 去获得全 5 星吧!
系统需求
Minimum:


OS:Windows XP SP2, Vista, 7

Processor:2.0+ GHz or better

Memory:1 GB RAM

Graphics:Shader Model 3 Compatible video card

DirectX®:9.0c

Hard Drive:250 MB HD space

Recommended:


Processor:Dual Core

Memory:2 GB RAM

DirectX®:9.0c

有价值的用户评测