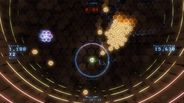 Takarítsd el az ellenséget, kombókat érve el gyors ölésekkel és jól időzített bombákkal.
Megjelenés dátuma: 2011. nov. 16.
Mind a(z) 2 előzetes megnézése
Letölthető tartalom a játékhoz
Értékelések
"One of the finest examples of the twin-stick arcade shooter genre"
8/10 – Eurogamer

"Worth splashing out on it."
81/100 – PC Gamer Feb 2012 Issue

"This is a damn fun arcade action game."
8/10 – Atomic Gamer
A játékról:
A lövöldözős játékok rajongói többet érdemelnek. Azok pedig, akik még nem fedezték fel a kétkaros pusztítás örömeit, egy belépési pontot. Bemutatjuk a Waves-t, egy olyan kétkaros lövöldözős játékot, mellyel bárki tud játszani, mégis elég ügyességet követel meg ahhoz, hogy még a lövöldözős játékok legkeményebb rajongóit is szórakoztassa.
A Waves kezdettől fogva a játszhatóságot szem előtt tartva készült, ahhoz viszont rengeteg ügyesség kell, hogy a mesterévé válj. Megszabadult a sallangoktól, és letisztult azzá, ami valójában számít: a pontszámrekord.
A cél megtisztítani az arénát az ellenségektől, szép kövér kombót érve el közben a gyors ölésekkel és jól időzített bombákkal, ha pedig kicsit besokallnál, használhatod az Időpuffert, hogy lelassítva az akciót győzelembe fordítsd a vereséget. A játékosok öt különféle játékmódban versenghetnek a tökéletesség eléréséért online ranglistákon és teljesítményekkel.
Fő jellemzők:
Lassítsd le az időt tetszés szerint az Időpufferrel.

Tizedeld meg az ellenséget jól időzített bombákkal.

Hajts végre öléssorozatokat hatalmas kombókért.

Csatázz barátaid pontszámai ellen az online ranglistákon.

Daráló – 3 perced van annyi pontot elérni, amennyit csak tudsz.

Lépj szintet és győzd le a félelmetes Kockákat, hogy több időd legyen Rush módban.

Túlélő mód - 3 élet, és több ellenség, mint amennyin át tudnád rágni magad; csak a rajtaütésekkel vigyázz!

Bombatámadás, amiben a bumm a lényeg. Fegyver nincs, csak sok-sok bumm. BUMM!

A kihívás mód 20 pályával, és csak 30 másodperccel a teljesítésükre, teszi próbára ügyességed; próbálj mindegyiken 5 csillagot elérni.
Rendszerkövetelmények
Minimum:


Operációs rendszer:Windows XP SP2, Vista, 7

Processzor:2.0+ GHz vagy jobb

Memória:1 GB RAM

Grafika:Shader Model 3 kompatibilis videokártya

DirectX®:9.0c

Merevlemez:250 MB merevlemez-terület
Ajánlott:


Processzor:Dual Core

Memória:2 GB RAM

DirectX®:9.0c
Hasznos vásárlói értékelések