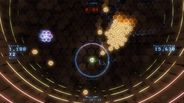 Wyczyść arenę z wrogów, jednocześnie zdobywając kombinacje za pomocą szybkich zabójstw i dobrze wymierzonych bomb.
Data wydania: 16 Lis, 2011
Obejrzyj wszystkie zapowiedzi (2)
Zawartość do pobrania dla tej gry
Recenzje
"One of the finest examples of the twin-stick arcade shooter genre"
8/10 – Eurogamer

"Worth splashing out on it."
81/100 – PC Gamer Feb 2012 Issue

"This is a damn fun arcade action game."
8/10 – Atomic Gamer
Informacje o grze
Fani strzelanek zasługują na więcej. A ci, którzy nie odkryli jeszcze przyjemności rozwałki z użyciem dwóch gałek pada, zasługują na nią. Przedstawiamy Waves, dwugałkowy FPS, w który może zagrać każdy, lecz z wystarczająco wysokim progiem trudności, aby nawet najtrwalsi mieli zabawę.
Waves został zbudowany jako dostępny dla wszystkich, lecz wymaga dużych umiejętności do perfekcji. Usuwa nieważne elementy i zostawia tylko jeden ważny aspekt: liczbę punktów.
Celem jest wyczyszczenie areny z wrogów, w międzyczasie zdobywając duże kombinacje za pomocą szybkich fragów i dobrze wymierzonych bomb; jeśli to jest trochę za wiele, możesz użyć swojego Bufora Czasu, aby spowolnić akcję i zmienić porażkę w zwycięstwo. Gracze mogą mierzyć się w pięciu różnych trybach gry z tabelami najlepszych wyników i osiągnięciami w poszukiwaniu perfekcji.
Kluczowe cechy:
Spowalniaj czas kiedy chcesz z użyciem Bufora Czasu.

Dziesiątkuj wrogów dobrze wymierzonymi bombami.

Łącz fragi, aby uzyskać wielkie kombinacje.

Zmierz się z wynikami swoich znajomych z użyciem sieciowych tablic wyników.

Crunch Time – 3 minuty, aby zdobyć największy wynik, jaki możesz.

Zdobywaj poziomy i pokonuj straszliwe Kostki, aby zdobyć więcej czasu w Rush.

Tryb Survival - 3 życia i więcej wrogów niż możesz zjeść, lecz uważaj na pułapki!

Bombing Run - brak broni, ale wiele bomb. BOOM!

Tryb wyzwań testuje twoje umiejętności za pomocą 20 poziomów, na które masz tylko 30 sekund – spróbuj zdobyć 5 gwiazdek na każdym.
Wymagania systemowe
Minimum:


OS:Windows XP SP2, Vista, 7

Processor:2.0+ GHz or better

Memory:1 GB RAM

Graphics:Shader Model 3 Compatible video card

DirectX®:9.0c

Hard Drive:250 MB HD space

Recommended:


Processor:Dual Core

Memory:2 GB RAM

DirectX®:9.0c

Pomocne recenzje klientów