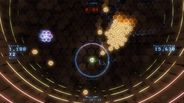 Waves is a twin stick shooter that can be played by anyone, but with a high enough skill threshold to keep even the most hardened shooter fan entertained.
Data di rilascio: 16 Nov 2011
Guarda tutti e 2 i trailer
Questo prodotto non è disponibile nella tua lingua. Prima di eseguire l'acquisto, controlla la lista delle lingue disponibili.
Contenuti scaricabili per questo gioco
16 Marzo 2014
A new free game mode has been added called "Hold".

In "Hold" your weapons are only available while you are inside the lit area.

Also as part of this update "Crunch Time" has been updated with some more spawn events, ambushes and mini-bosses from the other game modes as has been often requested by you; the fans.
9 commenti
Ulteriori informazioni
Recensioni
"One of the finest examples of the twin-stick arcade shooter genre"
8/10 – Eurogamer

"Worth splashing out on it."
81/100 – PC Gamer Feb 2012 Issue

"This is a damn fun arcade action game."
8/10 – Atomic Gamer
Informazioni sul gioco
I fan dei giochi "sparatutto" meritano di più. E quelli che non hanno scoperto il piacere della distruzione via "twin stick", si meritano un punto d'accesso. Ecco Waves, un twin stick shooter che può essere giocato da chiunque, ma con una soglia di abilità abbastanza alta da intrattenere anche il più intransigente dei fan.
Waves è stato costruito per essere completamente accessibile e al contempo richiede una gran dose di abilità per essere padroneggiato. Sfalcia le banalità e riduce tutto a ciò che è davvero importante: i Punteggi Migliori.
L'obiettivo è sgomberare l'arena dai nemici ottenendo grandi Combo con uccisioni veloci e Bombe ben piazzate - e se la situazione diventa troppo complicata puoi usare il tuo Time Buffer per rallentare l'azione e trasformare una sconfitta in vittoria. I Giocatori possono competere attraverso cinque modalità di gioco differenti, con tabelle dei punteggi online e Achievements (Risultati) alla ricerca della perfezione.
Funzioni Principali:
Rallenta il tempo a volontà attraverso il Time Buffer.

Decima i nemici con bombe ben piazzate.

Concatena le uccisioni per combo schiaccianti.

Batti i punteggi dei tuoi amici con le classifiche online.

Crunch Time – 3 minuti per ottenere il punteggio più alto che puoi.

Sali di livello e sconfiggi gli spaventosi Cubi per estendere il tuo tempo in Rush.

Modalità Sopravvivenza - 3 Vite e più cattivi di quanti ne puoi immaginare, ma fa' attenzione alle imboscate!

Bombing Run è un'esplosione unica. Niente pistole e un mucchio di Esplosioni. BOOM!

La modalità Sfida mette alla prova la tua abilità con 20 livelli e solo 30 secondi per ciascuno - cerca di ottenere il punteggio massimo (5 Stelle) per tutti.
Requisiti di sistema
Minimum:


OS:Windows XP SP2, Vista, 7

Processor:2.0+ GHz or better

Memory:1 GB RAM

Graphics:Shader Model 3 Compatible video card

DirectX®:9.0c

Hard Drive:250 MB HD space

Recommended:


Processor:Dual Core

Memory:2 GB RAM

DirectX®:9.0c

Recensioni utili dai clienti