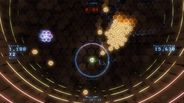 Verwijder alle vijanden van het bord terwijl je combo's maakt met snelle kills en goed getimede bommen.
Releasedatum: 16 nov 2011
Alle 2 trailers bekijken
Downloadbare inhoud voor dit spel
16 maart 2014
A new free game mode has been added called "Hold".

In "Hold" your weapons are only available while you are inside the lit area.

Also as part of this update "Crunch Time" has been updated with some more spawn events, ambushes and mini-bosses from the other game modes as has been often requested by you; the fans.
9 opmerkingen
Meer informatie
Recensies
"Een van de beste voorbeelden van het twin-stick arcade shootergenre"
8/10 – Eurogamer

"Verdient de aandacht."
81/100 – PC Gamer Feb 2012 Issue

"Dit is een verdomd leuke arcade-actiegame."
8/10 – Atomic Gamer
Info over het spel
Shooter-fans verdienen meer. En wie niet de pret van verwoesting hebben ontdekt verdienen een ingangspunt. Waves, een twin-stick-shooter die door ieder gespeeld kan worden, maar toch een talentdrempel die hoog genoeg is om zelfs de beste shooter-fans te entertainen.
Waves is van de grond op gebouwd om toegankelijk te zijn, en toch bergen aan vaardigheid bevat die beheersd moeten worden. Het zorgt ervoor dat het om maar een ding draait: highscores.
Het doel is om het gebied van vijanden te ontruimen terwijl een grote dikke combo wordt behaald, met veel vaardigheden en goed getimede bommen. En als het allemaal te veel word kan je je Time Buffer gebruiken om de actie te vertragen en nederlaag te veranderen in victorie. Spelers kunnen tussen vijf verschillende gamemodes kiezen met online klassementen en prestraties in hun strijd naar met perfectie.
Functies:
Vertraag de tijd op commando met de Time Buffer.

Vernietig vijanden met goed-getimede bommen.

Zorg voor kettingdoden om gigantische combos te verkrijgen.

Verbeter de scores van je vrienden met de online leaderboards.

Crunch Time – 3 minuten om de hoogst mogelijke score te krijgen.

Level up en versla de vervaarlijke Cubes om je tijd te verlengen in Rush.

Survival mode - 3 levens en meer vijanden dan je kan eten, maar kijk uit voor omsingelingen!

Bombing Run draait om de "Boom". Geen geweren maar heel erg veel explosies. BOEM!

Challenge mode test je talent met 20 levels met maar 30 seconden – Probeer bij allen 5 sterren te krijgen.
Systeemeisen
Minimum:


Besturingssysteem: Windows XP SP2/Vista/7

Processor: 2,0+ GHz of beter

Geheugen: 1 GB RAM

Videokaart: Videokaart compatibel met Shader Model 3

DirectX®: 9.0c

Harde schijf: 250 MB vrije ruimte
Aanbevolen:


Processor: Dual-core

Geheugen: 2 GB RAM

DirectX®: 9.0c
Nuttige klantrecensies