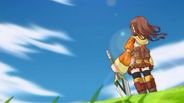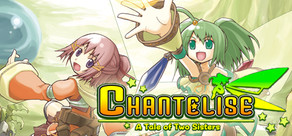 Un fantástico juego de rol y acción por cortesía de los creadores del renombrado Recettear ~ An Item Shop's Tale. ¡Cómpralo antes del 5 de agosto para ahorrar!
Fecha de lanzamiento: 29 de Jul, 2011
Ver vídeo en alta definición
Comprar Chantelise - A Tale of Two Sisters
Paquetes que incluyen este juego
Comprar Carpe Fulgur Collection
Incluye 3 artículos: Recettear: An Item Shop's Tale, Chantelise - A Tale of Two Sisters, Fortune Summoners
Acerca del juego
Hace cinco años, la maldición de una bruja bajo la luna roja convirtió a Chante en un hada. Ahora ella y su hermana Elise deberán buscar una forma de convertirla de nuevo en humana y en sus viajes se encontrarán con un pueblo en particular que es el hogar de una serie de ruinas cercanas, así como de un peculiar comerciante llamado Aira y de una extraña vidente mercurial que se hace llamar Elma. ¿Podría este lugar ser la clave para devolver a Chante a la normalidad? ¿O dará lugar a más respuestas que las dos hermanas siempre quisieron saber?...
Características principales
¡Un juego de rol y acción para PC al estilo de los clásicos!
¡Un tesoro para encontrar en cada zona!
¡Intuitivas batallas con jefes enemigos para desafiar al jugador!
¡Soporte completo para controladores, incluyendo gatillo Xinput y control de cámara con el stick derecho!
¡Cinco mazmorras, además de dos mazmorras adicionales! ¡Horas y horas de juego!
¡Pesca! ¡Con peces coleccionables!
Requisitos del sistema
SO: Windows XP / Vista / 7
Procesador: Pentium 4 a 1.7 GHz, Athlon XP 1700+ o equivalente
Memoria: 256 MB de RAM (512 MB recomendados para Windows Vista y 7)
Gráficos: Gráfica de cualquier tipo con al menos 64 MB de VRAM y compatible con DirectX 8.1; nVidia y ATI comprobadas (no se recomienda usar gráficas integradas de Intel inferiores a la familia IntelHD)
Versión de DirectX®: 8.1 o superior
Disco Duro: 450 MB de espacio libre
Sonido: Dispositivo de sonido compatible con DirectX 8.1
Análisis útiles de usuarios