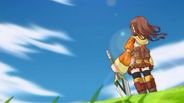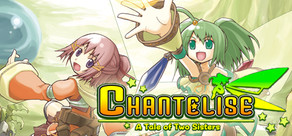 Un fantaisiste Action-RPG produit pour vous par les créateurs du célèbre Recettear ~ An Item Shop's Tale. Achetez avant le 5 août et économisez !
Date de parution: 29 juil 2011
Visionner la vidéo HD
Acheter Chantelise - A Tale of Two Sisters
Packages qui comprennent ce jeu
Acheter Carpe Fulgur Collection
Inclut les 3 articles suivants : Recettear: An Item Shop's Tale, Chantelise - A Tale of Two Sisters, Fortune Summoners
À propos du jeu
5 ans auparavant, un sortilège transforma Chante en fée par une nuit de lune rousse. Depuis lors, Chante et Elise, sa sœur, cherchent une façon de lui rendre son apparence humaine. Au cours de leur voyage, elles rencontrent, dans une ville en ruine, une libraire nommée Aira et une diseuse de bonne-aventure nommée Elma. Auraient-elles trouvé l'endroit pour rendre à Chante son apparence ? Ou bien l'endroit qui va leur apporter plus de réponses qu'elles ne le souhaitent ?
Comprend
Un titre classique d'action/jeu de rôle sur PC !
Des trésors un peu partout !
Batailles de fin de niveau originales !
Support manette y compris gâchette X et contrôle de la caméra avec stick droit !
5 donjons commun et 2 donjons supplémentaires ! Des heures de jeu !
Pêche ! Collectionnez les poissons !
Configuration requise
Système d'exploitation : Windows XP/Vista/7
Processeur : Pentium 4 de 1.7 GHz ou Athlon XP 1700+ (ou processeur équivalent)
Mémoire vive : 256 Mo de RAM (512 Mo recommandé pour Windows Vista et 7)
Carte graphique : Carte graphique compatible DirectX 8.1 de tout type avec au moins 64 Mo de mémoire vidéo ; Nvidia et ATI testées (Les cartes graphiques intégrées en-dessous de la série IntelHD ne sont pas recommandées)
DirectX® : 8.1 ou supérieure
Disque dur : 450 Mo d'espace disque disponible
Son : Son compatible DirectX 8.1
Évaluations intéressantes des utilisateurs