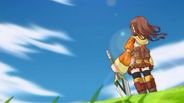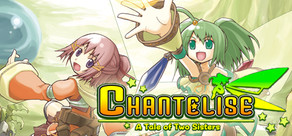 A whimsical Action-RPG brought to you from the creators of the renowned Recettear ~ An Item Shop's Tale. Purchase before August 5th and save!
Utgivelsesdato: 29 Jul 2011
Se HD-video
This product does not have support for your local language. Please review the supported language list below before purchasing
Kjøp Chantelise - A Tale of Two Sisters
Pakker som inkluderer dette spillet
Kjøp Carpe Fulgur Collection
Inkluderer 3 objekter: Recettear: An Item Shop's Tale, Chantelise - A Tale of Two Sisters, Fortune Summoners
Om spillet
Five years ago, a witch's curse beneath the red moon turned Chante into a fairy. Now she and her sister Elise search for a way to transform her back into a human, and in their travels they come across a particular town, which is home to a number of nearby ruins, as well as a peculiar shopkeeper named Aira, and a strange, mercurial fortune-teller who calls herself Elma. Could this place hold the key to returning Chante to normal? Or will it lead to more answers than our two sisters ever wanted to know?...
Key Features
A classically-styled action-RPG title for the PC!
A treasure to find in every single area!
Inventive boss fights to challenge the player!
Full controller support, including full Xinput trigger and right-stick camera control support!
Five core dungeons, plus two bonus dungeons! Hours and hours of gameplay!
Fishing! With collectible fish!
Systemkrav
OS: Windows XP/Vista/7
Processor: Pentium 4 1.7ghz or Athlon XP 1700+ (or equivalent processor)
Memory: 256MB of system RAM (512 recommended for Windows Vista and 7)
Graphics: DirectX 8.1-compatible video card of any type with at least 64 megabytes of video RAM; Nvidia and ATI tested (Intel Integrated Graphics below IntelHD series not recommended)
DirectX®: 8.1 or higher
Hard Drive: 450MB
Sound: DirectX 8.1-compatible sound
Hjelpsomme kundeanmeldelser